Hello everyone… I hope you all didn't miss me waffling on here too much. As you know I have been busy filming and enjoying the hospitality of Miss Sarah Gregory. We have some exciting plans for future cross collaborations including a fantastic new idea for a new site concept… however, that is all I can say for now but it's something we haven't seen anywhere and it probably won't appeal to many of you (don't worry, I won't be baring myself or anything like that, lol!).
Yesterday, I got out of the sticks and went to New York City, the day after the Christmas tree lights were put on at the Rockefeller Center… I event managed to go ice skating, though I wasn't very good (I fell over once!)… I also checked out the Freedom Tower (which is nearing completion) and Times Sq/Chinatown – all fun and a nice diversion away from business!
In the meantime, I had finally managed to upload the latest film so you good people can finally see the Short Shorts Spanking movie now out at Triple A Spanking – it was from a member request about featuring girls in naughty short shorts, the type that daisy Duke might have worn… seeing this film again sure sent my blood pressure soaring. It starred Ashley Graham, Nyssa Nevers and Joelle Barros… in fact, Joelle will be filming with us tomorrow, something I am very excited about!!!
Below are some screen shots from the movie including some special exclusive 1st show images/stills for this blog only!
CHECK OUT THE FREE CLIP AND MORE NEWS ON THIS NAUGHTY 3 GIRL SHOOT HERE!
************************************************
This film is also available as a full file HD-MP4 one off download at the clips store (see below)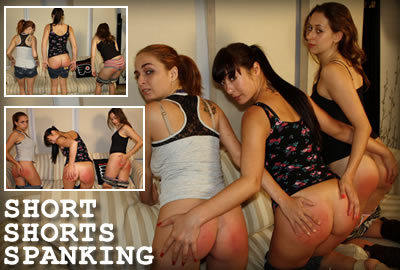 OK, I have to go as I am being nagged for being late getting the new content filmed… will try to get back here soon with more news and such! have a great weekend everyone!