Here's an interesting mix of spanking updates and websites I really think you should check out starting this week off with the finale of a full series of films starring one of my fave spankees that I have worked with for our own network several times… here she is (with a different last name which this site often does to their performers, but whatever) here is Lola Sanders (also more commonly known as Lola Anderson) showcasing at Firm Hand Spanking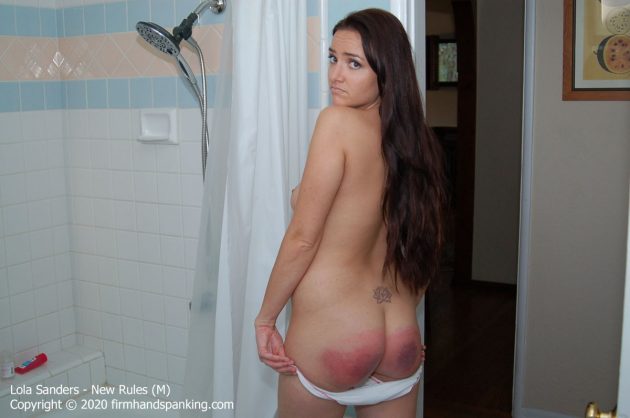 Nude strapping finale for sassy senior Lola Sanders stripped from school uniform: In the bathroom mirror, stunning senior Lola Sanders can see her face and the strap swinging up to lash her bottom. The fact that she's totally naked in front of John Friday makes the whole experience even more stressful, as he walked in just as she was about to take a shower. This epic nude strapping finale includes a bonus exclusive interview with Lola!
Check out the free preview of this film (below)
[jwplayer mediaid="63953″]
The next site featured today is Dallas Spanks Hard – Last year saw the beginning of some amazing films with an exclusive first-time model called Hailey! As Dallas remarked, she was a young Madeleine Stowe look-a-like! Check out this special preview of the first series of films she starred in called "Hailey's Hot One!"
This is what Dallas had to say about this film series: "I hold her tight standing up and give her another paddling and a ruler-strap whipping. She was shaking so much from the pain of the spankings, that I literally had to hold her up! She is then made to put on tight short-shorts, wherein I start with my hand over her shorts, then pull them down, for the rest of her hard hand spanking. She gets a wooden paddle after that, followed by a painful rubber paddle for not using a helmet when riding her bike around campus. It is followed by not only a tearful hairbrush spanking OTK, but her lying on her stomach for a hard antique razor strapping!
Click on the image below to play this 1 min 30 sec preview of stunning Hailey's punishment
[jwplayer mediaid="63983″]
Finally today, here is someone I miss working with… Audrey Sugarsmak. Possessor of one of the finest, most spankable booties known to mankind (in my opinion, LOL). I have decided to show her work at Punished Brats since you can find most of her work from this site – it also has a special offer (currently) allowing you to view the full site for just $9.95 for the month. It's a time limited offer and is available at the time of writing.
Audrey felt humiliated when David bared her bottom and began her punishment, stopping only briefly to chastise her regarding this outlandish behavior. As David landed swat after swat with the strap upon Audrey's bare bottom she tried to make up any excuse that came to mind. She remembered that David had to spank or strap her on a few occasions before. As this had to do with familial propriety,  this time Audrey was strapped until tears flowed from her eyes and while rubbing her sore red bare bottom, she promised not to behave in such a manner again. Once her spanking was over, all that the socialite could do was rub her sore bottom and promise to use better judgement in such familial matters as tears streamed from her eyes.
Click (below) to view this free preview of Audrey's leather strapping!
[jwplayer mediaid="63975″]