I trust you all had a fantastic time celebrating the new year with friends, family or however you wanted to… I have had some catching up to do with site updates and such so in the meantime before I bring you news of my latest new release check out a few other spanking sites and what they're currently offering members right now!
I helped Paul film this before Xmas with the lovely Rosie Ann and this conclusion to his Xmas film is pretty awesome with some good hard canings of a girl that can take pretty much take almost anything we could muster… & her power of recovery was astounding. She is quite rightly proud of that! here is part 2 of the "Christmas Cracker" film with Paul & Rosie – out in full from NorthernSpanking.com
Rosie is a promising dance student during the day. Three nights a week she has a work experience placement… in a strip club! The owner has taken a shine to little Rosy and recognised a promising little submissive, if not a wonderfully talented dancer. Here we see part of her education and punishment, resulting in a Christmas routine with cane stripes upon her bottom!
Check out what else is available at NorthernSpanking.com
**********************************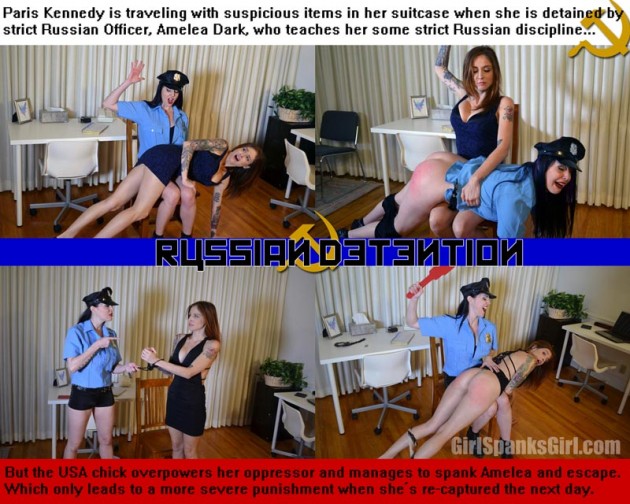 From another site nominated this month in the running for BEST Spanking Site – GirlSpanksGirl.com – comes a new long play film with a girl I have always admired even though each time I see her she sports another tattoo (which isn't my thing but Californian girls dig it). That is Paris Kennedy, she is certainly not shy and I have always felt she had something about her and so it's a pleasure to see her back over the knee getting a spanking on that perfect bottom. The film is called "Russian Discipline" so the "Russian" is played by Amelea Dark… (who is naturally of Russian heritage). Check out what these 2 get up to! It's pretty hot for F/F lovers!
Paris Kennedy is traveling with some suspicious items in her suitcase when she is detained by a strict Russian Officer (played by Amelea Dark). Amelea decides to teach this privileged American lady some strict Russian discipline and spanks her hard.
But Paris is no passive USA chick, she is tough and knows how to fight back. She spanks Amelea before running out of the detention office. Only problem? She is caught again and brought back in hand cuffs the next day. Which of course leads to a more severe punishment which you will be able to see and download very soon in the third part of this long play film series.
See Paris K getting spanked & then getting her own back on the sexy Russian officer HERE
This site is an important part of the Clare Fonda Pass network which gives you access up to 5 sites of your choice offered at a fraction of the combined cost of them all – it really is a cool way to watch your fave Californian based F/F spanking materials with one passcode – and of course you are helping producers make more films with your support with legit memberships 🙂

*****************************************
This picture of Ela Darling – shown by Dana Kane at her great site (another contender in, I think, most improved website?) – was from her blog where she was searching for an amazing image, this is pretty good, I have to say…
Auntie Dana's Naughty Nieces Ela Darling and Christy Cutie spend the weekend in Las Vegas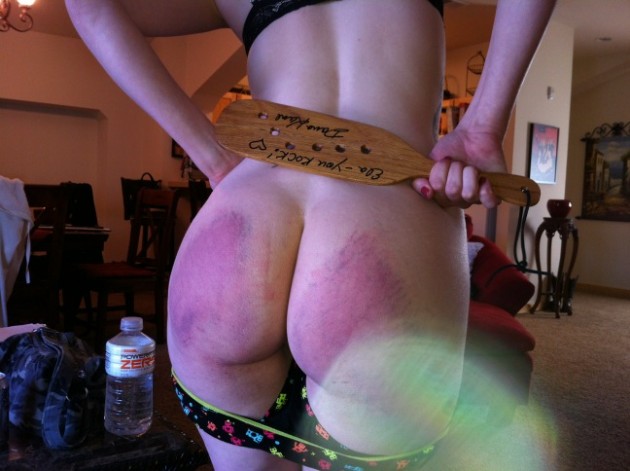 Dana's two grown nieces have come to spend the weekend with her in Las Vegas. While big sister Ela and her younger sister Christy think that they're there to party,  she had other ideas. These sisters have never been disciplined before, and she was going to spend the weekend teaching them how to be Good Girls. This included going through their luggage to "see if there's anything appropriate to wear" – The girls were made to change into "Good Girl" clothes and sent downstairs for their Saturday morning chores… Auntie came to tell the girls goodnight on the final evening of their weekend visit and they were grateful to Dana for helping them learn to behave, but Auntie reminded them that they still had a bedtime spanking coming for their misbehavior earlier. Lovingly, Auntie Dana climbs between the two girls in the bed and, while they lie on their tummies, spanked them with her hairbrush while making them say "I am a Good Girl." Sweet!
With excellent bonus materials – membership of DanaKaneSpanks.com is a pleasure
*********************************************
Finally… (yet another contender in the Best spanking Site) at SpankingSarah.com there is another new girl getting introduced and spanked – she's quite a looker and members will be able to see this film and no doubt plenty more of her soon. Welcome Bonnie…
This is what Sarah had to say about her new girl:
Bonnie Bellotti is another new young lady I am introducing to the spanking scene. This young beauty contacted me and said she quite liked a spanking from her boyfriend and had seen some of my films and wanted to give it a go. I threw her right in at the deep end with a good solid storyline and a good hard spanking on her delightful bare bottom.
See more of Bonnie and more new girl spankings excluisvely HERE
*********************************
back laters…. and FAO my young lady –  "hey, you!" (This is how you do it, Sarah G … heh heh!)
"Faaaa'kin…
!!!!!!!"
(keep practicing with the English accent!)