Okey-dokey, I have something a little different for you good folk today and although seeing the following geeky, twisted or downright strange spankers might be comical, you may even feel sorry for them and wonder HOW THE HELL are they able to get these girls? But I feel more sorry for the girls, these chaps may look like idiots and even harmless to the outside world, but underestimate them at your peril, for they are hardened spankos with the sole aim of seizing any situation & turning it to their advantage to remove a girl's underwear and spank their bare bottoms SEVERELY!
So first up today is a classic movie called "Yes Sir!" that I was watching at FETISHFLIXX and it features 4 attractive schoolgirls and a sinsister teacher called Mr Jones who uses his position of trust in school to satisfy his own wierd lust to spank girls bottoms. here he tells them (quoting scriptures) that he has prayed for them (rather than PREYING on them) and also believes he is their "Shepherd" and they are his flock who he wants to guide (via discipline and spanking, of course!!!) Check out the classroom situation and scenes below! there is also a great free clip as he excitedly slippers them, you can almost imagine him, snake like tongue licking the side of his mouth with rather uncomfortable trouser arousal! This is just one of 100s of films that can be downloaded at FETISHFLIXX!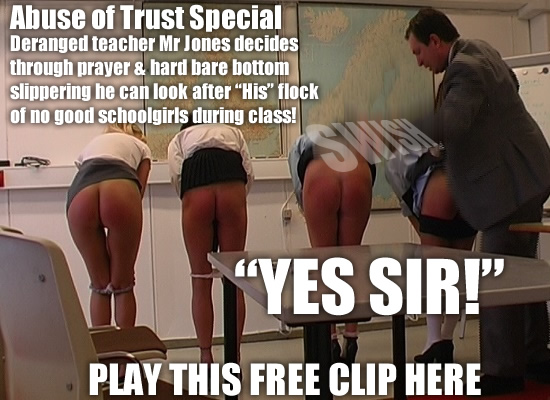 Ok, jealous that a dangerous lunatic like this guy had access to 4 girls bared bottoms during school hours? I know I am…you can see a large variety of movies including ones like this at FetishFlixx and all the films are of course in High Resolution.
*********************************************************
There is a new movie out now at SPANKINGMAGS and this ezine has another nutter but this gentleman has been hiding secrets from his family. His American niece Debbie, a nturally nosey girl wanders round his country house and discovers a secret dungeon. The movie shows what he gets up to there on his own, flogging himself, pants down before important video conference calls to enliven his state of mind, so can you imagine just how awkward it is when he catches her snooping…see below!
Some may call him a nutter, others, just "twisted" for hiding this in his house…what we will all see though is that poor Debbie will soon be stripped of her dignity and these crazy items she saw in the dungeon will somehow find their way across her chubby bare buttocks!
Debbie is a very attractive teenager with a gorgeous pair of chubby wobblesome cheeks on her amazing derriere, no wonder this twisted Uncle had his own way punishing her, that will teach her not to nose around in places that shouldn't concern her, eh? Still, once again, I'm sure viewers at SpankingMags will be wondering how the hell this odd looking fellow could get away with thrashing such a gorgeous young madam! God bless the internet for allowing us to see these strange happenings!!!
VIEW THIS FULL MOVIE & Dozens of Gigs of HQ Spanking Films HERE
**********************************************
Finally I wanted to bring you news of a dangerous chap a blast from the past. I can't remember his name, but I had viewed some of these movies way back on VHS tape and now at Classic Spankings they have some of these old movies for download. OK, the quality isn't the best but seriously, it's still worth a visit to the site to download films many of us had thought long gone and will, like this movie, always be a part of my own personal collection! the below film is STILL one of my all time favourites and as far as I'm concerned, it has a menace and a great cheesy hammer House of Horro-esque sound track which makes it unforgettable!

I present to you the dangerous and predatory Headmaster with his own view of justice and his own horrible invention of his "Caning machine" However, before all that, I'll fill you in another time, check out just what he's like from this clip below…an absolute delightful nutter and he really doesn't take any crap whatsoever off his girls!!!
Hope you enjoyed this quick little insight into the darker side of spanking!
Chief's inside info: This chap was apparently arrested soon after as the girl filming this was either French or Italian and working as an airline stewardess (Alitalia or Air France… not sure), she did this sort of thing in her spare time but his infamous machine made her yelp and scream and his "it's nothing dear…" made her contact the police… they were bemused but as it was hardly classed as prostitution and such- they thought it all a bit of a giggle and left it at that… she got well paid for it anyway, I think 🙂