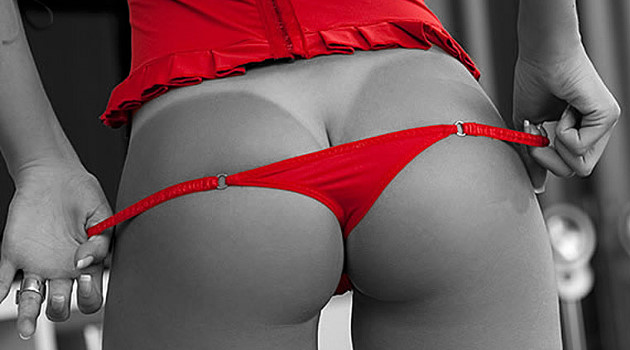 I won't waffle on today about politics, or the crap weather, or even "Trouser Arousals" and such… "nope" – I shall just delve straight into some great spanking entertainment that is about this week that you may or may not have already seen and I hope you like this fine selection. (I'm waffling, aren't I?)
Pandora's been a bad little girl, and she knows it. Thomas finds her at bedtime, dressed for bed in her teddybear nightie, and takes her over his knee for a sound spanking. Then he tells her to take down her knickers and bend over the arm of the sofa for some stinging strokes of the implement she fears most – the dreaded switch.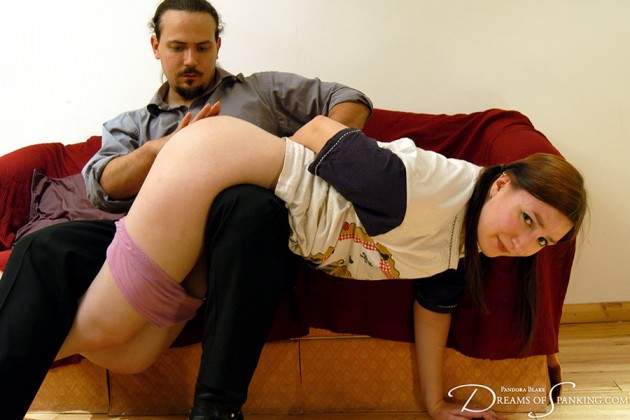 See all of Pandora's latest updates including some fantastic free movie reviews HERE
****************************************************
From the excellent Real-Life-Spankings.com (or Real Life Schpaaankings as I like to call it) comes a double girl movie update with Amy and Monique getting (as Mike ably descibes it) a "Sound schpaaanking! You'll enjoy seeing these 2 Dutch girls and their wibbly wobbly bottoms getting a good hard hand spanking and much more (below)
You can check out more of these 2 very naughty young ladies getting what they deserve – HERE
****************************************************
Another "madam" that I know has been VERY busy and getting her just desserts is Dani Hunt. This most spankable bratty babe has once again incurred the wrath of Mike on her "Diva Returns" movie to Spanked-in-Uniform.com and her huge buns are given a proper wolloping as you'll see below!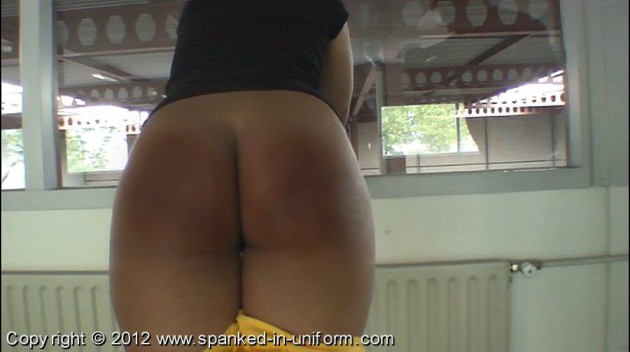 The world famous singer and popstar Danielle is on a world tour again and during a break she came back to the Rockford School Of Dance to be put back in shape for the rest of the tour. Coach Johnson clearly remembers her Diva attitude and behaviour so when the little madam put her feet on his desk, he wasted no time in spanking her over it. Danielle wanted a private class so Coach, with his heavy strap in hand, gave her painful private lesson. When he caught her using her mobile phone instead of stretching, he dragged her to his office for another long, hard over the knee spanking! 
If you like uniform spankings then you might just also want to check out Cory & Loni in the recently added "Mike's 50s Diner" series… I have to admit that Cory is a favourite of mine and she looks amazing in these outfits, don't you think? *sigh*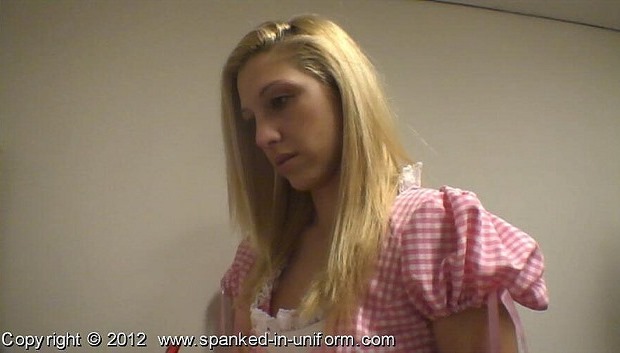 MORE of Cori and the naughty girls in their uniforms can be seen on the extensive tour pages
***********************************************
Since there is no summer at all here in the UK to speak of (the worst for decades!) how nice to see the girls like Roxie and friends relaxing by Michael Masterson's pool, only to get a thrashing by him and Betty for lazing about between shoots, smoking and being idle…. oh, and is that what sunshine is ???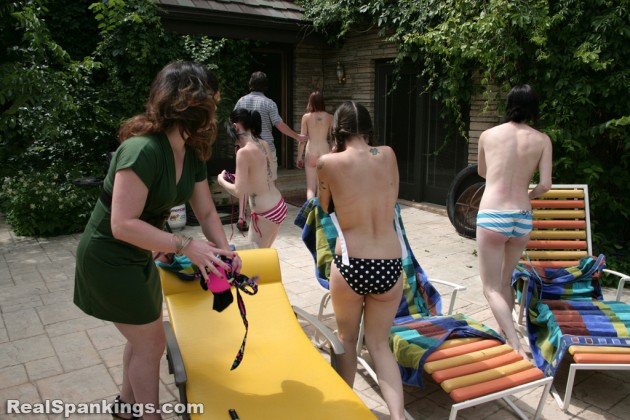 I love seeing outdoor punishments… check Realspankings.com for a whole load more!
& in the same network, there is a fantastic outdoor paddling scene of one of the most popular models, Monica, who can really take just about anything Michael can throw at her… this paddling scene you are about to see shows the ferocity of her wooden paddling… ouch!
Taken from the excellent RealSpankingsInstitute.com
Do not miss any of the other free previews located HERE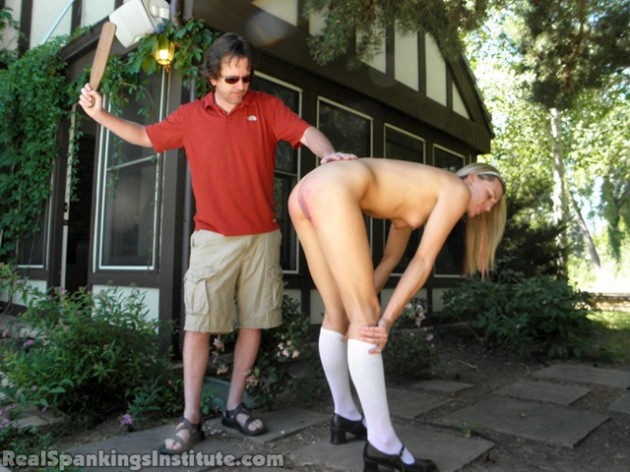 Both the above sites are part of the 8 site Real Spankings Network (see below how & what you get ffrom one of the longest established spanking networks around!)

 ******************************************
OK, some of you might be interested to know what Clare Fonda's real passions are recently, and she "LOVES" adult baby and diapering fetishes, with some spankings and the inevitable verbal chastisement thrown in as only "Momma Clare" can maintain… so when I recently signed up to her Naughty Diaper Girls site again, imagine my surprise to see possibly one girl I'd willingly fly over from the US to the UK for a filmshoot (note to self, do not make promises your finances can not compete with!) one Miss Dani Jensen. She's a cracking porn and fetish superstar with the cutest body and cutesy accent, a very filthy mind and one girl who is definitely NOT shy! Oh, and I know this is my vanilla side crawling out here, but she has trimmed her pubic hair EXACTLY the way I like to see it… forgive me for rambling on, it is my blog, after all, heh heh). So check the image shots taken from this film
No spankings in it… but as I said there are spankings at this site, but the whole diapering aspect and the vulnerability that Dani expressed in this film hit every button for me! I was so turned on!!! Hope you were all too seeing these images!
Dani is a college girl needing a place to stay. She can get free housing if she measures up to Clare's standards whch include keeping her little pussy very clean. Clare thinks that if girls give off a scent they will atract her husband so she wants to wipe down and diaper each one. Dani assures her she does not want Clare's husband, or want her little pussy wiped or to have to wear a diaper but she does need free rent. Clare has her strip and spread her legs and then diapers the reluctant Dani Jensen.
See MORE of gorgeous Dani doing crib and diapering times HERE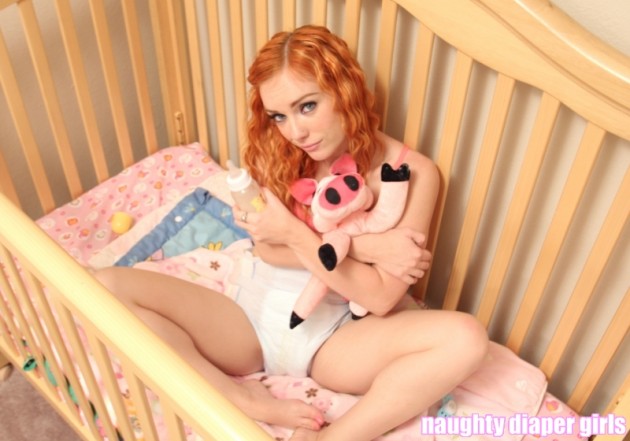 *****************************************
As I am on the subject of Clare Fonda… the sites in her name go on from strength to strength with a great find for "The Big C" as Alexis Grace gets to spank a new stunning girl at one of the flagship Clare Fonda branded sites – GirlSpanksGirl.com co starring new girl, Layden Sinn.
Alexis Grace stars as the Naughty Tutor who spanks girls hard and then teaching them her own twisted version of sex education. The series starts out with Alexis spanking Layden Sinn, who is one of the most stunning models to ever be used in a spanking scene… view this amazing film HERE
****************************
& as I promised (when it came out) the 2nd scene of Kay Richards getting her revenge on the ass-fabulous big booty behind of Kelli Staxxx – seriously, just look at that utterly wobblesome treat to spank – I am soooo jealous! This film comes courtesy of Spankedcallgirls.com
Here's the reminder of this film: Kay Richards visits a client and is surprised to discover that it is a lady (Kelli Staxxx). Kay begins making out with Kelli, but keeps checking her phone and texting and even takes a call. Kelli has had enough and spanks Kay hard for this. But then Kay finds out that Kelli was hired by Snow to spy on Kay. And Kay is going to tell Snow that Kelli marker her bottom – unless Kelli lets Kay spank her big, bouncy bottom.
Check out the very latest punishments of some of the naughtiest girls around HERE
Don't forget these 2 sites in this network are part of a Top fivesome with vastly reduced monthly and quarterly rates making it one of the best value multi site deals out there, I am of course referring to the Clare Fonda Pass
 ***********************************************
& finally today in this catch up spanking spectacular, I bring you the beautiful Belinda Lawson spanked in the bathroom with a dreaded bathbrush, in the finale of the "End of Term" series… over the knee of Amelia Jane Rutherford! (oh my… this really does look as good as it is!) Just check out some choice images from the film and decide for yourselves!
Images courtesy of FirmHandspanking.com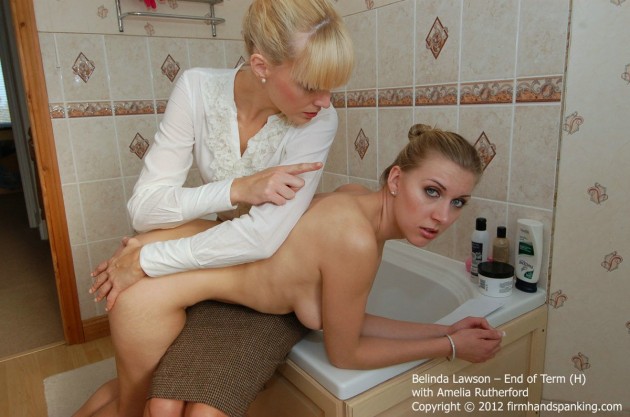 With this being one of the very latest new films, I thought I'd just remind you of a great bathbrush spanking from a few years back before I go – and it's an excuse to show Michaela McGowen getting spanked over the knee of Lizzy Madison… this is such a hot set (and film) – Enjoy!
The hairbrush on my bare tush is always worse than I expect," confesses gorgeous Michaela McGowen after a spanking in Nanny Diaries. In Lizzy Madison's last video for Firm Hand, it's a battle of wills after she finds out that top nanny Michaela has "borrowed" $200 from petty cash. Spanked over the knee on tight jeans, then bare, Michaela's punishment is an intense finale!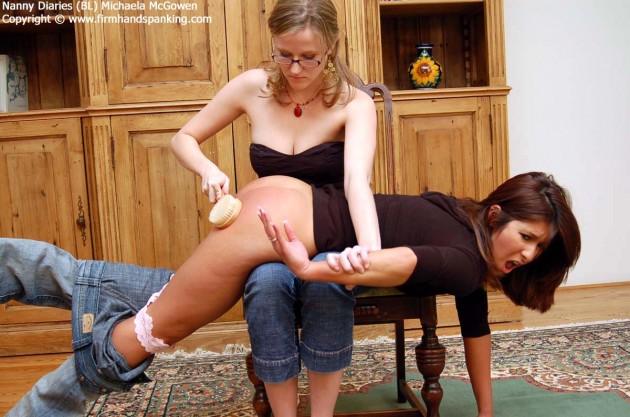 Check out the free movie previews HERE for yourself – have a great remaining weekend!
****************************************
Oh… and a little plug to my Clips Store – since it appears many of you prefer to download the odd films every now and then… here's a great incentive to check through the store as there are a bunch of totally exclusive films still showing there, this small selection below are all only found at the clips store (there are more there too!) So, for example, these are 3 films you will not have seen anywhere else… Click on the image and it links directly to the exact position on the clip store where they are found! & of course there are shortened clips from under $5 for those that just want the spanking scenes as well as the full length movies… I will be updating more of the very latest Mishka movie there later today too! 🙂