Being away has been terrible – I'm blamed by friends for creating a shitty worldwide week just because I was away… how does that work? I went away and Japan is now in near nuclear meltdown or under mud (I don't say this glibbly as it's an horrendous natural disaster which may yet become an unthinkable man-made catastophe… and I love the Japanese, as you know) then there's the despicable goings on of Gadaffi murdering his own people in Libya forcing the already impoverished Western nations that still have some aircraft left flying to try and enforce a "no fly zone" after that snivelling "Cease Fire" promise as the Mad Dog deployed his forces to the rebel town of Benghazi at alarming speed that has prompted this latest action. So I pray to God – no more armed forces on arab soil… I just hope the UN and the Arab League help sort this out in the long run as I am sick of Western countries being accused as "Crusaders" FFS! How f*cking 12th century is that? Oops, I should have got out my soapbox… ah there it is below 🙂
& onto lighter things! Remember I'm playing catch up on everything including The News!
Well, I'm home… and for the very first time I think coming back from a vacation I was genuinely happy to be back, the few images below, you might think, "aw c'mon Chief… you were skiing and lording it up and the weather & snow conditions looked great!" well, indeed, but out of the 7 days, I had about 2 (as you'll see below) which were reasonable "ski days" – the other days the weather was really horrendous, flat light and unable to see further than a few yards… also the hotel we were staying at (relatives are running it) had an ongoing "Norovirus" outbreak so I lived in fear of puking up without the aid of Epicat… luckily I made it through the week unscathed, we even had to endure a coach transfer back with 3 pukers at the back of the bus to top off my jovial mood… I was NOT a happy bunny, I can assure you! & of course, I thought, "Ok, I'll update the blogs and such…" ha! The promised internet connection was abysmal and the only place I could get decent access were in public places or where kids or the general public could see what I was uploading… right, so I endured some real slow connections in my room (as you no doubt have already read earlier) and I will never again berate my ISP here in rural England!
********************************************************************
I have had time today to check out some really good stuff and hope to update this blog (and the other 2 I run later with lots of goodness)… so enough of my prittle prattle and on with some very naughty spanking images of pretty teen Krystal & Chopper in a 2nd series of photos which members can download today at AAAspanking.com (click on thumbs below for the full size member area images). Warning: If you enjoy seeing a girl with a full wholesome, jiggling bottom properly smacked, then naughty teenager Krystal might be "right up your street!"
There are plenty more explicit spanking images of Krystal EXCLUSIVE to AAAspanking.com
As a treat, you can see a full short sharp shock movie from the very same site with Pandora Blake & Leia-Ann Woods, the full movie is over 6 minutes in length so it's no short clip and should play instantly, it is not being posted on any other site or Tube (apart from my own to my knowledge) so enjoy this full clip (I'm feeling generous today!). Pyjama and F/F schoolgirl punishment lovers you are in for a treat!

*************************************************************
It's been a while since you've seen any updates from me of probably the 2 biggest stars of FirmHandSpanking.com – but there are 2 films out now for members showing Samantha Woodley… AND… Michaela (OMG she's so incredibly cute!) McGowen *double swoon*
Trouser Arousal at Defcon 2!
Sam is making me become a leg & foot fetish freak as well as our beloved kink here
– and Eric Strickman… "Bah! I hate you!"  –
Samantha Woodley is due a 280-stroke whipping with a short, leather-wrapped flexible cane. She's already been spanked and strapped for stealing cash. Laid out, cheeks bare, she winces and yelps as the punishment is applied. "It stung like hell!" she complained afterwards, rubbing her bottom!
I just finished watching this movie (above) before I started the blog… and ahem, I'm not ashamed to say watching Michaela getting punished got me highly aroused, the film is so much better than these images but members get to see much more HERE
The site description of this movie says it all:
" If there's a bottom designed for spanking, Michaela McGowen owns it! See it jiggle and bounce as a leather strap is applied for sliding grades at college. "I'm going to call my dad and let him know exactly what you're doing to his little princess!" she yells. Those panties have to come down for 20!"

*******************************************************
I am also becoming a massive fan of Chervana (a brunette Dutch babe) at Spanked-in-Uniform and from the same network over at Real-Life-Spankings there is a hot new domestic discipline series with new blonde stunner Bianca! Mike has his work cut out with these girls but manages to sort out some excellent "Schpannnkings"…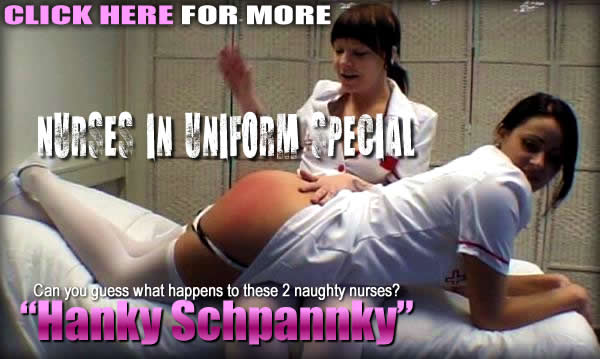 These 2 horny little nurses Foxxy Angel & Chervana are at it again! They overheard a spanking in the corridor and that got them quite wet! They found an unoccupied hospital room and were soon spanking each other erotically on the bed. Unfortunately for their bottoms Doctor Johnson caught them out & he laid them over the bed for a proper punishment spanking instead with his leather paddle. Then because they wanted to behave like little hussies, he had them kneel on the bed, legs well apart. for the second half of the paddling which they thought very humiliating but it makes addictive viewing for us!!!
You can see more of these 2 madams & the other specialist Uniform thrashings HERE

If you want to see some bleach-blonde Dutch tarts given a damned good "schpannking" then voluptuous new girl Bianca and another favorite hottie of mine that I have featured in the past, horny Leandra, look good together especially when their bare bottoms are given a good hard OTK thrashing! Riding trains without tickets? Hmmm, I feel their bottoms will be suffering and I wish I could have dished out this punishment personally! *sigh*
Oh, as I can upload images again, why not check out some MORE recent severe punishments as you'll see form these images, Mike doesn't mess around with this naughty girl, Monique, who has to present her bottom for the hairbrush below…such crimson shame on her obviously sore cheeks… I love hairbrushes, don't you?
See the full free exclusive previews at Real-Life-Spankings.com
****************************************************
Finally today something from my archives and this is courtesy of BadTushy and it stars a girl I had the pleasure to spank once, and that is famous fetish diva, Darling! You can normally see her at some edgy BDSM sites and some pretty hot extreme stuff, I think I might focus her sometime if anyone is interested in some BDSM and lesbian powerplays (please feel free to leave a comment so I know!) but she also does some great spanking/humiliation movies and shows off her submissive side beautifully as well as her magnificent bubble butt – & in this one, you'll see her struggling over Ms Law's lap! (I love seeing girls wriggle with their bare bottoms jiggling – it's something I can tell you I will certainly be focussing on my own website in future as I find a proper realistic struggle with a spanking very erotic!) Anyway, check out a few choice images and the free instant play clip I have got for you so you understand what I'm jibbering on about! There's plenty more excellent F/f spankings like this at BadTushy.com