I have been a little tardy with my spanking updates and such recently, both Sarah & I had been traveling extensively throughout the UK, and I helped her fulfill a lifelong ambition to see lots of castles from all over the UK so we pretty much went everywhere from some of the finest remaining examples of castles dating back to Edward I in North Wales to the grandest of castles in Scotland such as Culzean or Inveraray to the classic ones you see on the lochs such as Eilean Donan (Google these as I won't post any pics of us here today but you'll get the point). & of course England has some amazing castles too… Bamburgh on the north east coast is one such stunning example we visited!
However today was back to business as we updated the sites and I am going to quickly cover AAA Spanking and a fantastic dormitory discipline film starring 2 sassy young ladies, Lily Swan and Joelle Barros.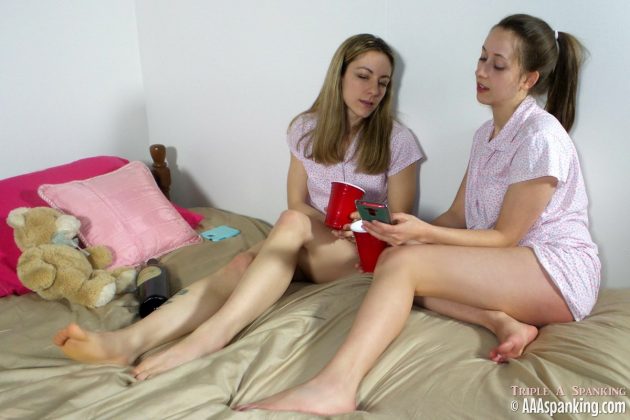 Lily Swan has stayed past curfew and was caught in Joelle's room with alcohol. Both girls were lectured on their inappropriate behavior by the Dorm Master who had the duty of ensuring all girls were tucked up in bed after evening prayers. This Boarding School had strict disciplinary measures in place and both girls were spanked, strapped and given the wooden hairbrush that the master had found in Joelle's room. This is a no nonsense severe and strict schoolgirl pajama bedtime discipline movie done in a traditional style.
This film is also available as part of the Clips Store – giving you access to 1000's of clips to view and download as you wish. This film can be downloaded HERE