HAPPY SPANKING NEW YEAR!
I hope you all had a great start to 2016… I can hardly believe how the years have flown by! It's also nearly 5 years since the launch of AAA Spanking and with almost 300 films it has grown tremendously! Yes, I don't now own the site anymore (thank you ATVOD) but of course I am close to it, I still promote it along with Sarah's spanking sites which are growing and growing and getting better too! & with that, I have news of the very latest new film to see in the new year with a fantastic debut of Zooey Zara. We met her at the Fetishcon event earlier this year and we made a few films for the SG Sites including this one you'll see here today at Triple A.
Hotels are always difficult to film or script for, so we went with an audition, a casting and Zooey (pronounced zoh-ee) had shown that she was a self confessed painslut… we had seen her at play in the resident dungeon the night before… hence the marks on her bottom when we filmed her… so this casting would check out what other things she would process and take for any future filming projects. I must stress that this isn't a role play discipline film, that's why she is smiling, testing us, enjoying the pain (it was incredible) – We just tested out her fantastic butt with various spanking and implement styles without being overly brutal but this was still severe at times! You'll notice there are various hand and foot paddlings & tawsings which would make most girls cringe and be unable to take what she did! I also got a chance for my good buddy and co star, Johnny Lake, to try out the new "CDS" – Compliance Discipline Strap from Ouch UK – safe to say… it's a stinger! I have used it a lot in private since and can HIGHLY recommend it… check out Mike's site if you haven't already – for his fine quality discipline implements << Click HERE! >>
Images below are taken directly from the 18 minute video – members can view approx 200 images as well as the HD1080 quality video! Zooey Zara stars in "Zooey's Special Audition" – out now at AAAspanking.com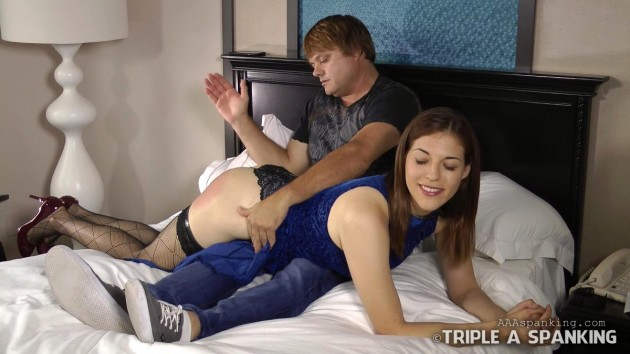 Filmed at Fetishcon 2015 – we came across this amazing young lady almost by accident. Beautiful BDSM lifestyler, Zooey, makes her stunning debut to round off an incredible year at AAA & ushers in a new era for 2016. This was a very special audition to see just how much pain she said she could process. Being a painslut, Zooey welcomed the challenge & had a fantastic warm up spanking by Johhny Lake (who was testing her out) after he saw her playing in the Fetishcon Dungeon the night before. Her marks soon re-appeared & she welcomed the chance to take the new Ouch(UK) AAA Compliance Discipline strap. Johnny didn't miss a spot & called for help. John Osborne used a stinging stiff leather tawse on her hands & a thick wooden ruler that would make most girls recoil in horror. Zooey? She just smiled beautifully & took more treatment on her feet too! After a wooden paddling on her now sore red bottom, which she took without a murmer, it was decided that she was the one to take a double caning including extended play & hard relentless strokes on the back of her thighs. This showed the guys that this fantastic young lady could take anything! Remember, this was strictly an audition & not a real life punishment so that is why you see Zooey smile. This was indeed a hard, severe test that most girls would be unable to take during this 18 minute video. It's a bit special & we hope that you think so too. Witness an incredible young lady showing us her amazing tolerance & appreciation of the pain that she gratefully received!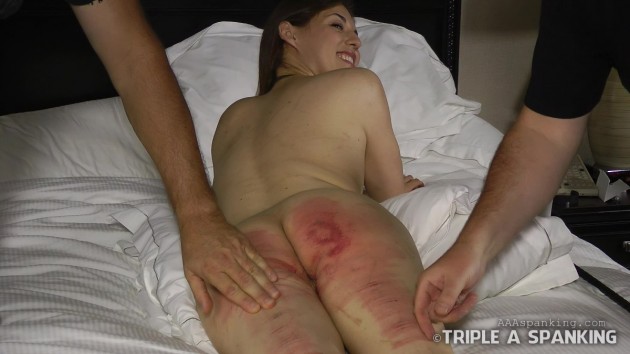 See the new video of Zooey Zara at the main site – or via the Clip Store (see below) for immediate full HD1080 download. This is a cracker of a film!