Some fantastic videos are now showing across the SG Network and you will not be disappointed… check out the latest videos which are showing, a very varied collection of films.
If you love mommy daughter spanking films then you will love this latest offering from Sarah Gregory as only she knows how!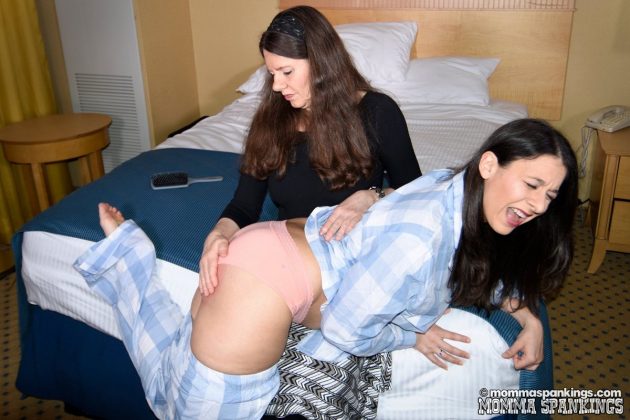 Sarah is being SUCH a disrespectful brat to Mommy! It is late in the morning and she should first of all be up and dressed, and second of all be downstairs socializing with the family. When Mommy comes into Sarah's room to ask her to get dressed and come and spend some time with the family, Sarah is rude, defiant, and tells her no. She tells Mom, "You can't make me!" and, of course, Mommy CAN make her naughty daughter listen and be a good girl by taking her over her lap for some good old-fashioned discipline. Sarah is spanked over her PJs, panties and then on the bare bottom with Mom's hand before she is made to ask for the hairbrush. Asking for it is very embarrassing and Mother knows that. Sarah needs to learn some humility as well. Sarah is spanked hard with Mommy's hairbrush until she is one sorry and contrite little girl.
If you like tears then you are in for a treat with this domestic discipline film with real crybaby, Elle Bea, spanked and strapped with daddy's belt…
Elle knows she is in trouble and waits in her room for daddy. He comes in and there is not much talk before her spanking begins. Daddy spanks her relentlessly over her pajamas, panties, and then on the bare bottom. Her spanking ends with his thick belt to really teach his naughty daughter a lesson. It isn't until she is crying real tears that he knows she has learned her lesson.
Get access to both sites for less than the combined cost of them with the Sarah Gregory Pass – giving you a chance to view all the films from the Strictmoor series and 100's of exclusive movies.

At AAA Spanking here is something a little special, featuring famous porn starlets Jill Kassidy & Britney Light – this couple are hot as hell… check out the images below. This movie was with thanks to Worst Behavior Productions and this film is totally exclusive to Triple A!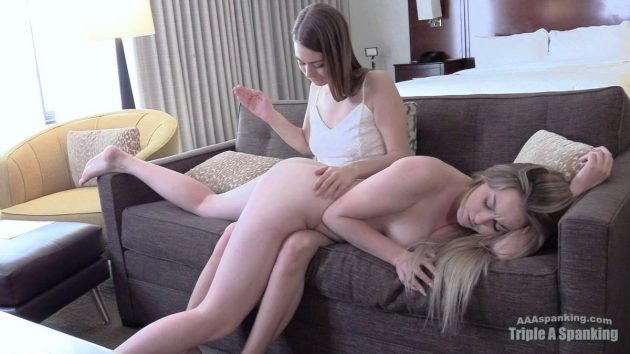 This is a very special debut film made for Triple A in collaboration with Worst Behavior Productions starring two of the hottest girls in the adult industry right now, Jill Kassidy & newcomer, Britney Light. A special mention should also go out to ATP Dave for being the "Daddy" in this hot spanking video. Jill invites Britney over to her place and this video starts straight in with the girls fondling, groping and caressing each others naked bodies as they take turns to spank each other on the sofa. There's lots of hot sexy impact play to watch before they are caught by Jill's daddy. If they enjoy improper play like this then he will teach them both a lesson and takes each girl over his lap giving them a sensual spanking with a firm hand. Both girls are already so turned on that they can't help but get off to this spanking as his hands soothe and sting their bare, exposed bottoms whilst gently scolding them both. Poor Daddy!
If you want to view this amazing video as a one time download you can do this HERE
Seeing Madame Samantha B and Violet October together – I know that you will love this extra special Vegas pairing!
Violet discovers that breaking rules and missing practice during an important build up to the Cheerleading Championship has dire consequences. Her mother's friend, Samantha, had agreed to be guardian for her on this long trip away and is really upset when she discovers that Violet has been vaping. In Nevada it is legal to smoke marijuana and Violet had been to a Dispensary. Back East this is not allowed and Samantha has strict views on this sort of behavior. Violet's excuse is that was stressed from the upcoming championships and that is why she snuck off and got high! If she was back home, her mother would have spanked Violet hard, but in her absence, Samantha has that duty. She wastes no time reminding Violet what will happen as she "dispenses" something extra special for her – a spanking! Violet is spanked over her guardian's lap, first on the panties then on her bare quivering bottom when her high behavior becomes really annoying. Spanking some sense into Violet at last takes place with a hairbrush that kills the buzz of Violet's high as the painful swats grab her attention.This is a painful lesson which the other girls will see as she is sent back to practice with a sore red, throbbing bottom which can be seen underneath her tight panties and short skirt! Now that is dispensing justice!
If you want to view this amazing video as a one time download you can do this HERE