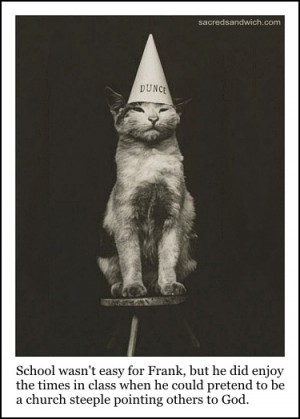 One of my core kinks within the spanking genre is humiliation – nothing quite gets me off when there is a genuine submission and acceptance of one's fate, no matter how embarrassing or intimate. I brought that about facilitated by the person's behaviour in the first place… perhaps he or she wasn't playing ball or being defiant or cheeky, unwilling to accept they had done wrong, seek forgiveness… or accept their responsibility. That's fine by me, I role play this a lot in private and will think nothing of awarding boring cornertime to make my subject realize that they will not win… I have all day, I'm not the one stood naked in the corner looking foolish… want to play up? Fine! That's an extra 15 minutes naked cornertime followed by the knowledge I just placed a heavy wooden paddle on the floor in front of them… they will get that when the time is due! Pretending to be ill? Even better, "Fetch me my rectal thermometer… and no, it's too late to say sorry". Base this around varied and unexpected spanking style punishments and I will always get my way in the end… I did a male spanking session recently based around these core values and the gentleman concerned LOVED the humiliation and hard punishment which he said were a relief in the end! Yes… I punish both guys and girls. I enjoy the different dynamics that this brings. men always can take punishments harder (in general) that's not to say the ladies don't get whacked good when needed or agreed to in advance… but I also want to move away from beating guys senseless (which I have, thankfully) … there is so much more to their overall punishment than that (however, I'll happily cold cane you and beat you if that's what you want, of course, lol!)
Oh, by the way… if there are any of you subs out there (male or female) who think they can handle a different punishment perspective from me, do get in touch. You know you want to – want to be thoroughly punished and cleansed of your guilt only a good session will do? It's something I think I am rather good at (I have learnt a lot from Sarah G's topping sessions) and I promise you won't be disappointed. Just drop me a line at webmaster (at) aaaspanking.com << join this together and substitute the (at) for an @ – title your email "session". We can discuss requirements and anything else further.
So to today, as well as some spanking updates I enjoyed viewing… I have a few of my core kinks as mentioned which are covered in a variety of situations… you'll see these at the end of this post!
OK… let's start with Sarah Gregory's latest update in which I played her "daddy" in the true sense for the first time… I can remember feeling a little uneasy at first but soon brought my own unique perspective to the film but kept it believeable (no touching up Sarah, or groping her inappropriately as I might do if we played a couple, lol). No, I had other means to embarrass and humiliate this daughter verbally and ensured by the end of the punishment that she was genuinely sulking and contrite… this was new (and exciting) for me to film alongside Sarah (Daddy and Mommy/Daughter style punishments are one of her core kinks) and I enjoyed filming it!
Out now to view in Full 1080HD at SarahGregorySpanking.com – Social Media Spanking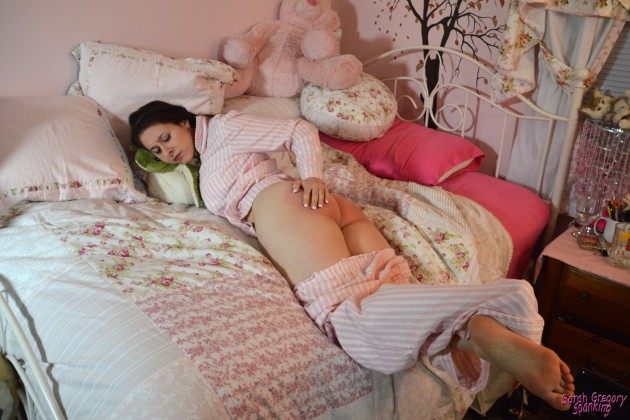 Sarah has been letting all her friends know via Facebook that she has been grounded. Daddy doesn't want their business posted all over the internet, especially since she is not supposed to be using her phone to begin with. He marches up to her room to chastise her, taking her phone back, and for posting that she is grounded online. He gives Sarah a humiliating spanking she won't quickly forget for her naughty behaviour.
CLICK HERE TO VIEW THE LATEST FILM HERE
***************************************************************
One such young lady that revels in her humiliation of her peers through her unique punishment style is Zoe Page… as I was talking about medical fetishes earlier, this film and excellent image still set that accompanies the movie "Doctors and Nurses" taken from my site AAAspanking.com
Nurse Page had come far in her short time at work & had all the qualities of the classic Matron patients & staff knew from the glorious days of the National Health Service (NHS). She knew her job, she took no nonsense from staff & lived for giving unruly patients wet, uncomfortable bed baths, she was also a stickler for strict discipline! Zoe was often resentful of the junior & trainee doctors who thought they knew it all & were disrespectful to her nursing staff. Miss Fox had no choice but to rent a room at Nurse Page's place when accommodation elsewhere was full & she had had to put up with some rather bizarre discipline sessions! This punishment involved Zoe's wonderful trumped up excuses, Aleesha's bewilderment & acceptance of these naughty rituals unique to Zoe… this time with an array of several hairbrushes & a stinging wooden ruler that would be used across Aleesha's bared anatomy whilst still dressed in her medical Scrubs!
See MORE of Zoe's varied and interesting punishment styles HERE
*****************************************************
At DreamsOfSpanking.com – this week Erica Scott learns what a humbling experience it is to go over Paul Kennedy's lap when she seriously pisses him off by destroying his precious paperwork. Images and the preview scene are taken from the HD film – Workaholic:
Erica Scott needs attention from her workaholic husband Paul Kennedy, but a hard spanking isn't what she's after. When she tears up his work, he punishes her with a hairbrush and leather strap.
************************************************************
Incarceration and prison style reformatory punishments are always interesting to me, especially when it involves pretty naughty young ladies such as Leandra at the "Masonfield Prison for Women" which means I have just checked out and viewed the latest movie update from Spanked in Uniform – it's pretty darned good, of course it would be…. I have a lot of time for Leandra having had the "pleasure" of spanking her amazing naughty bottom myself!
The Shoes: Leandra in Masonfield Prison for Women
During an unscheduled inspection, a pair of black high heel shoes were found in prisoner Leandra's cell and she was summoned to the Warden's office. When she was asked how the shoes got into the prison, she refused to answer so the Warden took her across his knee and spanked her soundly until she confessed that her boyfriend had smuggled them in.
CHECK OUT ALL 17 UNIFORM NICHES HERE AT SPANKED IN UNIFORM
*************************************************
Finally today… as promised earlier, humiliating punishments and  compromising embarrassing positions (from some sister sites) makes up this little known but rather more interesting of Russian punishment sites (for starters they don't beat the crap out of the girls which is refreshing!) – check out Spanking Them in this typically embarrassing time for another young lady flouting strict dress codes and being punished in front of her detractor too!
Tjana feels what it's like to ignore the strict rules of the establishment – her most embarrassing punishment yet… stripped of her clothing and then spanked, strapped and flogged in front of her colleague until she dare not flout the regulations again!
Check out the freeviews available and see for yourself what Spanking Them offers
******************************************
I have also decided to showcase a couple of sister sites of theirs which covers probably the most humiliating and embarrassing acts which also covers medical fetish play and intimate examinations with clothed people/naked girls. All deliciously wicked and hot!!!
CLICK HERE TO VIEW MORE SPECIAL EXAMINATIONS
********************************************
& in a similar site, this one deals with the humiliation of strip searches and the embarrassment of being naked and undressed in front of those who are not! I get this fetish and there is of course a pervy twist of a theme of interrogations and powerplays… the girls are totally submissive in this circumstance, naturally. Take this example of Leyla…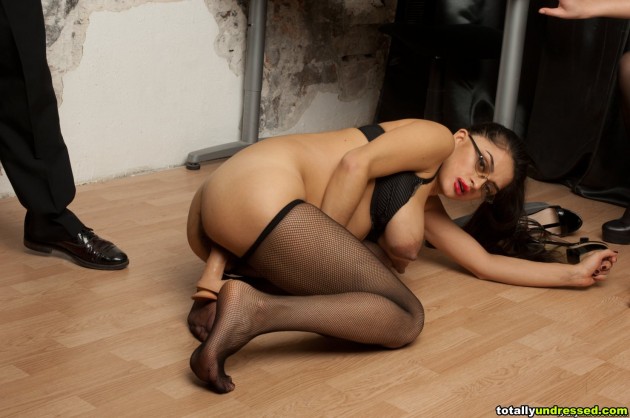 Check out TotallyUndressed.com for all your dominant and submissive needs…
*****************************************************