As promised, I have some of the very latest updates just released coupled with a self indulgent blast into the past for you all to enjoy as I bring you a uniform themed update today and I'm starting with my own site as I have been looking forward to showing this to everyone as it covers a lot of great themes… Girl Guide spankings, and a role reversal punishment of a female member of staff (with thanks to Miss Sara Winter for providing that particular distraction!) – it's an indulgent fantasy of mine to see attractive girls dressed in genuine UK Girl Guide uniforms (ahem!) … so without any more of my waffle, check out the access to a good free spanking clip of Emma (click on the image below) – I was particularly proud of these spankings that I carried out, the girls winced and genuinely got a good hard smacking for being naughty as you'll see! This is a genuinely enjoyable spanking film that has some great dialog (not to waffly or lengthy, great colorful uniforms and F/F and M/F spankings that should satisfy your viewing pleasures)…
Naughty Girl Guides, Cindy & Emma, have been summoned to Miss Winter's Office as she's heard reports of misbehaving girls fitting their description disgracing the name of the school and the Girl Guide Troupe they represent in the annual "Cookie Drive". What's more, the money they have collected from selling the cookies has gone missing & Miss Winter is so fed up & frustrated with the obvious lies of both girls that she spanks then uses the hairbrush on their bare behinds! However, this form of corporal punishment is reserved for the school's Headmaster, Mr Osborne, who hears the commotion & is confronted with a scene of the girls thrashed minus their knickers! He decides to teach Miss Winter a lesson in humility, punishing her in front of the girls before dispensing with them in their uniforms, himself, as they should have been. A good old fashioned excuse to show lots of female flesh reddened in under 20 minutes! It has both F/F, schoolgirl, uniform punishments & a role reversal discipline of the teaching staff that should appeal to everyone! Watch out for Mr Osborne's heavy hand in this movie, he really does give everyone within striking distance a darned good walloping!
Images below are taken directly from the HD film & shown here 1st (naturally) before anyone else!
See the cheap membership options still available for 3 & 6 month NON recurring deals at AAAspanking.com

*****************************************************
Now to uniforms of a different kind as we head over to Holland for a good dose of "schpaannnkings" in various uniforms and some British & Irish girls recently invited over to experience the latest discipline and punishments from Spanked-in-Uniform.com – I love seeing  these girls punished as you'll see and I'm sure you'll agree when you read on and view the latest offerings from the various uniform niches covered at this site!
Caroline Grey, a rebelious teen with a bad record wants to join the Southport Naval Academy. During her interview Captain Johnson decided to test her willingness to obey the rules by giving her a good spanking. She obeyed without much fuss and was allowed to join the Academy. A week later she was back in his office for her evaluation but she did not do that well. A few missed dutyshifts, rowcalls etc. which earned her a sound paddling while bending over his desk.
SEE MORE OF CAROLINE IN OTHER RECENT UNIFORM PRODUCTIONS HERE
Stewardess Caroline made a big mistake. Instead of getting on the flight to Tahiti, the little madam got on the Birmingham flight. This caused a huge problem and Mr. Johnson had to send a private jet to sort it out. Now instead of taking it out of her salary, he took it out on her bottom. As soon as she was back at the office, she was given a long sound OTK spanking followed by a hard bare bottom strapping over his desk!
If you liked what you saw here, you can see much more of Caroline Grey at Spanked-in-Uniform.com HERE
**************************************************
Below is a self indulgent look at the archives of Northern Spanking as I looked up the mad bad Katja who co starred alongside Nicole Reina – You may recognize katja from some of her films at Strictly English, where I thought some of her work as that pesky annoying brat next door amongst some of the most memorable I'd ever viewed of any actress, well, now that I have discovered Katja as NorthernSpanking (see below) I will be downloading all her films and this brief intro set of her schoolgirl spanking shame alongside Nicole is a corker!!!
An afternoon visit to the study, although very familiar to them by now, is not something Nicole and Katja look forward to. In addition to thoroughly punishing the two girls, leaving them with very sore bottoms indeed, the Headmaster seems to take great delight in finding humiliating new positions in which to punish them. There always comes a point when their soft white cotton knickers are taken down and, despite themselves, the girls embarrassment almost overtakes the pain of the spanking and slippering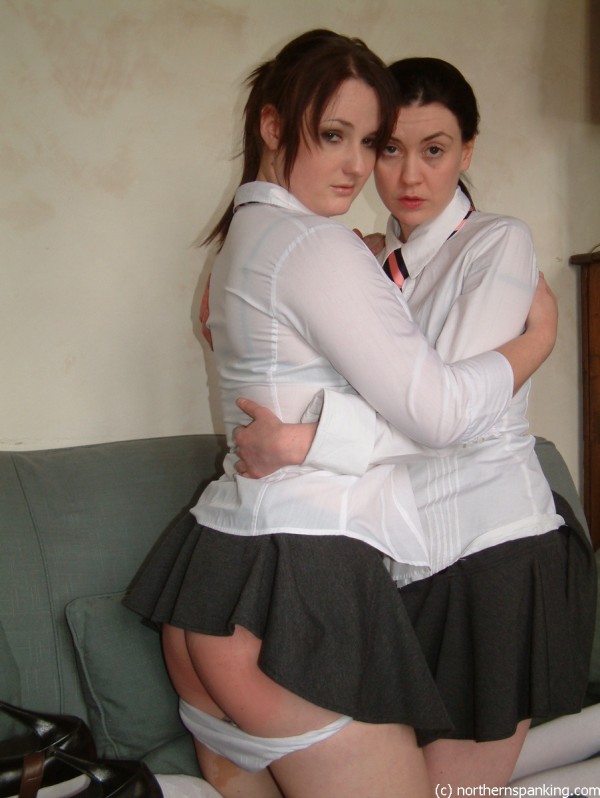 For more schoolgirl punishments in fantastic uniforms – CLICK HERE