I asked Sarah for a good spanking film from her archives for today's "TT" post from her site that she would hope you would all like to see. This was an excuse for me to ask her who she really enjoyed topping and playing with (and I was hoping she would say "Emma Harper") – I wasn't disappointed as I had watched this video not too long ago and loved the interaction between these two girls. I know she had tried to get her back as I had hinted that this would be a good idea but it seems Emma no longer films (boo!) but at least she DID do a few films and as you'll see, Emma was a striking young lady, she hailed from Massachusetts and had a very, VERY spankable bottom!
Emma Harper is "The Naughty Flirt" spanked by Sarah Gregory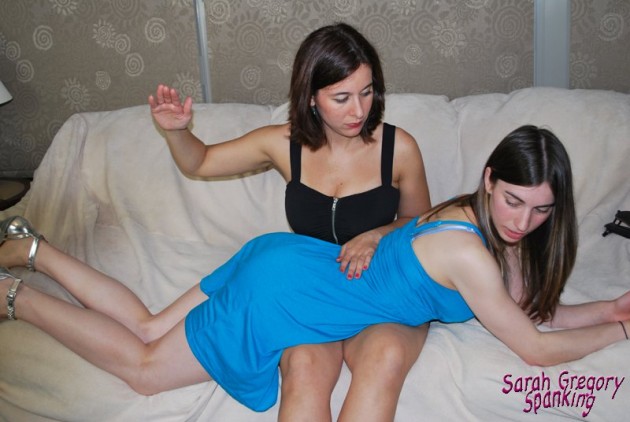 Sarah and her girlfriend Emma are out clubbing. Emma is flirting with all the other girls at the club, but not her girl. When Sarah and her get back home, Sarah starts to pack to move out. She has had enough of her girlfriend flirting with other chicks. Emma asks to be spanked as punishment for her behavior as she begs Sarah not to leave her. Sarah agrees to this and Emma is given one of the hardest spankings she has received.
For your info, the new hosting server changes for the Sarah Gregory Spanking site should be 100% complete and free of any sign up errors. There may still be a few issues with Momma Spankings but the data has been fully transferred and the new servers should also now be accepting your passcodes but I might recommend that you clear your browser cache and try (don't forget what your usercodes are before you clear your browser history etc) – It worked our end with many test sign ups etc… trust me, server changes are like moving house, always stressful as something unexpected ALWAYS crops up – grrr! Please bear with her… she has tried hard to answer any queries directly as soon as she can!

Don't forget… you can also meet Sarah in person (since she is one of the organizers) at the Lone Star Spanking Party in Houston TX (May 19-23, 2016) – tickets and how to register (to receive discounted hotel rates etc) can be found at the site. There will also be a very special News announcement regarding a special Guest of Honor Attendee that we are sure you would also LOVE to meet in person (who will be there for meet and greets and all manner of events that she will be attending with everyone). I promise you will not be disappointed!