Finally, I have had chance to get some updates to you all. The Awards have been somewhat time consuming and I have been traveling a lot recently… in between some puerile comments about the awards from some "sad sack" who gave me a false email address (as I did write back to the one he left in the comments section) I also BCC'd every producer and others who I thought should see his comment and my reply. I feel cheated as it was a rather interesting retort I made… oh well. the joys of anonymous internet warriors, LOL! "Mark" … if you're reading this, give me your REAL address, if you're man enough…  and I'll forward it to you (thanks).
But, to be honest, I'd rather this idiot not read my blog, go to any sites I'm involved in, jerking off to clips or whatever, as he sounded a cheapskate loser… so he will be most upset at the first offering from AAA Spanking – with recent New Spanker winner, Miss Elizabeth (who is awesome) spanking Adriana Evans (last year's winner of the Spankee category who finished a very close 3rd position this year round). These are 2 excellent ladies… check out the screen grabs from this new  film with the site description (below):
Starring Miss Elizabeth & Adriana Evans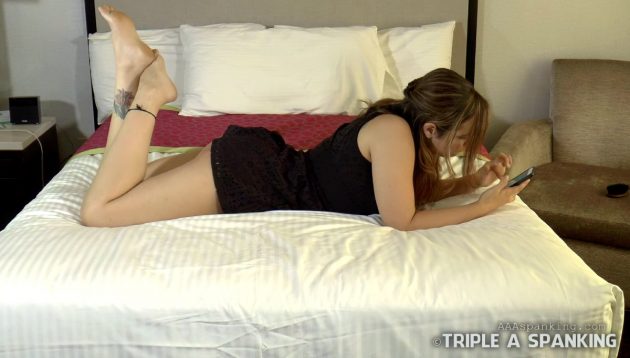 Adriana never did any of the chores when she stayed at her mother's place during the week. She had been told many times before that even just offering to do the washing up, or make some supper once in a while would be a courtesy instead of being reminded all the time. However, she was a selfish young lady, more interested in catching Pokemon or messaging her friends, preferring to interact with her phone than her mom! So when Adriana disrespected her mother one too many times, she realized all too late that this was a huge mistake. She hadn't been given a spanking at home for a long time and had forgotten just how humiliating and embarrassing it was. Her mother always spanked on the bare bottom! The awful memories started to flood back as she was dragged over her mom's lap and hand spanked hard with a withering scolding that she so hated. When the panties were pulled down, Adriana was reminded that a spanking in Mom's house was always done on the bare bottom. Adriana struggled and complained so much that she earned herself the hairbrush. A hard whacking with this implement brought back all the long forgotten memories of helplessness and shame. Adriana promised to be better when staying at her mother's house in future! Please welcome Miss Elizabeth to Triple A, she is awesome and you will be seeing more of her here in future at this site!
THIS FILM IS ALSO AVAILABLE AS A ONE TIME DOWNLOAD HERE

This new girl at Real Spankings has curves in all the right places and such a spankable booty! Betty introduces her in this fantastic profile of Fawn's debut appearance!
Fawn appears online in her first appearance in front of a camera spanked by Miss Betty naked, bare and exposed in this interesting interview and punishment profile film.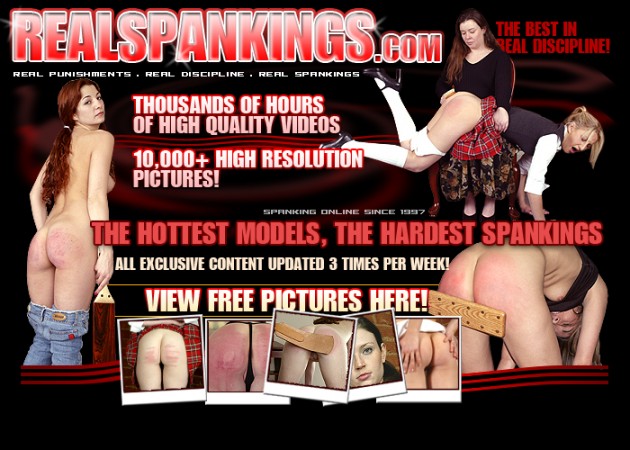 New at Momma Spankings earlier today is a Mommy/Daughter film with Sarah Gregory & Isobel Wren. This is (ahem) rather hot!!!
Mommy has told Isobel 4 times that she needs to be in bed sleeping but naughty Isobel isn't listening. Instead she is up playing with her toys. A good over the knee spanking from mommy will teach this disobedient girl to listen from now on. Isobel is taken over the knee and spanked over her Pajamas, panties, and then on the bare bottom until her bottom is burning red!
This site is part of the Sarah Gregory Pass – home to the Strictmore Academy series!


I will be back later with many more site updates… have fun and don't forget there are still a few categories of voting still open 🙂