OK, no more cats, cake, wind or waffle today… I thought a naughty back to basic promotion of some fittingly embarrassing positions and punishments of the girls shown here today would perhaps grab your interest as I peruse around some of the net's best spanking sites and see what has been showing recently! You can then decide if you wish to take this interest further, I am merely a facilitator of such spanking frippery 🙂
So to start with a blonde beauty by the name of Casandra (I think she is from Hungary) and in keeping with many of the East European girls at SpankingServer.com – they often find themselves shackled to Peter & Heidi's various amazing implements and restraints that fully expose a poor girl's private parts and there is just no hiding place from the leather straps, whips, canes and a good hard hand to find the desired target! Casandra, as you'll see… was placed onto the restraints and basically strapped in a diaper position in one such movie, her upper thighs and film bottom cheeks didn't escape the swats one little bit! Images below are taken from this movie directly and exclusive to this blog.
Seriously stunning and addictive viewing: There are plenty more girls like Casandra HERE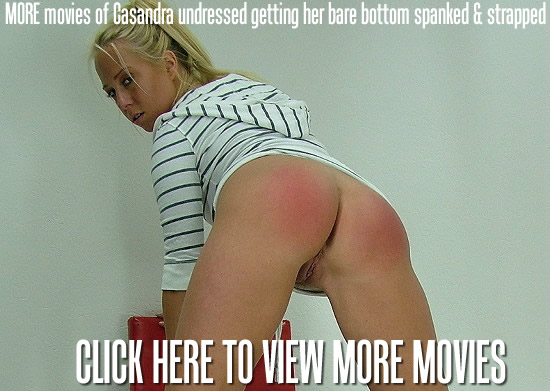 Don't forget how to properly view this site >> Remember to check out my definitive guide HERE
*************************************************
Brand new at FirmHandSpanking.com is a first, I think, of Allaura Shane… totally in the buff , given a riding crop punishment in the diaper position, legs held up in the air! She has obviously had something written into her contract about no close up pussy or gratuitous shots of her womanly petals!
No problem, it is, after all,  a spanking site and of course I like to see girls naked, I like to see more, I am still a red blooded male even if everything below ceased to function years ago according to "Er Indoors" (lol). However, I liked this punishment as she is clearly in a submissive position looking a little uneasy as she eventually slips off the soft stool and is cropped on the bathroom floor… luckily for her the floor was carpeted! These are the HQ images, they look great, but I must warn you that Allaura is one of these LA girls that love to tattoo themselves willy-nilly (I really am NOT keen on girls with excessive tatts at all… though in a domestic sitaution I can understand and accept them…) However enjoy the images and then I'll explain what I'm whingeing about!
OK, so it seems the trend of daft tattoos and covering the body with indiscriminate artwork (like Amy Winehouse, God rest her tortured soul) is now hopefully coming to an end as movie stars like Megan Fox finally have an ounce of intelligence to realize that having a tacky tatt of Marilyn Monroe on her arm is nasty and stops her from getting work! Seems the folk at FirmHandSpanking.com airbrushed a large tattoo of Allaura in the HQ images on her right side, you only notice it at the end of the film as most of the time she is lying down or the camera is facing her other side which is free of anything as large. I find it a shame that they feel they have to do this or she is told to face a certain way because of her body artwork in some of the shots! I can understand why, as I said I'm not keen on the markings… but I thought I'd let you guys know in advance as I aim to always be as accurate as possible when reporting updates. Remember, I don't blindly promote stuff, this is what I've seen as a member, it's what I still like or I wouldn't show you! Don't get me wrong, I absolutely love seeing Allaura spanked, she's a great sub… and seeing her naked like this – it's a top movie, the tattoo shown below is only at the end and very briefly… but still!
Maybe she should think about her growing body art… please… no more tatts, especially on your left side! No more dragons!!! I can tell you now I'd be infuriated and I'd give her a darned hard spanking over my lap, that's for sure! Maybe that's what she wants? 😉 Click actual screen image below to see the free movie clip and see her punished on the floor!
********************************************
I could think of nothing worse than being someone's "bitch" in prison, and as our jail cells are near full capacity here in the UK thanks to the recent "riots" I can well understand how tensions would rise like this little jail cell scene where one impossibly good looking inmate is treated to some bitch slapping on her bare bottom…. There's plenty of good punishment films centered around the jail theme at BadTushy.com and they are not just known for having incredibly gorgeous women bang seven bells of shit out of each other… oh no, they do it in jail, in and out of their Guantanamo style jumpsuits…. oh, and the warders rarely come to the girls rescue!
Yup! That looks suspiciously like Francesca Le dishing it out to her unfortunate cell mate!
You can see more of this non stop spanking of girl on girl punishment Right Here
**************************************************
I have a couple of scenes from some fantastic archives from English-Spankers.com to show you, I just watched both these films and forgot just how damned good they were, not only that, I'm going to show you the amazing HQ Stills from the movies, but they are so beautifully shot, amongst the best I've seen! These deserve a special mention and I hope you like the expressions of the girls in 2 very contrasting but humiliating panties down disciplines!
The first is an audition style punishment where the fresh faced Heather, a real girl next door type is asked to strip, expose her perky breasts and see if she can take a strapping in that great costume! The look on her face says it all! Mr Stern at his best!!! 🙂
Hand strappings aren't everyone's "cup of tea" so thankfully in this schoolgirl detention film starring one of my all time fave schoolgirl types, the very naughty Lena Williams… she gets strapped on her plump gorgeous bottom too! I loved the scenes where she was blowing on her hands after the sting of the strap… try that on your bottom!!!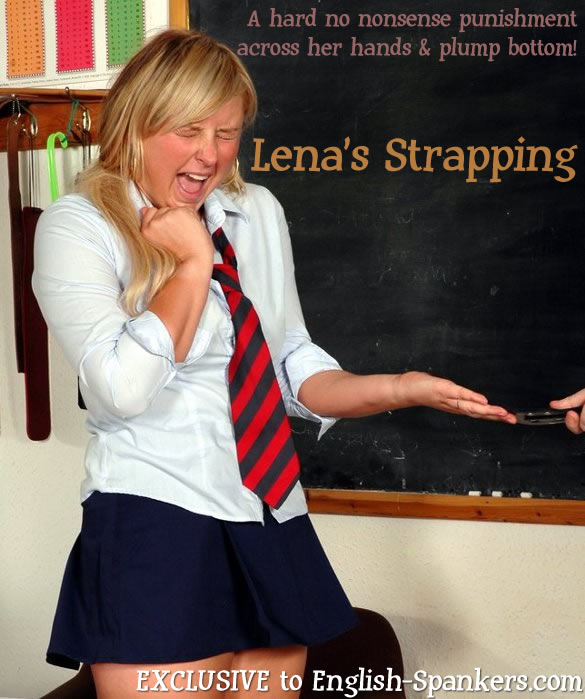 Gorgeous, looking inch perfect in school uniform, and moaning beautifully with each stinging strap laid on her hands and bottom, Lena is as perfect a schoolgirl as you will see punished on film! These images below try to do this justice, I hope you agree!
You can see these and the very latest FREE Movie Previews HERE
*************************************
OK, that's it from this blog today, I am planning on doing a special update tomorrow so don't go too far! Also to let you know, at my own site, the full MP4 version of Sarah Gregory's hilarious and (severe slippering) detention punishment is now available for members – a brief original MP4 clip as members can now download in full size 1280×720 format is below! Click image to download and play from your own PC/laptop! Enjoy… it's a great film!
See all the latest free movie clips & more from AAAspanking HERE