I have always long admired the beautiful, leggy Australian beauty, Gigi Allens, who worked at the Clare Fonda Pass network of sites and in this genre with some hard and also very sexy spanking content. You won't find any more of her exclusively than at this group of websites. I prefer to use the pass as it gives global coverage, but Gigi appears at each site multiple times and each site is massive in its' own right. My last tête à tête with The Cameraman revealed that he still has some more unreleased content of Gigi which is actually great news… if, like me, you're fans of this super cute and talented spanko switch!
Below are some choice films she starred in at each of the sites, this is just but a very small contribution she has made. By signing up HERE you'll be able to view ALL of her content at your leisure!
The was the first site – the main focus is girls who were spanked growing up telling their spanking stories and then acted out. The interviews are very detailed and it makes the scenes intense. This is a great place for you to discover new talent. Clare plays the mom figure but they also have guest dommes and some M/f as many girls were spanked by their dads growing up. This site also includes some spanking fantasy and real-life punishment scenes such as two friends or a couple. A great place to get to know new spanking talent and updates are generous with 6 clips per week.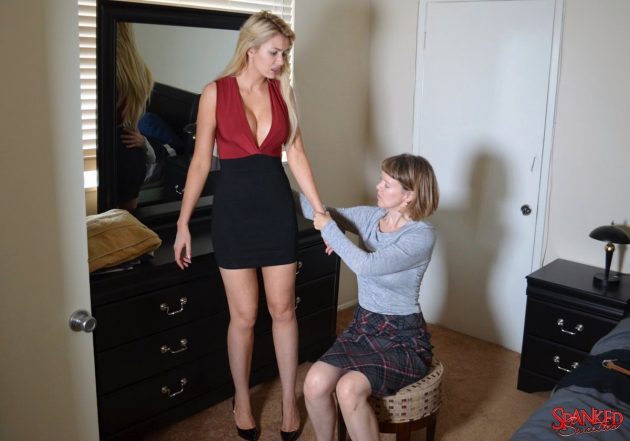 This is what the staff at Sweeties had to say about her: Gigi Allens is an amazing beauty who we are so excited to add to our list of Sweeties. She grew up in Australia, where she was spanked regularly by her Mom, Dad and even Grandma. Clare Fonda makes a big splash in her official return to spanking playing Gigi's mom (and grannie) and providing the authentic accent and hard spankings.

Girl Spanks Girl is Clare Fonda's Exclusive all F/F spanking website which offers traditional OTK as well as erotic spanking. With well over 4,000 video clips of girls spanking girls in the members section, updating with a new video clip every day. The stories involve only females. Best known for our long schoolgirl spanking video Exclusive Education series and other full length films which feature hand, hairbrush, paddle strap and cane. All Exclusive Education schoolgirl spanking dramas can be seen in their entirety on this website, as well as all future Exclusive Education movies and all of our many bare bottom spanking films. Updates are both in clip form and as long videos, all easily downloadable.
A genie (Gigi Allens) appears to Goldie (in her first ever spanking shoot) when she rubs an old bottle. Goldie wished that Gigi would make out with her. When Gigi admits it wasn't her best kiss ever, Goldie's second wish is to spank the genie. After that wish is granted, Goldie's last is that she gets everything she deserves. Easy, she deserves a spanking from the angry Genie.

Welcome to a world of hooker babes and lady pimps, of johns and hoes, of jealous men, slutty women and the madam who spanks them. Spanking training is a part of life for these call girls, on the job, in the bedroom and at home. Bare bottom spanking, OTK spanking, strapping paddling and all the best in adult spanking form Clare Fonda and starring the hottest spanking models on The Internet. Girls spanking Girls, Men Spanking Naughty Prostitutes in fun and edgy spanking porn.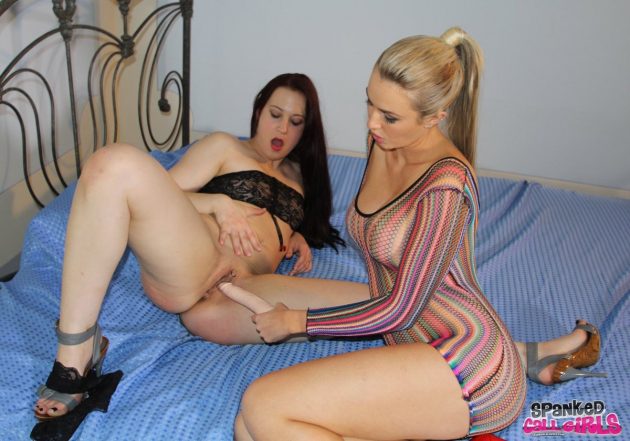 The very sexy Gigi Allens has been tasked to teach Cheyenne Jewel about sex. She uses a dildo, and demonstrates, but doesn't appreciate Cheyenne's attitude. So she spanks some sense into her. But Cheyenne delivers some spanking of her own.

Penthouse Pet Veronica Ricci heads up an all female cast of spanking models including some special seperate scenes starring Gigi Allens. This is an episodic website of a naughty girl sent to an all-girls college for wayward girls with a sorority where spanking, paddling and caning are daily discipline. Gorgeous 5'8″ redhead switch Veronica Ricci is spanked by her mom and sorority sisters and she spanks her sorority sisters as well. Girls spank girls OTK, bent over sofas and up against walls. Bottoms get very red and sore on this website which shows us that girls can punish each other and play very hard. Veronica Ricci selected the cast of this all-girl spanking model group. Updates are twice a week and there are both traditional and sexy lesbian spankings.  There are 6 new video clips per week of high definition all girl spanking with an excellent spanking story.
Gigi Allens has instructed Lily to cook for the sorority. When Lily does a poor job of it and flashes a bratty attitude, Gigi puts the curvy bottomed girl over her knee for a long, painful spanking with her hand and a wooden bath brush. She further humiliates Lily by having her bend over the trash to throw out the food and spanks her more in this position as well.

All the above sites are part of the Clare Fonda Pass network, giving you access to 1000s of videos and photo sets for a fraction of the combined cost of up to 5 sites. Each site is massive in its' own right, but this deal is unbeatable and is really popular if you have the disk space and time to download Terrabytes of spanking content! CLICK HERE