Some more update news for you today… these are all good, so enjoy, I most certainly did! Starting with a brand new film release from Sarah Gregory Spanking – one of my fave real life couples, Kajira & Ulf, teamed up with Sarah and helped make this fun spanking film about an annoying girl scout hassling him to buy her cookies… on the third knock at the door, Ulf had enough and showed her what happened to cute brats like Kajira (and she is cute in that authentic girl scouts uniform, isn't she?)
Cookie Girl Correction – starring Kajira Bound & Ulf Sayer
Kajira has been a very naughty girlscout. She is hassling all the neighbors multiple times to buy her cookies when they tell her no. Well, Ulf has had just about enough of her harassing him over and over. He tells her he has something for her and drags her inside where he takes her over his knee to give her some good old fashioned discipline. This brat will learn her lesson, she will learn to respect people and not try to push her cookies on them when they clearly say no. She is whining and struggling right from the first smack. A bare bottom spanking is clearly what this naughty cookie girl has needed.
SEE THE FULL FILM UPDATE AT SARAH GREGORY SPANKING
This site is also part of the Sarah Gregory Pass network giving you access with the same set of codes for a fraction of the combined cost. See more info on that option HERE


I haven't updated anything recently from Firmhandspanking.com because every film features Alison Miller who I can't stand! I realize this is a personal issue and I knwo I shouldn't write anything negative but I really can not abide the girl (I have my reasons). So in the offchance the owners of FHS are reading this – guys, please don't put out Alison one after the other… I feel this jeopardizes your site… but who am I to argue? I say this as I really do love this site and it does have one of the biggest archives of data out there so I will show you something you may have missed from the past. It's a cheerleader F/F paddling/spanking theme and this was from Tiffany Hendrick's "Attitude Adjustment" series from way back in 2009! This is more like it!
Pale bottom upturned over the knee of Ms Wallace, top cheerleader Tiffany Hendricks learns the hard way that hazing stunts are not a good plan – particularly when the target is the principal's car! A tattoo of stinging smacks, 10 over her tight skirt, the remainder on bare skin, makes Tiffany squirm. But is she sorry? Discover the truth as she kneels after a spanking in Attitude Adjustment.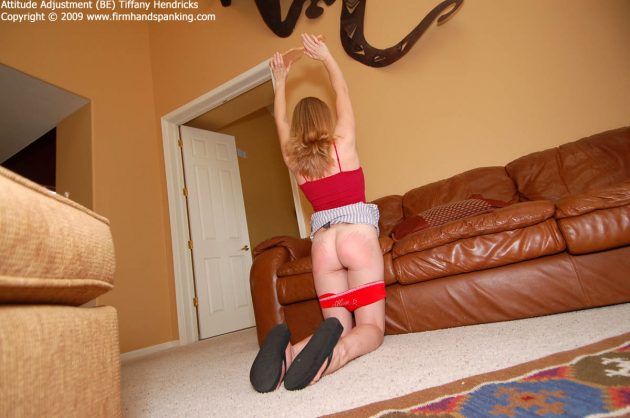 See the full series of Tiffany Hendricks exclusively to Firm Hand Spanking

I've a lot of catching up to do at Northern Spanking so will start with the most recent film which is out in full for members to download and features the location of one of the Lone Star Spanking Party hotel rooms (lol) with Nuna Starks getting a caning from her boss… the explanation why is below, along with these lovely images.
One mistake too far sees secretary Nuna and her long-suffering boss sharing a too-small hotel room for the duration of their business trip. Luckily, Mr Kennedy always brings a specific piece of business equipment with him on such trips… His cane!
CLICK HERE TO VIEW THIS NEW MOVIE FROM NORTHERN SPANKING

For all of you who are flying today… safe flight and happy landings! xx