… completely different!
Here's something a little different today as I bring you updates from different websites, some of which you will be seeing more of in future spanking biz round-ups… anyway, do enjoy these and check out the sites if you haven't seen them before!
Casey Calvert Full Access Spanking
Positioned on her back, Casey hold her legs up for this full access spanking. She receives plenty of hand spanks and swats up and down her pretty pussy, her ass cheeks and the backs of her thighs as she moans. She loves his touch, and the delicious sensation of having her naughty pink parts punished. Shortening his grip on the belt, stinging smacks find her exposed cunt and asshole as well as the backs of her thighs.
Go check out more naughty spanking films with casey calvert at this site
CLICK HERE TO ACCESS ASSUME THE POSITION
Jenia rudely spanked by the Boss
One mistake is forgivable, but what if a salesgirl like Jenia makes silly mistakes every day? The boss of this online agency gives his employees a unique option. Since they are paid so well, the ladies know what to expect… He gives a whipping lesson to 26 year-old Jenia, who prefers getting her bottom whacked than losing her well-paid job. This hot video features plenty of OTK spanking, doggy whipping, over the table paddling and some other ruder discipline techniques that she soon discovers. Looks like the only thing the boss from this network enjoys is spanking his sales staff! Bad work was her first mistake… showing excitement during her spanking and whipping was the second one. If only Jenia was less wet, the boss wouldn't make her masturbate with a flogger in her mouth. Her cries and moans during this film are hot!
See more punishments like this at my favorite Russian language spanking site HERE

Bars & Stripes no longer exists (sadly) as a separate website but the entire series of films both from the UK & Holland are available as part of your membership to Spanked in Uniform. The film that I have selected from the B&S section of this site stars gorgeous MILF, the Spanish star Montse Swinger (filmed in the Netherlands).
After her short prison sentence, Montse Swinger was sent home but she still had one job. Meeting her parole officer. When she missed one meeting, the warden went to her house, woke her up, and the Prison strap was soon turning her bottom a fiery red. Montse had to bend over the end of the bed, bottom bare, and the trusty hand-shaped prison paddle tanned her bottom hard. Then she was told to change and go to her meeting.
Go check out all the niche sections of this site, including the Bars section (my favorite scenes)
CLICK HERE TO ACCESS SPANKED IN UNIFORM
One of the best places to find content with Luci Lovett is at Good Spanking – here is one such example of many featuring Luci's magnificent booty getting a sexy spanking from Chelsea Pfeiffer.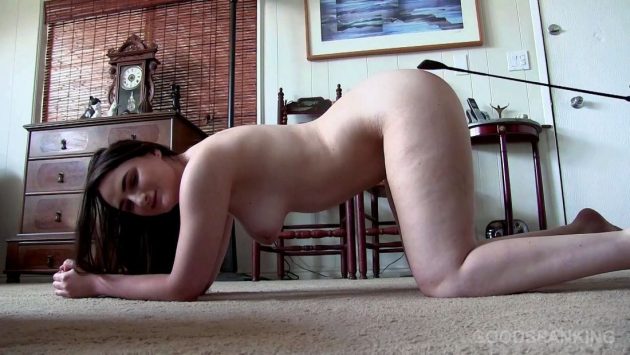 Fetchingly naked Luci presents herself for a sexy spanking. Chelsea gladly takes the lovely nude over her knee and the sensual spanking adventure begins. Luci moans and oohs and aahs as Chelsea begins to heat up the darling brunette's beautiful bottom. Then Luci goes on all fours, her bottom facing Chelsea, for a snappy cropping! Naughty, naked Luci's cropping continues and soon evolves into a stinging strapping. Finally, Luci chooses Chelsea's largest, hardest wooden paddle for the flaming finish to her hot and sexy spanking session!
Go check out all the films featuring Luci Lovett below
CLICK HERE TO ACCESS GOOD SPANKING