I hope those in the USA had a good Thanksgiving, I know how big this is and important it is to families and loved ones to be together, we in Europe don't have anything like this and so attach far more importance to Christmas for family get togethers and such. Anyways, hoped it all went as you had hoped and are not feeling too stuffed on the poor turkeys, it's a crap time to be a turkey at this time of year, with Christmas looming, most of us in britain still choose this bird more than any other to feast upon for our special dinner! Just think of the poor turkeys,, people!
Over in Holland there is no such thing as Thanksgiving or mercy on a poor gurl's butt when she misbehaves or makes a mistake as Mike from Spanked-in-Uniform.com will attest to. below is the very latest episodes for your perusal including yet another new and interesting uniform spanking niche 🙂
This is a French maid and Secretarial uniform spanking in one go! Care of the Whippingsham Secretarial School section:
During their last assignment at a local business Angelique and Sidney did not keep their desks and workspaces clean and the Director called Mr. Johnson and told him he felt they both needed a sound spanking. That was not enough according to Mr. Johnson and he ordered the girls to change into French maid uniforms and Angelique had to do all the windows in the College and Sidney had to sweep the floors. They both did not do a good job and they both ended up over Mr. Johnson's knee getting their bottoms soundly spanked!
A new micro niche is a school of wizardry and witchcraft at Hottbotts (this did make me laugh) – however, the spankings are very real even if the backdrops are not (with Mike's clever use of a green screen… and the movies are now in much higher definition, which always helps!)
In the first episode Gendal addresses the school and makes it perfectly clear that NO spells are allowed to be used and tried outside the classrooms and there are certain areas of the school off limits to the girls especially the dungeons. Betty and Monique decide to ignore his warnings and they try a spell which takes them to the Alohamora dungeon. What they didn't know is that the Alohamora dungeon is the domain of Olad the Dragon and he is not amused. He sends them straight back to Gendal who takes them to the punishment room for the Red Chair! Both girls are taken over his knee and get a sound spanking and one demerit each. Two demerits means a hard caning. Will they behave themselves and avoid the cane? (we think not!) Check out Mike's  dodgy beard and of course the hard spankings you'd expect!
You can see more of what is going on in all the uniform sections – CLICK HERE
*************************************************
Briefly today, here is a new spanking movie update of a new and very lovely girl next door type with some adorably short skirts I approve of… pity her mother didn't and this re enactment of her spankings growing up does it for me… as you'll see below! This comes from the spanking interview and girl next door punishment site – SpankedSweeties.com (part of the Clare Fonda group of sites, of course)
Dixie Comet is the new girl and at 29 years old you'd think she would have passed her bratty phase, thankfully not and she has a delightful bum that cries out to be spanked, I can only imagine what went on in her house growing up, but these interviews and re enactments do help somewhat! Enjoy!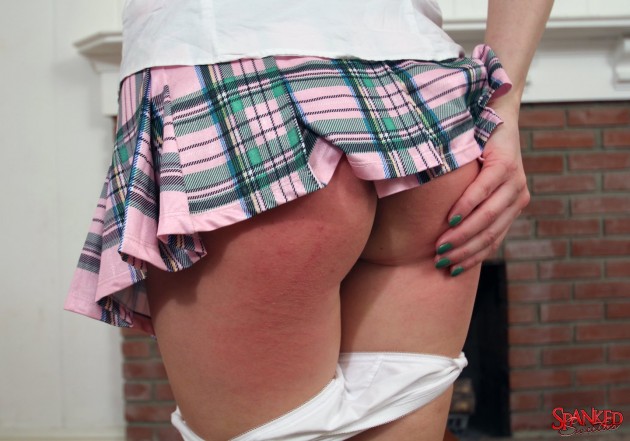 Check out more at SpankedSweeties.com – or via the better value 5 SITE PASS
***********************************************
Finally, a fantasy of mine, Japanese schoolgirls, and this erotic photography and movie site from Japan isn't really anything to do with spanking but sure fuels my fantasies with some lovely shots, spankables… great locations… oh and the girls, like Mana Aoki (below)
Mana Aoki, a super beautiful Japanese teen/AV model wearing schoolgirl uniform and stripping in the classroom. With those perky little boobs, and a natural set of hair "down there" whilst wearing pigtails and that uniform completes it for me… this gets the Chief's patented "Trouser Arousal" award of the day!
Check out more from this fascinating niche site that covers some of the most erotic uncensored photography from Japan
**********************************************
OK folks, as another holiday is over… the build up to Xmas begins (sigh) there are bargains to be had if you know just where to look! Like my own little site offering a Loyalty Reward membership for those that want to stick with us long term, thanks to the usual suspects I see (lol) and some new folk who have joined, I know you'll get your money's worth as testament to the many returnees! Enjoy!