Hi everyone, sorry I hadn't been back sooner! I have been busy elsewhere as well as preparing for another filmshoot this weekend with a NEW girl that I don't think has been spanked online before. I won't say anything until I've done the filmshoot, but I also have a fantastic beautiful female domme that you will all know and I have never worked with, so I am quite excited about that as well. There's also a kick ass apartment that I've managed to get too! Do I sound excited? 🙂
Well, also check out this special preview of our next film which comes out for members tomorrow and it's a little schoolgirl cracker starring new girl Mishka. I loved making this as I got to turn her tight, pert bottom very red! Members will get a chance to view a 50 large resolution HQ stills set as well as 120 screen images taken from the movie as well as being able to choose MP4 or WMV-HD formats at both over 3000kbs playback! Cool, huh? So enough of my waffle, click on either image below and they will lead to seperate image galleries giving you an idea of what is coming!
Images below are taken from the movie and these are smaller than the actual screen size!
Then check out this HQ Image set of the film "Smoking Hurts" (below)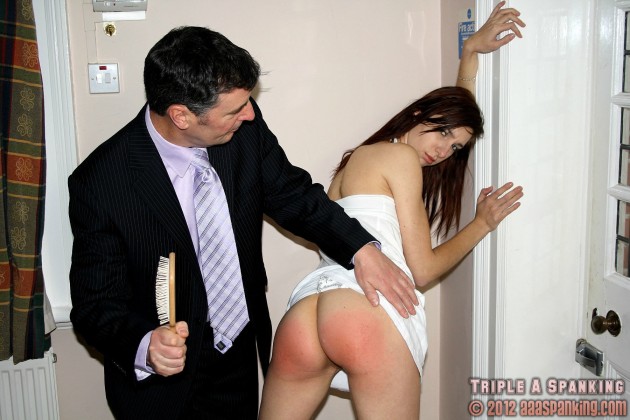 Anyway, I hope you like what's coming! Here's some behind the scenes gossip on this movie which includes news that this film was briefly filmed outdoors, it didn't last long as we couldn't really film outside without possibly attracting attention, but I just wanted to ensure that we did something that gave Mishka an excuse to get caught smoking as it was also mild day. I am still looking for a location later this year where we can film outdoors, I have a few girls and some locations in mind that I know will work so I shall just bide my time. I decided to punish Mishka for smoking (she smokes those horrible little rolled up cigarettes) it's hardly original, of course, but it's a genuine spanking offence and I love whacking a girl's bottom for this infraction as I'm not keen on the sight of a woman smoking (I'm an old fashioned gent!) & indeed I did thrash her, I think she was genuinely shocked and hated that hairbrush as well as the slipper that she had never experienced before and didn't care to again! I think it shows quite well and she reacted beautifully and we captured it all.
I know it sounds daft, but I loved the parquet flooring too, a real throw back to the 1970's and this room had great light and was just perfect for a skiving gym girl's punishment! This movie also featured my first use of authentic gym knickers with the white gussets that I find a turn on! I have to tell you members will be in for a treat over the next month or so as they will be able to see Mishka humiliated with a temperate taking (hmm, not orally, that's for sure) and some rather intimate spankings as well as looking totally awesome in a cheer girl's outfit in a 30 minute film that has her shove a pom-pom handle where no self respecting young lady should "hide" it! (ahem!) You should be able to see some of these from the preview I did originally HERE
Check out the front of the site tomorrow when I will update the tour page & place a short preview clip too

Have a good evening! Chief.