As I seem to have a little more time on my hands without the distraction (ahem) of the World Cup (I'll be lucky if I can be arsed to watch 2 or 3 more games now) my loss is YOUR gain and to show you I have been all over the spanking world today to bring you these, hopefully, varied, but essentially very erotic spankings and correctional discipline updates.
Brand new at StrictSpanking is this correctional schoolgirl video which has been tastefully remastered, I think I only ever saw this as a 360kbs Real media format movie many years ago, and then it wasn't completely edited to what it is now! So, ladies & gentlemen, this is your starter today (the Hors d'ouvre, if you will) and what a delightful punishment this is of Jemma, alone and ashamed in her school uniform, sent away for some proper "Old Skool" discipline as only we Brits know how!!!
The storyline: Jemma is sent to the Countryside in a last ditch effort to try straighten her out. School work & attitude were both lacking & it was felt a few days away with the chance to give her some much needed discipline in private surroundings was needed. Shortly after arriving she was given a lecture on how things would be while she was there. Then she was told to lift up her skirt & lower her knickers. To start with she was given a hard bare bottom Spanking followed by a long dose of the strap. The start of Jemma's reform was well and truly underway. Check out some early preview pics that I have grabbed exclusively for you SpankingBlogg readers!!!
Jemma is a "big" girl, who is also fiercely proud of her pubic bush, and who am I to argue with that? I think the only shame this girl showed was when she was ordered over his knee for the first spanking, truly a wondrous sight for lovers of girl bottoms that jiggle provocatively! Warning: The sight of Jemma's bared wobbling buttocks will cause uncomfortable viewing for those gentlemen with tight fitting trousers!
The tour pages at StrictSpanking have a variety of wonderful spankings and strappings, and all films are of course in HQ-WMV formats
******************************************
Next up for the main course is Hannah Crawford, one of the growing number of teenage tearaways we know all too well, however she appears here in several movies at ENGLISH-SPANKERS and what a welcome addition she makes to this spanking site!

In common with most teenagers our just spanked girl does not learn. She is supposed to be at work but prefers to spend her day doing sexy dancing. This does not meet with general approval. She is paddled hard on her bare bottom, first bent over and then in the humiliating diaper position. At the end of the punishment she is red and well marked on her bottom!


Mmm, the diaper position, it really does reveal everything, doesn't it?
You can see many more excellent movies in this quality covering wives, girlfriends, schoolgirls and teenagers all disciplined and spanked on their bare bottoms as the obsessive English know how to!

****************************************************
and finally today, for the dessert…the very sweet and delicious Amber Dawn from SpankAmber.com gives her very lucky man a blow job as he allows her to suck him off he plays with her freshly spanked ass and gets out his leather belt for some erotic playtime. Amber loves the feel of leather, she may be a Vegan…but she sure loves her man-milk and a leather belt rubbing over her swollen pussy and hot ass! I have a teaser clip and some naughty images so you'll get an idea of what Amber is capable of, as well as getting her bottom truly reddened on a weekly basis!!! WARNING: This spankable dessert is very naughty!!!
Wanna know how Amber's mouth ended up with a wad of cum?
CLICK IMAGE BELOW to see the Free Exclusive Clip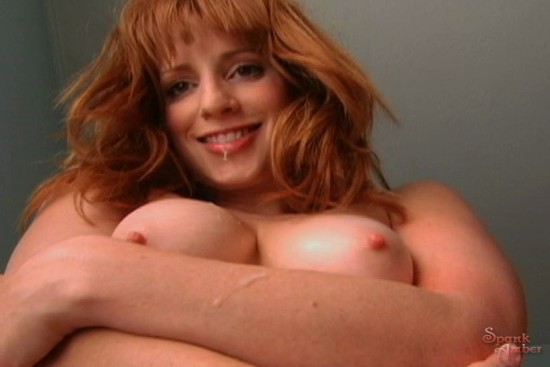 Check out all of Amber's most recent HOT spanking updates HERE