OK, as I promised you yesterday… here is the latest film to be released at AAAspanking.com and it's one I've had in line for sometime, I was going to delay it a little longer but I'm impatient so wanted to let the members share in the fun with Pandora Blake & Leia-Ann Woods. & what's more… the bonus is I'm not in it ("yay", I hear you cry!) and it has Paul Kennedy & Jean Bradley dishing out the discipline instead and together they are a formidable pair… there's a full explanation and 2 video formats to view (the HD-MP4 file is far better, a clearer resolution & members can download this full movie file) on the HOME PAGE HERE (or click on the image below)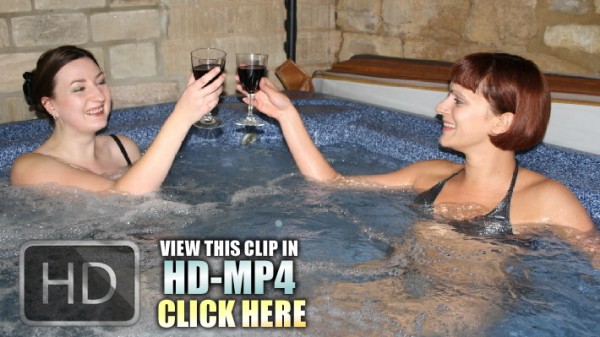 OK, you'll see there is a full explanation of the movie on the home page, but of course you'll get to see some movie images here first, along with some behind the scenes memories and additional images you won't find anywhere else! This was the last movie that Pandora filmed with us and the girls had been eyeing up this Hot Tub from the moment they had arrived earlier in the day! I had mentioned that there was a Hot Tub so hoped that they'd find it fun to do a scene in it… I wasn't disappointed… Anyone will tell you that it's a great way to relax and unwind… bubbles are soothing,  which was just as well because having your wet bottom spanked can be super ouchy! Thankfully I spared the girls (and yourselves) the full horror of Chief disrobing and enjoying a dip… I did that later without any cameras. So take a peek at some images and I'll continue with a behind the scenes memories.
Leia got a tongue lashing & spanking off Jean Bradley in her own inimitable way as Pandora looked on… just as we started filming, it started to rain heavily overhead, the hot tub area was covered but it didn't stop me and one of the cam guys getting a bit of a soaking, I had to hide nearby and direct the film as the lighting seriously changed and we were actually running out of time as the girls had trains to catch back to London later that evening. I hadn't bargained on the skies darkening so heavily and we only had one "daylight" from one direction and couldn't use any others unless one of us fancied a spot of electrocution in the wet… but despite the severe constraints (the actual filming area was really tight) I have to heap praise on our editor, Neil, for the MP4 version which he played around with recently and that version is so much better despite the poor lighting. What members WILL see though is Pandora getting a real stinging spanking off both Jean & then Paul… and whether she was acting or not, I don't know as she seemed to be really wincing, either way, I think it was the latter and that must have hurt after a full day's filming. I'd once again like to say thanks to Pandora for making those scenes look convincing, I don't think much acting was required for that as anyone having their wet bottom thrashed will testify to the fact it hurts like hell!
I haven't mentioned Paul or Jean's excellent contribution to not only this film but the entire film shoot, this was our first ever time filming and after my disastrous very first day where we had a complete no show from 3 models (unbelievable… you live and learn, though) it ended on a high, thankfully… and although I am sure we'd have done many things differently now, I am still proud of the way we coped that week and this was a feel good film that had a slightly different feel to it and of course after we stopped filming the girls got back in the tub finished their wine and got themselves ready for the trip back to London!
Below are some extra images that will not be found anywhere else as they are for this blog… I took a few images of the girls enjoying themselves after we wrapped up the day's filming 🙂
See the many exclusive films that are shown at AAAspanking.com of both Pandora & Leia!