Happy New Year! (again) – it's the Chinese new year and as 2012 is the "Year of the Dragon", I like this one, not only is it a mythical beast, but a kick ass one too…. not like a dog or dirty monkey… or rather depressingly, a snake *slither*. My company (my day job), like their competitors no doubt, have been quick on the uptake to profit from this with promotional merchandise for Chinese Meals, so I am quickly going to find some excuse to show you some asian girls getting spanked (sadly not Chinese but maybe some are of Chinese descent?) as I have to prepare my noodles and stir fry with a very chilled bottle or 2 of the excellent and very refreshing Tsingtao Chinese beer in those distinctive green bottles (mmm, looking forward to that!)
So without further ado, lets find some excuse to show some spankings (brand new) and some of my classic faves, as I try to keep this on some sort of theme 🙂
Do you remember 2 actresses by the names of Helen Lei and Nyssa Nevers? Well, I do, and both girls made a significant impact for me when they appeared at the time. So much so, that if and when I ever do make it to America (well, I know I will definitely be there next year anyway), I will STILL make it my mission to spank Nyssa over my knee… come hell or high water 
See why below in my screen grabs that I took from one of her many films she made, this alongside Beverly Bacci, who I can never make up my mind if I prefer as a top or a bottom (she is equally good in both roles!). Nyssa allows a computer virus to mess up beverly's PC…hmmm, I wonder how this is gonna end?
Do NOT miss any of Nyssa's great movies – which you can be able to view HERE
… & I also wanted to show you some images, a reminder if you like, of Helen Lei, equally pretty and with an equally spankable bottom, she could also brat with the best of them and whine and complain when she was getting spanked (just how I like to see it!) – So without further waffle, check out these stills images taken from one of her films… enjoy! I most certainly did 
You can see MORE of Helen and her fellow brats getting what they deserve right here
****************************************
"Chief! I've been such a naughty girl, won't you spank me?"
*******************************************
& over to the cutest girls this week from Japan – I never tire of watching these stunning girls either in their uniforms or in the home or workplace getting the tearful spankings and hard wooden paddlings (some of the best I have seen given by a female to another girl's bottom at one particular site) and the other site specialises in just one thing – that's right, HAND spankings! & this is where I will start.
Who doesn't want to see girls spanked OTK in their work clothes in the workplace, cute schoolgirls at home or in the classroom, girls spanked in PJs in their bedrooms or spanked and scolded by aunts & mothers…. it's all here as you'll see when I put together a nice mixed gallery of some spanking images as well as a couple of preview clips! The 1st is from a fave film of mine called "Employee's Revenge".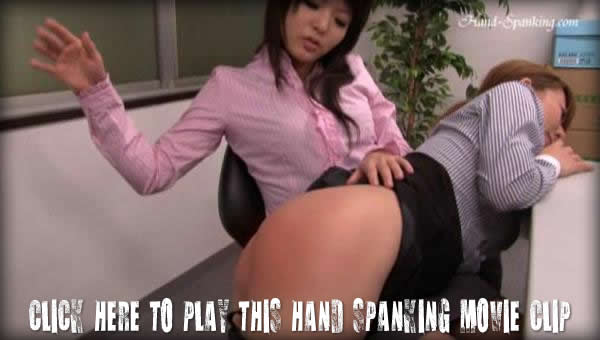 This young employee gets her revenge on her manager by giving her a sound spanking. Squirming on her stronger employee's lap and highly embarrassed, the wicked manager pays the price for her misdeeds as she is made to realize just what a nasty piece of work she had been to her staff! You may remember I featured a nice review of this site not so long ago CLICK HERE for the reminder – well, I have decided to show you some more choice imahes which cover all our favorite niche sections like schoolgirl punishments, bedroom & domestic mother/aunty/daughter type scenarios and of course (like the above), workplace & uniform discipline!
All images courtesy of Hand-Spanking.com

& of course wearing the wrong panties is ALWAYS a spanking offense in this house as you'll see mother scold and drag her daughter (played by very cute Kurumi, one of my favorite models from this site) into the bedroom where no one can hear her shameful cries as she is spanked over the offending polka dot panties and then with her red bottom shamefully exposed in a real humiliating hand spanking she won't forget! Images and short sample clip are below:
Don't forget to check out all the latest updates with full English translations only at Hand-Spanking.com

****************************************************
& from Japan's other famous spanking site (only with use of implements like paddles and straps as well as female hands) is CutieSpankee and the first set is from another classic I loved… like some films they had story arcs and this one  carried on from a previous movie that had the lustful teacher getting her lucky mitts on the prettiest girl in the school… and not once, but twice! You'll see why I chose this as this girl is simply stunning, her pristine uniform, the way she pitifully cries (they all do, of course) and in this movie the poor girl got thrashed after school when she forgot to hand in her homework… oh dear, what a shame! Bend over! This is HOT stuff!!!
& remember there are not just schoolgirl punishments, oh no, as you'll all know by now, take the very latest movie out now, it covers one of my fave themes, that of nurses getting punished in their uniforms… uh oh… I have unwanted Trouser Arousal, I mean, can you blame me? Just check out just how goddammned cute this thing is… O-M-G!
You can find much more with a ton of preview stuff from the excellent CutieSpankee.com

*****************************************************
I thought I'd go visit San Francisco, seeing as it has probably the most famous China town of any American city… and of course, Amber was bound to come across a few asian hotties sooner or later like this beautiful thing which I hope you don't mind me reminding you of, as she was smouldering in her screentest!
At AMBERSPANKS – you can see this Asian beauty,  a hot 19 year old 1/4 Chinese, 1/4 Philipina,  1/2 white 100 percent spankable and fuckable girl put through her paces! This was a beautiful screentest, and Amber had high hopes to meet Sasha again, sadly, as sometimes happens…models flake out, flit, and in this case, it seems she had disappeared off to LA to do porn! The mucky girl…and I thought she looked so innocent from the images you'll see! *pah!*
Such a shame, as Amber really had the hots for this lassie and had so many plans after a very HOT and very naughty screentest! So, ladies and gentlemen, check out some of the images of that screentest….a RARE and wonderful chance to see Sasha Anna and Amber together…members can see the whole thing now! Oh, and by the way, I love this whole screentest feature…they may never have got the girl in the first place – let us be thankful for small mercies, lots of erotic nudity, girlplay and some very hot explicit spanking!!! the sort of spanking that Amber started to explore and excel at… I think this girl may have started something very naughty inside of Amber!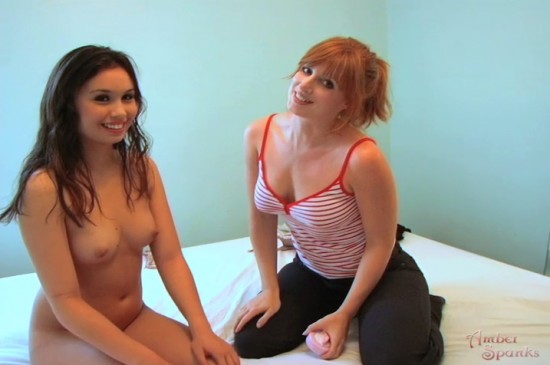 HOT or what??? Check out the FULL Movie and full set of images HERE
Amber now has the option to join ALL her 3 sites in one go, including her amazing nude site… you can check out all the options including (at teh time of writing) a kick ass Trail Offer for under $5 to see ALL 3 of her sites! Yup! I promise you will NOT be disappointed with any of her stuff, I have been championing it for years! Go see for yourself! (and there is also a 6 month option for all 3 sites at around $100 which is, if you work it out… incredible value and one of the site networks that has bigger archives than you could possibly imagine!
 ********************************************************
Happy Chinese New Year 2012 from me, tight I'm off to make the meal! 🙂