Before I bring you fabulous news of my latest films, which I'm pleased to say has already received some glowing praise off my esteemed members (I do like getting feedback, both good and bad… as it's the only way I can see where to improve or continue with something that proves popular). I just wanted to mention how a wonderful free and tolerant society like Canada has once again been drawn into something ugly from the Middle East and those who choose to support the mindless thugs of ISIL/ISIS or whatever the heck you want to call their disgusting, barbaric 7th century loving Caliphate). Cannucks are a strong people, I know I have many members from Canada, you are in fact my third largest contingent of members behind the more populous countries like the USA & UK… so I want to tell you, just be vigilant and don't let any determined bastards like this guy change your way of life – I know you will easily prevail… so I'm flying the flag for you guys today! Go Canada!
Ok… and onto Leandra James – imagine, if you will, that you are Leandra's coach… she is an outstanding athlete in her field and has never, I mean never… come anything but 1st! Imagine then… when she came 2nd, the smaller trophy, the feeling that someone was on a podium higher than her – it hurts… but not as much as her bottom is gonna hurt over the next 10 minutes or so when THIS coach (played by me, ahem) has to deal with the disappointment of her finishing 2nd! What would YOU do? Here's a look in this competitive and twisted world of coach Osborne's strict regime where losers and slackers are ritually humiliated into avoiding ending up in such a position again!
Leandra and her tiny 2nd Place Trophy… from the film "Coming 2nd is NOT an Option!"
Here is the official plot behind this film: Leandra had never come 2nd before. Her coach was shocked and he showed her the small trophy she had earned. It was pitiful and he wanted to ensure she would never finish anything but 1st again by giving her an unwanted and humiliating punishment so she'd avoid ending up in this position again. Leandra was stripped, her coach made her feel uncomfortable by physically inspecting her before she was spanked and caned in the nude for the first time. He ensured that this embarrassing discipline & caning session would be long remembered. By the end her poor bottom was very sore and flaming red!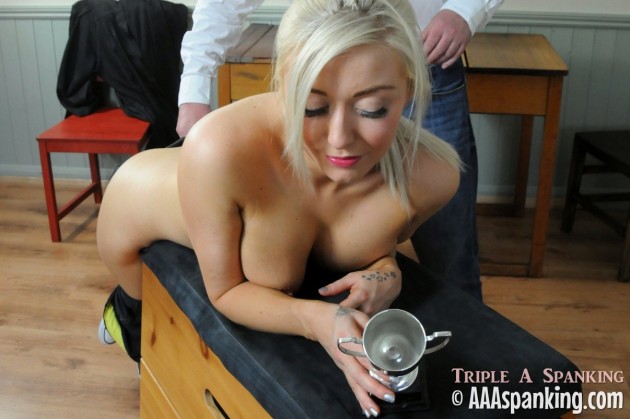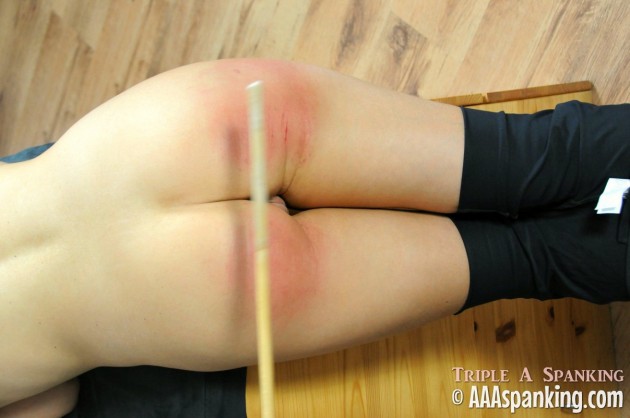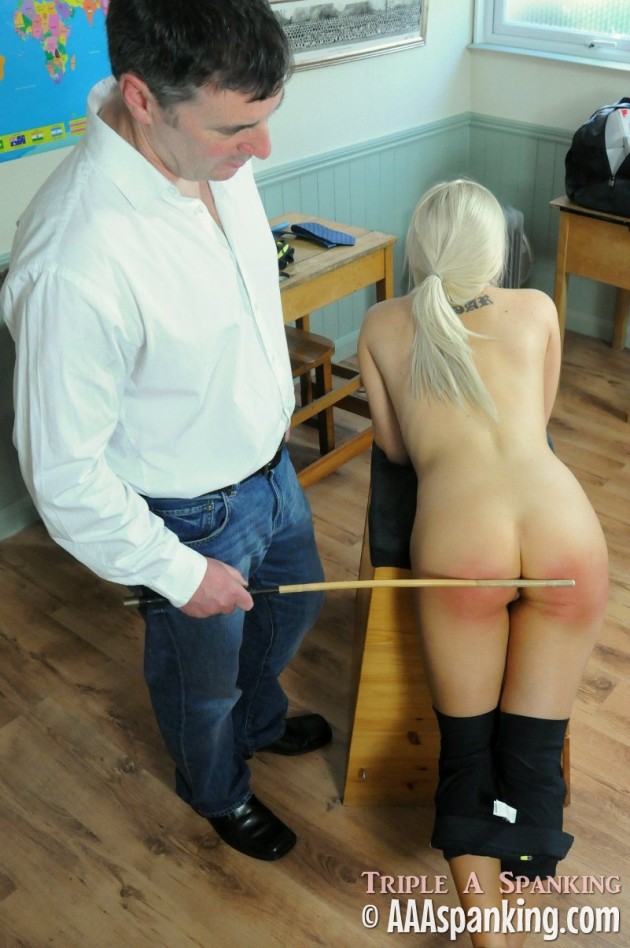 CLICK HERE TO VIEW THE FREE DOWNLOAD  FROM AAA SPANKING
**********************************************************
Don't forget that, as usual – this short sharp shock film, like all the latest updates, are available IN FULL
This is available as a one time download from the AAA CLIP STORE
***************************************************************
Don't forget that Leandra has been in some amazing films at AAA Spanking already – click any image below for a reminder of what films she has appeared in. I can personally confirm that she has an amazing spankable butt that aches to be punished red raw and of course I could listen to her murdering our English language with her strong Dutch accent all day long, heh heh! (I mean that in the nicest way as it's sexy as hell!)
"Time for a schpaaanking, Leandra"
… & if you ever missed her one POV style films, then check it out below… Leandra scolds YOU in this Femdom POV style before you end up going over her lap for a quick leather strapping whilst she is humiliating you, calling you a "dirty boy" (for peeping at her whilst she was asleep) with her strong Dutch accent! Oh, the shame of it! It's also rather hot if you like that thing as a naughty submissive! *wink*
CLICK HERE FOR ALL THE POV SCOLDING & SPANKING STYLE FILMS
*********************************************************
Have a good one… just before I go, I see the "freetards" are requesting more of my content on various forums, I don't know whether to feel flattered or just annoyed. The problem with file sharing is the lies that the determined uploaders come out with… what makes me laugh is that one of the links the file sharer wants YOU to sign up to AND pay for… costs the same or slightly more than my own site membership. Why support something wholly illegitimate and based on something criminal (why criminal, you ask?) – Well, I can categorically tell you the usercodes (including this individual I won't mention, of course) are ALL from stolen credit card details. That means I get charged extra if I miss it as the genuine owner will discover it at some point… it is soul destroying to see the abuse that goes on behind the scenes. Please remember that, we are the ones who are pleading to YOU right now, and I speak for all spanking and fetish producers as this is a niche which suffers far more directly and horribly than the plethora of teen and vanilla porn that is shared out there.
I am not kidding or making veiled threats, more of us producers are discussing this with each other – basically it comes to this: Without your support or paid support, sites like mine will not be able to continue or film as frequently – other site owners happen to be models or able to session to supplement their income, I, on the otherhand, can not and also am at a disadvantage as I have to pay the girls rather than work for free as a model etc… The planned filmshoot for next month is still on hold, for example! But I will do my best to film it as I love working with this girl and feel it is unfair to let her down!. So, in conclusion, is it too much to ask that a full membership to my site can currently cost you from under $15 or approx £10 GBP? Come on guys, if you like what we do (like today's great new film) then please help us continue! Thank you!