I'm out tonight helping a good friend in a fund raising event for his partner who has terminal cancer… he lost his 1st wife to it about 10 years ago and this wonderful lady helped him out of the pits of despair only for her to beat 2 cases of the dreaded "C" before this one will finish her off. She wants to spend time in Vegas to watch her boy get married… they also love Vegas (I understand that) and want it to be their final farewell for her. It is so desperately sad as she is remarkably upbeat and lights up a room with her presence… it helps she is extremely kinky too and I love having conversations with her when half the "vanillas" don't know! Anyway… better not put this on a downer. I received so many nice comments in mails and feedback from the Clip Store after putting up an old movie never placed there before that I had made with Jean Bradley & Paul Kennedy so I thought it would deserve a little mention here today all on its own. I'll get back to other regular updates tomorrow!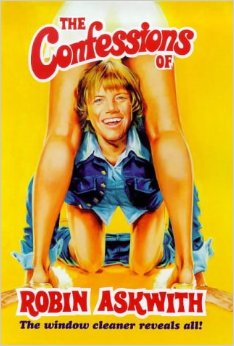 It was an homage to the fun kinky and slapstick films made in the 1970's in Britain with Robin Asquith in the "Confessions of…" series of films. Obvious ones like a window cleaner getting into all sorts of sexy romps with housewives etc… so we did a kinky one instead. Paul was the Robin Asquith character which was very amusing… and Jean was one of his many horny housewives he'd come across… only this one liked to be spanked too! As Paul remarked on Jean… peering through the window and talking to the cam … Jean was "a right kinky one!" (LOL)
This was also the last series of films that I know of in which Jean Bradley switched and played the sub role… she could take a hell of a thrashing, I'd seen her take a multiple cold caning without breaking a sweat at one of her infamous parties… she's retired now, of course… somewhere nice in the Spanish Isles. So here's to Jean and Paul for making a really enjoyable film with some great spanking action in it too! It's all rather grown up which I kind of like!
I have some short clips from this 25 minute film and some images so you can follow the story… it is available to download at The Clips Store HERE … or in remastered formats at AAAspanking.com 
SPANKING CONFESSIONS OF A WINDOW CLEANER
[jwplayer mediaid="40551″]
[jwplayer mediaid="40552″]
[jwplayer mediaid="40553″]
[jwplayer mediaid="40554″]
[jwplayer mediaid="40555″]
This is a kinky long play movie at over 25 minutes of good hard fun grown up spanking punishment with a twist! It's part of a rare & sought after exclusive series of films starring Jean Bradley in one of her last ever submissive roles and you'll see how this lady loves to switch! In an homage to the cheeky "Confessions of a…" series from the British 1970's TV & movie series comes our take on that genre that has a chirpy window cleaner (played by Paul Kennedy) talking to the camera about one of his kinky customers he sometimes "has to service" with a good hard spanking as poor Jean can't get enough of this at home! We'll see him spy on her, we'll see Jean getting turned on, spanking herself after watching one of the many downloaded films on her laptop – & then we'll see Paul get a very happy Jean over his knee for some good old fashioned spanking and playtime with some of her favorite wooden implements! This is a delightfully grown up spanking movie containing authentic, hot, erotic spanking scenes between 2 very consenting adults & lots of bottom rubbing and grinding between naughty playtime kinksters! This is a "Must View!" spanking erotica video with great acting & fantastic spankings as the Brits only know how to do in situations like this!
View the full film here as a one time download
… or check out a reasonable membership option below from the main website


Remember if you're in Texas at the end of this month… then grab yourself a place at this awesome inaugural spanking event!