Before I start with today's brief spanking updates, I would like to mention that the server move to all of Sarah Gregory's sites is now complete and all members should have access. Here's a nice ass grabby rub a dub dub pic (left) to celebrate!!! I have answered a few support queries on her behalf and they are not related to the server move, rather the fact that some people do not enter the codes assigned to them by CCBill correctly or that they don't fill in the Turing "captcha" word (at SGS) or the selection of the female faces shown – (at Momma). Anyway, I thought it important to announce the server move went reasonably well, considering the hell we both went through behind the scenes! Her old hosting account refused to allow the new company to quickly transfer data, and with nearly 1Tb of data on her old server to move (to start with) we even removed a few hundred Gigs of .mov data (where there were also WMV & MP4 options since MP4 works equally well in all browsers and operating systems) to assist with the overall transfer time. Sarah will start to bring back .mov files at a later date but maybe as an aid for tablet devices like iPads etc in a lower spec than the HD720 and HD1080 offered by the usual WMV & MP4 formats for all new updates – she hasn't decided yet… and this would take some time to arrange.
Anyway, the important thing is the sites are now hosted on a far more stable platform, able to take more data and she will be following some behind the scenes security measures based on the wonderful Strongbox Security that I'm glad more and more sites are using. There will also be a special news announcement coming soon now that this move has taken place which I am sure most of you will be very happy about too! Stay tuned! (I'm such a tease!)

And so to today… check out this all girl affair at Northern Spanking featuring a British pairing of poor Amber West, the unfortunate Au Pair/Maid being punished by an exasperated Jessica Wood in this kitchen scene I helped film with Paul (in the early summer of 2014?) – how time flies!
Swept Away – featuring Amber West & Mistress Jessica Wood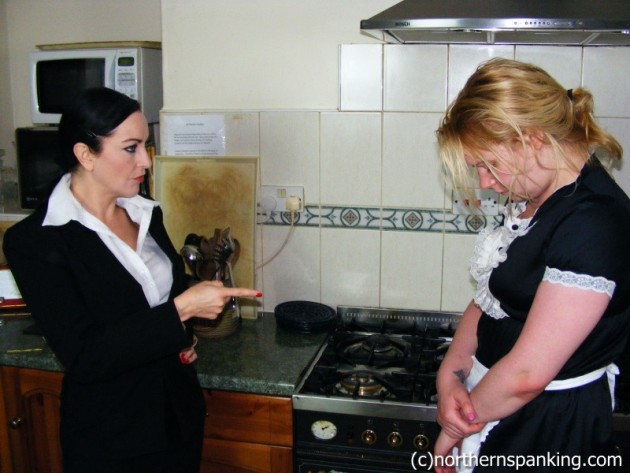 Amber is an Au Pair seemingly in a world of her own. Until that is, her busy disciplinarian mistress re-introduces her to reality, courtesy of a very sore smacked bottom.

I thought it would be worth mentioning this film with a good friend of mine in the scene, Dana Specht – If you don't know, she has her own website HERE which covers her many roles of Discipline (to both naughty girls and boys) which makes it an interesting website to check out! Dana is surely one of the best "scoldrixes" anywhere online and you don't want her pointing that finger at you… or do you???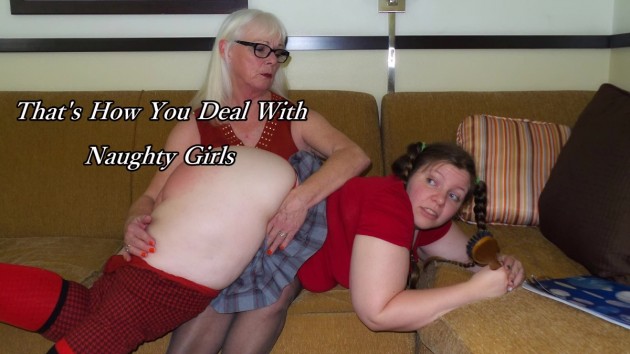 Sunny and her friend Alicia were caught fooling around in the bedroom and got spanked by Sunny's Daddy. When Momma Dana comes home and finds out, she spanks Sunny again and takes the strap, hairbrush and paddle to her. Alicia knocks on the door to retrieve her school book and Momma Dana spanks her too. And that's how you punish naughty girls!

At Spanked in Uniform one of my fave UK ladies, Lola Marie, tries to learn the safety speech for the Dutch run "Europe Airlines" – I guess it's not long before we all know what will happen here!!!
The Welcome Speech – with new flight attendant, Lola Marie
New flight attendant, Lola Marie, was summoned to the Europe Airlines training office to see if she knew her onboard welcome and safety speeches.  She had obviously not learned the welcome speech as her knickers were strapped and her bare bottom felt the sting of the Tawse and the dreaded Shoehorn. She was sent home to return in 3 days for a second attempt and the cane awaits her bottom if she doesn't know the speeches off by heart.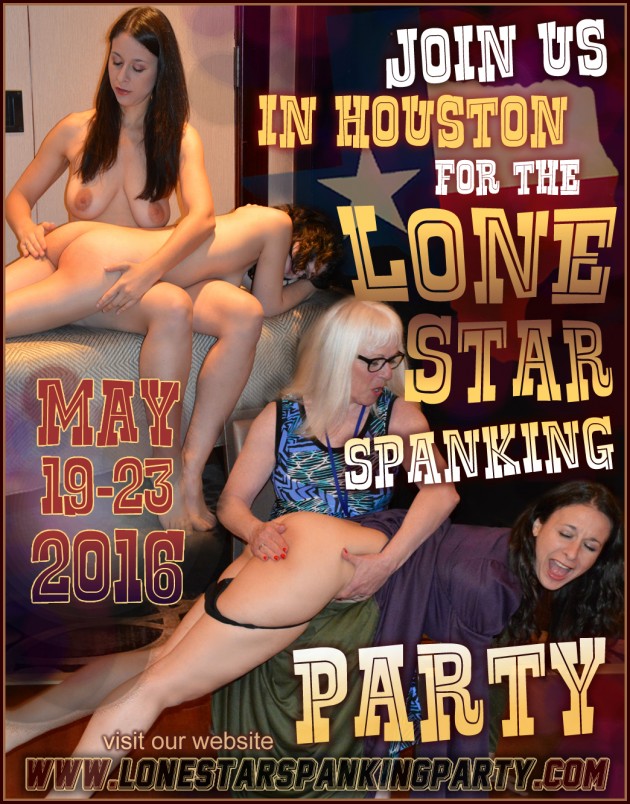 Fantastic news at Lone Star Spanking Party
I will be announcing one of the Guests of Honor in my next post 🙂