I was bored yesterday, bored of seeing my football club let me down again at Charlton after an epic win mid week… making me believe in a foolish notion that we may well survive with the few players we have left… I'm bored of the fact the club might go out of business on Feb 9th when it goes before the court for a final winding up petition over unpaid tax to HMRC (The British equivalent of the IRS, to my American chums)… and of course, I'm boring you moaning about this, so I'll shut up and let you know what cheered me up when I checked out the archives of NorthernSpanking.com instead – I decided to see what some models there had first shot way back and Leia-Ann's first few scenes were quite memorable as you'll see below. I'm sure even Leia will smile as she remembers this (if she is lurking here!) as it was made well over 5 years ago, maybe a little longer! However, it has a really interesting storyline, something which the good folk at Northern have always been good at doing!
Leia is "Caught at Customs."


The humiliating inspection & punishment is about to begin!
This, in a nut shell (where did that expression come from, btw?) is the story with accompanying images: Leia-Ann had been stopped at customs for a spot check. Refusing to co-operate with the guards and generally being a bit cagey, she found herself in a little room, alone and scared with a creepy Customs Officer. Determined to find out what she was hiding, the officer insisted upon a humiliating strip search, until he found what he was looking for and could decide on her punishment when she'd be naked and vulnerable!
Leia-Ann's ordeal was only just about to begin! Led firmly to the corner and shackled, she was about to learn just how this country punished drug smugglers!  The caning of Leia-Ann's bottom continues mercilessly, before the Customs Officer instructs her onto her back for some judicial caning…on her feet!
The scream inducing caning upon Leia-Ann's bare feet continued, as she was brought to breaking point by the mean Customs Officer… before being left naked, helpless and huddled in the corner wondering what fate would hold for her afterwards.
Yikes… pretty good stuff and something I admit I hadn't delved so far back to check (mental note… MUST do this more often). There is a massive archive of Leia-Ann's content shown here at NorthernSpanking, lots of it with original and interesting themes like the above judicial style caning punishment – if you wish to see more check out NorthernSpanking.com
********************************************************
Back to the present: Recently, I featured a new film co-starring Leia-Ann (with Pandora Blake) in a breakfast spanking scene. I can tell you that she wasn't best keen on the bread (it was in fact high quality "Soya & Linseed" bread) and Leia poked at it with a long face noting that the dark seeds looked like flies! & I thought she was highly bred/bread (hmmm, awful pun… move on!) – the producer had laid on a nice breakfast (well, bread and spreads with cereal and OJ for the girls to pass the time with – luxury!) before Miss Bradley interupted them for trying to avoid school… check the previous post for more on this movie – however you can see a decent free preview clip of this HERE or clicking on the image below 🙂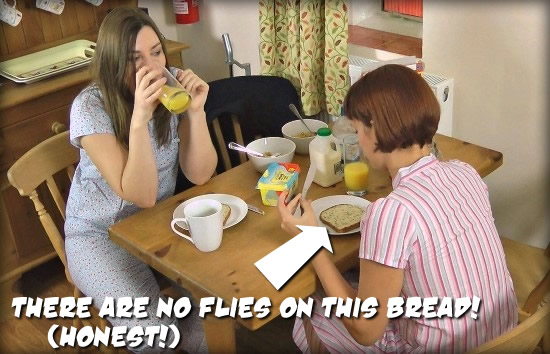 Apart from being late for school – playing with her bread was a spanking offense in this house!

***********************************************
My next classic spanking memory is courtesy of quality brat spanking site Bun Beating Fun – the website that features uppity self centered models lured to sleazy motels on lingerie photoshoot contracts and given exactly what they deserve, a good hard sustained bare bottom OTK spanking, when they play up and act like spoilt little madams! There are well over 80 divas on here now thrashed on camera and I decided to check out this olden but golden beauty… a girl I haven't featured so enjoy the special free clip I placed on my Spanking Tube and the images from the film (below).
Jill Cannon: This movie has been completely remastered in full screen Wmv glory
(the full length download is 479mb)
This is what Greg of BBF had to say about Jill: "The first thing we noticed when this stunning fox arrived was that she looked every bit as good as her publicity photos led us to expect. Then, when she spoke it only got better. Her voice, soft and sweet like a robin's song. It was only after we took note of the actual words lilting off her tongue, that our expectations sank…. like a lead weight.
"It's hot", "This place is a dump", "I want more money" and so on.
To her credit, it should be noted that Jill did show up on time and – best of all – clearly displayed under her tight dress was irrefutable evidence of why the young lady had just recently won the "Best Ass in Texas" contest!"
 See ALL the models spanked by The Infamous Mystery Spanker – FREE previews HERE
********************************************
Finally today I had lost this old movie taken from SpankingMags.com e-zine archives but soon remembered where to find it and download it again to one of my new external hard drives and it was a belter. A 3-some school girl discipline movie where prefect Joanna Pritchart is punished alongside 2 foreign exchange students from Poland (Caroline & Angelina). The combination of these 3 girls together, and also the severity of this punishment with the slipper, tawse and cane was indeed a very satisfying and authentic discipline you could well imagine naughty girls receiving years ago in educational establishments! See the images and also a free clip I just had to cut and place up on the Teen spanking Tube today! OK, that's me done today… I'm off out for some fresh air and a nice walk… simple Sunday pleasures in the Chief household 🙂
Check out this awesome scene of schoolgirl punishment from yonder years 
Severe spanking, slippering and use of the cane is what makes this 20 minute film (with a limited intro so there's MORe action) one of my favorite films takens from the excellent e-zine movie and classics site – SpankingMags.com – You might also be interested to know that this particular e-zine contained loads of extras with a full size image shoot as wellaas the screen images )some which I have shown below) and there was also a bonus movie not shown anywhere else. Worth the entance fee alone if you have never seen this schoolgirl punishment movie!
Click here to see this full length movie