Here are some of the very latest additional and brand new unseen spanking films released this past week at the SG Site network – You will find something for everyone's tastes here… and I will start with AAAspanking.com as they have a SECOND new film release this week including a full video grab and image gallery (in full size for members, naturally) – some of the images below are a combination of what accompanies the film  even though they aren't in full size here they are still rather good as you'll see… and then I will place a link where you can play an MP4 clip easily from the main site page!
Latest AAA Video – Nosey Housekeepers Punished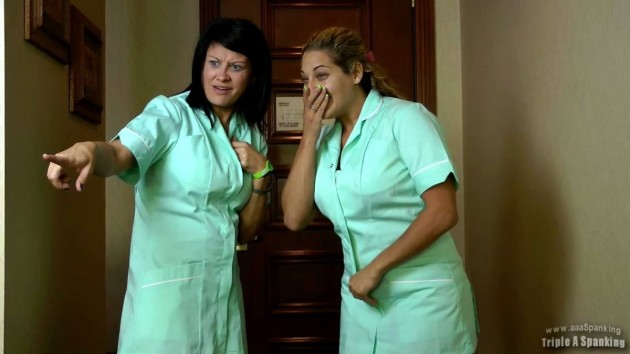 We all know those maids at hotels, the curious ones, those that knock on the door saying "Housekeeping" trying to come in despite having "Do Not Disturb" on the door. Well, this video payback is for them.This pair knew that there was something worth looking at in this room but they got more than they bargained for when John caught them nosing at all his spanking paraphernalia before a film shoot was planned later that day in his hotel room. It would appear he had a chance to test out some implements earlier on their bare behinds as they had little choice or he would have called Front Desk to have them fired. For those that love to see girls crying from their punishment, there is an emotional scene at the end with very real tears from a sorry Joey Delilah!
You can also see this video as a special ONE TIME download HERE
Behind the scenes SpankingBlogg Fact: This was the LAST film collaboration with these 2 Texan girls, long haired Joey had never been featured on any spanking site and it is a shame we won't be able to see more of these 2 together… below are some galleries of their other times featured at AAA Spanking

Mandie Rae makes a welcome return as the prick tease who you allow to get spanked by, so for those you who enjoy switching, you can imagine yourselves being scolded and humiliated and deemed just about "worthy" to go over her lap… and she's dressed as a schoolgirl to tease you even further… as I said – it will appeal to you subbie losers out there! Dare you go over her lap?
Mandie never thought you'd come back, she isn't even sure you even deserve another chance. What did you expect? You kept pressing your hard on into her lap the last time, not that you've got much there, have you? She decides to allow you one last chance… you promised you'd take your punishment without any of that nonsense and you are here to accept the spanking off Mandie dressed as a schoolgirl! This is going to be tough not to get excited! Isn't it? How humiliating is that? She is really not happy with you and orders you to remove your pants, even trying to suppress a giggle at the size of your "little man". She looks at you, you don't look too well, she says… and produces a thermometer when you're over her lap, bottom exposed, pants down. Without further warning she takes your temperature in that most uncomfortable of places and is mad at you for wasting her time as you aren't ill at all, no fever… no sympathy! She starts to spank and use the hairbrush on your bare bottom and you get excited as you feel that dull ache, reassuring and warm, as you try to drill your tiny manhood into her groin which pisses her off and she tells you to get up! The spanking is over, you dirty little boy! She tells you to get your pants up and get out! You just can't help yourself, can you? This is a short sharp shock POV spanking movie with you as the spankee!
Click below for a short free clip of Mandie in action!
[jwplayer mediaid="44186″]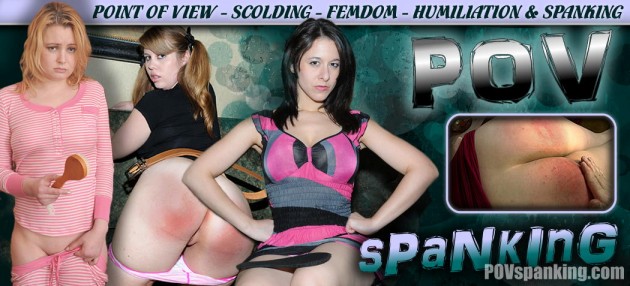 A brand new F/F Spanking film is available at SarahGregorySpanking.com and has gorgeous Casey Calvert spanked over the lap of Sarah Gregory in the new film "Lying babysitter".
Sarah is very upset when she finds out that her babysitter has had company. Casey tried to lie her way out of it, but with nanny cams, Sarah knows she is lying. The rules were no company and Casey broke this rule and lied about it. Casey wants to keep her job, so she agrees to some corporal punishment over Sarah's knee.
NEW TOUR PAGE DESIGN means you can view the latest movie updates on any device and they will play immediately… go check it out!

& finally from MommaSpankings.com – an awesome film with uber cute Alice Michaels in a spanking and diapering film called… unsurprisingly… "Slutty Daughter Spanked & Diapered"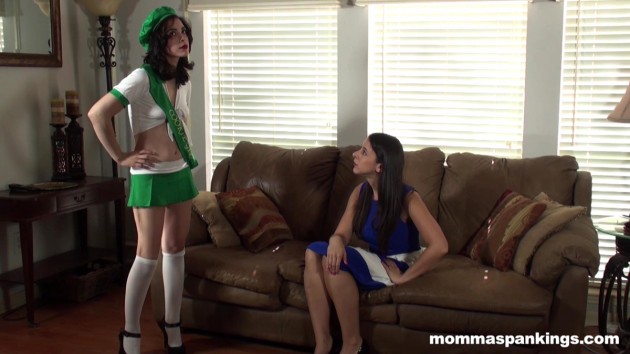 This was filmed very recently and Sarah loved it so much she had it edited almost straight away… she excels at playing "Mom" when she needs to and Alice is just such a brat, I loved this film… I know fans of the Momma site will too!
Alice thinks she is going to get away going to her friend's Halloween Party dressed like a slutty girl scout. Mommy won't have this. Alice has non-stop attitude with mom to the point of not only getting a hand spanking, but a hairbrush across her already sore red bottom. When she is STILL acting like a bratty child, mom puts a diaper on her and continues to spank her for added Humiliation. If she is going to act like a child, she will be treated as one.
Both of Sarah's signature sites can be viewed as a Special Pass – giving you access to them both with the same codes for added convenience for a fraction of the combined price – which makes sense and is a very popular option! CLICK HERE or see more info by clicking the banner below!