Yay! The weekend is here and it's time again to gaze upon beautiful females getting spanked and dishing out some in return! Today's focus is from America and if you haven't seen these already, then here are some great images… I have tried to choose images not seen elsewhere so to make it more interesting for you 😉
Gonna have to be quick as I wanna watch my Skyfall DVD with several glasses of red wine tonight! LOL!
PAST PRESENT & FUTURE presentations from the excellent Punishedbrats.com
I saw that David (owner of the site) was reminiscing about the movie they did ages ago with Pixie and Juliet Valentina, a fairytale spanking which his brother Rick wrote and directed, I have this on one of my external spanking hard drives and it's a blast… I located it and replayed it. The images from this production explain how Pixie has earned a tougher sentence and a dose of the hairbrush for her crime of attempted fairytale homicide – she smashed the spider that sat down beside her *giggle* Now featured as a "Classic" (taken from Snow & Muffat)
Currently there is another awesome girl spanking girl film co starring Joelle Barros as the spanker in this film with Pi feeling the full force of her swift and lethal hand! Is it wrong of me to say that I got seriously turned on watching this girl on girl spanking erotica? This pairing (for me, at least) is a perfect punishment combo… I'd have got Pi in for my American Shoot too alongside Joelle if she was available at the time… so well done to David for having the sense and good taste to film them together instead! 🙂
Current full film – "Unprepared"
Pi shows up to an important meeting with a potential advertiser completely unprepared. Joelle is insensed at her cousin's continued irresponsibility. Joelle bends Pi over a stepstool for a hard hairbrush spanking. The hairbrush sends a painful message to Pi that it is of the utmost importance to be prepared in her work!
Charlie Skye is back at Punishedbrats and one of her films are already out but there's a sneak preview of MORE to come (below) this is one Baltimore brat I really should have gotten hold of whilst I was there (but again she was unavailable at the time) otherwise I would have done a separate short film shoot in my hotel room! (ahem!)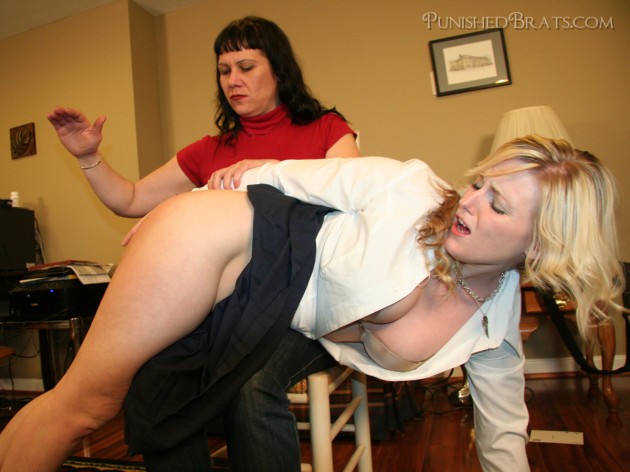 See all the very latest films previews and what these talented guys are up to at Punished Brats!

*******************************************************
Next from Firm Hand Spanking are 2 recent stunning updates from the American side (yes, I know I have seen the very latest one featuring Leia Ann Woods filmed in the UK alongside Thomas Cameron and directed by Amelia Rutherford by the looks of it… hmmm, if that's an incentive… more on that soon then, eh?). So, not withstanding that FHS always change the girls names unless it was Danielle Hunt (that soon changed back from Rhianna Parsons as she is everywhere, lol!) – Sorry, was I a little cynical thinking it was some sort of ruse to put off other spanking producers? Personally I respect teh girls and ask them what name they go by as they often want to include you in a portfolio and don't want yet another alias –  but we get to know who the girls are in the end, heh heh!) Anyway, Sabrina Scott, I mean.. "Valerie Bryant" looks as stunning as ever in her latest film in the "Learning Curve" series!
"Valerie Bryant" bares her round bottom cheeks to kneel on a chair for a jiggling red, fast 245 swats with a leather paddle. Richard Anderson teaches her about corporal punishment in Learning Curve, covering all over both buttocks and upper thighs. Ouch!
& if that wasn't stunning enough, the very popular Carina  Thompson – um, also better known as Karina Kay, a voluptuous and versatile porn actress… shines in this latest "Paid in Full" series really and really looking shocked when she gets her latest punishment (gotta admit that turned me on!) … this is one girl genuinely not used to a spanking and it shows but the guys at Firm Hand pull it off and the spankings and strappings are quite hard. She takes what's given… but HATES every stroke! That is what a punishment is about, my dear!
Buying clothes for cash seems like a plan to heiress Carina Thompson when her credit cards are cut up in Paid in Full. Family lawyer Patrick Bateman takes a firmer line with a leather tawse. Will 21 strokes bare bottom, then stripped nude, teach her new values?
You can see both these great films in full for members – CLICK HERE
*******************************************************
Finally today from the Real Spankings Institute – Michael Masterson spends some extra time thrashing these 2 girls for reasons that you'll see below!
Caught sleeping naked together in their dorm room, Allison and Abigail are marched fully naked downstairs by the Dean for a long and hard handspanking. Allison is punished first as Abigail is made to watch… knowing her turn is next! Then… the girls punishment continues as the Dean requires them to get on all fours on the floor, and one has to bend over and place her hands on the other's back. This final scene of the 4 part movie series features a long and hard strapping! Images and vid grabs from the movie are below to show you more about this excellent and severe punishment series. I also happen to like seeing these 2 girls punished together 🙂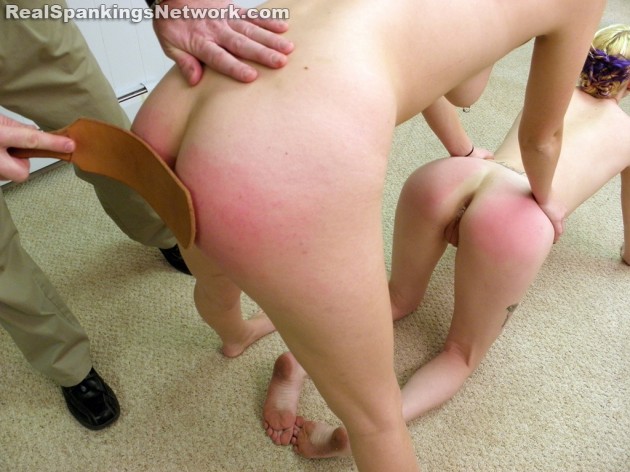 See all the severe institutional punishments HERE
************************************************
That's it from me… the weekend is here so have a great time to those that are fortunate enough NOT to have to work through it… as for me, I'll be at work tomorrow (sigh) but that's the way it goes, eh? Now off to watch my Skyfall DVD and drink a horrendous amount of red wine!
Cheers! *hic*