No cats today, just glorious red bared bottoms spanked and punished the way they should be and I have some delightful movies for you including one from us which is due out tomorrow – I had only just viewed the full movie (only an hour ago) and I love that feeling, like a member not knowing what is coming next and I was pretty much stoked at how poor Sara Winter's bottom got so red… I was filming in another part of the building when this was shot so had no idea what Paul Down had got up to… but I needn't have worried, it's a classic pajama spanking punishment with plenty of OTK and relentless spankings… and no real introduction… just spanking action throughout! There was no need for any lengthy plot as you'll discover, Sara, was late out of bed… repeatedly! & each time her spankings got harder and harder, check out the images from this movie and you'll understand what I mean (look at her sore bottom… yikes!)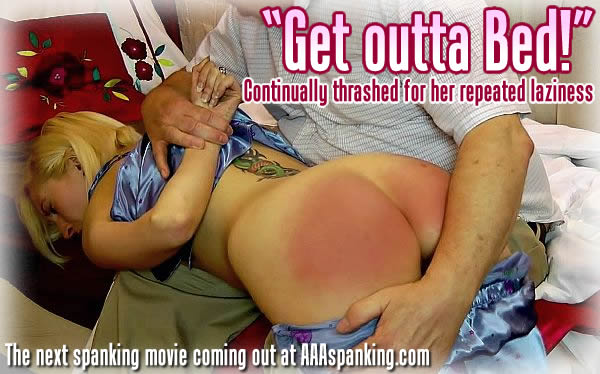 The film starts with her being dragged out of bed very quickly whilst her enraged Uncle Paul immediately places her over his lap and starts spanking her whilst shouting at her telling Sara what a lazy girl she is for failing to get out of bed for their long journey! After her bare bottom is spanked he leaves and tells her to "Hurry Up!" – the film returns to her still not getting ready and she is again thrashed over his lap, the spanking is quite relentless, along with the withering verbal lashing she receives and you can quite clearly see Sara's bottom turning redder and redder! (An awesome sight) She is left again to get ready and a 3rd and final time she is spanked stood up over the wash basin as an exasperated Uncle Paul is unhappy that his lazy niece is still in her pajamas… a great cam angle shows the full extent of the battering that Sara's sore bottom takes and I have to say this film really surprised me (pleasantly) – A good old fashioned spanking of a cracking girl on her pajamas, I fail to see how anyone will not enjoy this short sharp shock of a film! Images direct from the movie are below for your exclusive first showing here (these images are not warmed up so they are the raw data as I have to check these out later – they are that new!) 🙂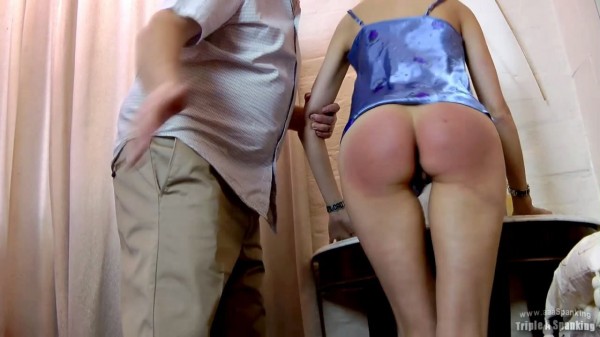 This is the next NEW Movie update for members of AAAspanking.com – out tomorrow!
******************************************************
The latest spanking soap opera episode from My Spanking Room Mate is a double headed affair with neighbor Clare interfering with the way her colleague Alicia disciplines the girls at the school they both work at… Clare suggested that Alicia get the girls to spank each other and this is what happens (yes, you'll be aware that this is the same school and classroom of naughty girls as the infamous EXCLUSIVE EDUCATION series which are all available from GirlSpanksGirl.com – and though I digress, the filming for the 6th series starts soon on Aug 7th!) The upshot is that Alicia loses her job for allowing the girls to do this to each other… check out some images taken in conjunction with the actual 1st part of the movie below:
As you can see this turned into quite a spankfest and quickly got out of hand which is why Alicia got fired! As she blames Clare for the poor advice, she confronts her at the apartment complex and in the 2nd part of this film, we see yummy cougar, Clare, get her comeuppance with a humiliating and painful bare bottom spanking by her younger counterpart and just check out Clare's red bum! This particular episode is NOT to be missed!!! More images of the 2nd part are below:
You can see more of the role reversal fortunes of Clare & Alicia with the added bonus of schoolgirl discipline scenes at this week's latest episode from MySpankingRoomMate.com – and of course if you have forgotten the last EE5 series, then check out the site that hosts it and the select galleries that show you just some of what the girls got up to!
CLICK ON ANY LINK BELOW FOR A SAMPLE OF THE PUNISHMENTS THAT WENT ON…
LINK 1 – LINK 2 – LINK 3 – LINK 4 – LINK 5 – LINK 6 – LINK 7 – LINK 8 – LINK 9
Don't forget you can access both these sites as part of the flexible Clare Fonda Pass (choose 3, 4 or 5 sites)
******************************************************
 Something a little sinister comes from the nasty Principal at Spanked Coeds and this time it is the ongoing confusing situation for Angelina as she struggles to understand the concept of correct footwear on top of her other violations. this time she is stripped and as well as her bottom getting thrashed with a very stinging Yard Stick, her feet and tops of her thighs are given the same treatment, this is something she won't forget in a hurry, images below are taken directly from this interesting and cruel movie!
You can check out all the nasty punishments inflicted on the Coeds with free previews etc  – CLICK HERE
**************************************************
 & finally today from RealSpankings.com this classic of Kailee Robinson is advertised on the front tour pages of the site so I thought I'd show you here so you van see what the site offers (it's vast, of course as it has been around online for an absolute age!) This is a particularly severe leather belting across Kailee's quite sore cheeks as you'll see from the 5 minute clip below and the images which show just what is happening if you can't wait that long!
Kailee had been using her mobile cell phone inappropriately, texting whilst driving, sending rude images of herself to boys and her friends so Michael decides to give her a humiliating belting bringing her close to tears and then takes some images on her phone before ensuring that her friends can see what had happened to her!
You can see much more of Kailee Robinson HERE – who was punished regularly at RealSpankings.com
**************************************
& before I go, over at our Clips Store a new casting movie has just been uploaded. As it wasn't featured on the front of our main site (partly because I ran out of time and was a little busy, but inside the site it is there, of course). So regular members can view this in full in glorious HD-MP4 but now there is an alternative as you can just download this movie on its own (if you so wish) and it is uploaded in Wmv format and you can see if I had a good time in this spank casting of Miss Lucy Jones… or not 🙂 (Click image below for more)