Hi everyone, as I shiver yet again, and wonder why our stupid country grinds to a halt with one inch of snow, I have to wonder if the poor people stuck in America's Mid west cope, especially if someone was locked up inside this lighthouse… imagine the conversation " It's a bit windy and cold outside… I'll go check all the windows are tightly shut" … Next morning they wake up with the whole damned thing was lashed all night by icy gushing waves that have frozen and entombed them… looks like they have an internet connection and are regular readers of the blog…. So to the couple inside the lighthouse who I can see are reading this right now, (from my IP address search), & probably with chattering teeth… "I'm sending help!"
Here's something to warm you up, some fantastic Trouser arousal Spankings that certainly got my temperature rising… and once again, how the hell David could ever keep a calm professional manner here is beyond me with the very naughty wrigglesome niece of his, darling Mischa, who I voted my favorite model recently at TheSpankingSpot awards (I think they're currently voting on hardest F/F scene and best blog…yes, I know, mine wasn't there… boo hoo!) Anyway, check out the below images and you'll see why I rate Mischa as one of the hottest girls to bare her bottom, don't you just love that oh so cute pout? OMG!

"You can pout, brat and wriggle all you want… I'm wearing my cast iron undergarments!" says David
Why was Mischa over Uncle D's lap? Her grades had been terrible lately and Veronica asked David if he could have a "talk" with his favorite niece about proper study habits and of course, he remembered how he dealt with her last time & prepared himself with his "Anti-wrigglesome" (™ D. Pierson) underwear and summoned her over his knee for this most excellent brat punishment! Mischa tries again to do her best "Puss in Boots" look to "wriggle out of her spanking but Mr Pierson is made of sterner stuff!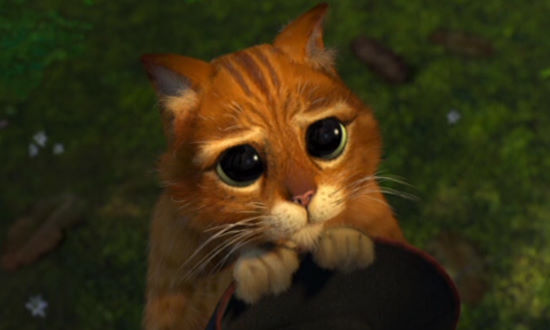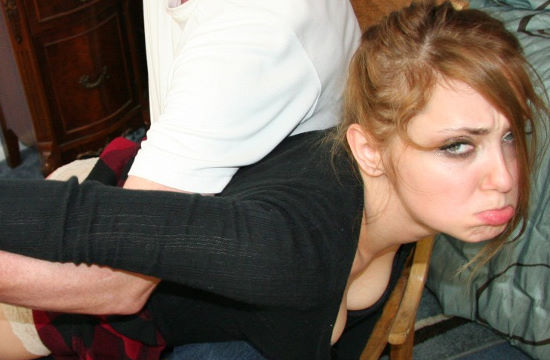 You can view ALL the amazing films of Mischa and the other gorgeous girlies given their OTK spankings only at PunishedBrats (Disclaimer: Puss in Boots is NOT featured anywhere inside the site and if the wonderful producers of Shrek, watching this eating a Club sandwich, with their trousers down at their ankles are annoyed, then please write to Chief at the usual address and I'll remove the doe eyed image of Puss! Thank you)
PS. "I haz wood!" innit?
**************************************
I just spotted this latest caning update of Kara Jayne at Britspank and I have NEVER seen this movie before! I thought I had seen most of her stuff from Xerotics but appears I was wrong, and this is a great caning movie, brilliantly restored, or should that be "found" ? – especially as she is being chastised severely for "sucking off the boys" behind the bike sheds and loads more truly filthy lewd acts… and in that cute schoolgirl uniform too! OMG, I'm aching, you'll see why from the images of this film below and a cracking preview clip currently available on the HOME PAGE! Another great BritSpank excluisve movie!
See ALL the very latest naughtiest teens & EXCLUSIVE bare bottom punishments!
*************************************************
Finally for now, as I can't post anymore due to a rather protruding aching lump of "wood" in my trouser dept – thanks a lot, Clare – as if the other spanking updates were not erotic enough, who is back but the delicious (I really could eat her whole) Isobel Wren and as you'll see below from this very latest spanking movie from GirlspanksGirl – Clare has another HOT Hit on her hands… or is that over her lap?
Isobel is called to the house of fellow church choir member Clare. When Clare reveals that she has proof that Isobel was smoking, and that she will tell Isobel's parents, Isobel agrees to do whatever Clare wants. It starts with a spanking, and Isobel saying some bad words and ends with Isobel touching herself! (Oh by the way, Isobel has the most delctable tushy as you'll see in these images, and check out her trim pubic tuft, a real favorite of mine!!!)
This movie runs for 20 minutes and I think I'll be "touching" myself viewing this now 🙂
This site is part of Clare's awesome MULTI SITE PACKAGE – Click HERE 
Have a good weekend and wrap up warm those braving the winter!!!
Chief