Some of you may well remember that I follow and support a football club here in England, however, their decline these last 3 years has been nothing but spectacular, due in course through no fault of fans like myself but the sheer greed and incompetence of those running the club.
Now, my beloved club, in its 125th year of existence, is on the brink of total extinction thanks to one of the most ludicrous Administration processes (yes, they went into administration about 5 months ago, owing pissed off creditors £17M) and the vultures circling now are  uninterested in the club but just their land to develop on, it's nothing short of disgusting. The preferred bidder chosen by the Administrator has had extension after extension to prove they have the funds but nothing ever shows, they are also secretive and thanks to our own fans, many of who are lawyers and media people, they have uncovered the identity of one shyster fronting a consortium offshore which is alarming to say the least! But nothing has happened, the Adminstrator still gives these wankers time. Time my club no longer has! It's been ongoing despite the fans and the city showing there is a better alternative bid, the administrator won't and can't budge now, too entrenched in the preferred bidder status… I'm not even going to mention my club's name anymore, I'm so ashamed of them that it hurts… we've lost yet again (badly) today with a bunch of kids that no other team wants and just about prop up the entire "professional" league… I use that word lightly as the players, and more importantly the non playing staff haven't been paid anywhere close to what they're due for over 8 months whilst this drags on and on… how professional is that? You can hardly blame them, we've sold what little talent we had, there is nothing left.
A Random (de)motivational poster I made earlier, I liked it anyway 🙂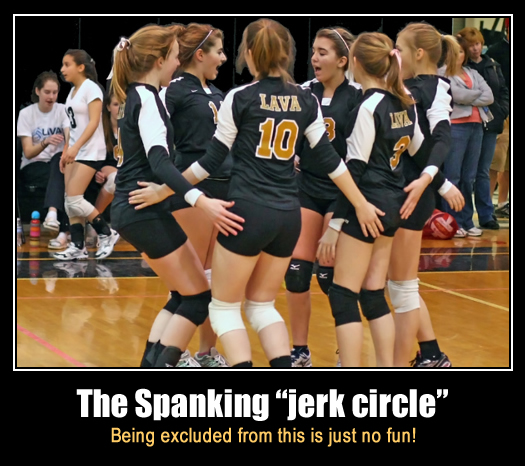 Of course I have had 1st hand experience of being a fucked over creditor, sadly, there are just too many incompetents and downright cheats in this world but hopefully all these lowlife that mess around with people's livelihoods will one day get what's coming to them… anyway, enough of this jovial banter, that's not going to save my club right now, is it? So, with yet another therapeutic rant over… what did I find that blew me away? Well, how about one of the hardest OTK hand spankings I've ever seen Mr Strickman deal out to the tiny framed Kat St James?
When you see the force of this spanking… fucking hell, this is one spanking that really HAD to hurt!
In fact I know this must have stung like hell as I recently gave Kami a similar spanking like that – however she has one of those bottoms that has "protection"! Kat here proves just what she can take… and I can tell you that much later in this film she is still taking the pounding that Eric's hand is dishing out! It's an awesome film, check out the HQ images below and the short WMV clip I have which kind of shows you a taster of what is in store for her! Ouch!
Taken from the latest series of Corporal Air… this film is more of a challenge that Kat sets Eric as she tells him she needs to be spanked hard for being a bad girl… and boy, does he give it to her good! CLICK HERE to see more of this great film!
& if that wasn't enough, a series finale to the "Definitive Guide" series with Amelia Jane Rutherford sees her laid out on a table, fully naked and strapped in an amusing and exploratory film that contains some great scenes you'd expect with Amelia… and of course I just know you Americans will be getting off on her accent as well as seeing her toned legs flailing on the table as her incredible tight butt gets a taste of a 3 tailed leather strap! Yikes!
I've got  something interesting for you, as this "Mockumentary" style series closes, here you can see Amelia lose her lines as she is clearly flummoxed (I love that word) from her recent strapping at the hands of her colleague, Dr Zealger.
OK, it wasn't a spanking or strapping but you can see the obvious attraction of such a Brit beauty, laid out on the table, of course, if you want to see this final punishment as she had explained what she had just gone through… then you can check out more HERE – I have got you some HQ images from this film below so you get an idea of what she actually went through!
If you still aren't tempted to take a peek, then maybe one Miss Samantha Woodley (below) coming very soon will make you change your mind in what is sure to be another milestone film as this caning looks amazing and I can not wait to see it! Members who sign up to view the above films will of course get access to all the archives of these girls and the forthcoming caning movie of Samantha!