Hi everyone, as promised, here is the very latest film update from AAASpanking.com and it features the welcome return of Katie Brown in a sister spanking video which is out now for download.
She filmed with us last month when Sarah was in the UK with me. We got in touch through a mutual friend & she was doing a different style fetish shoot near to where we were staying so we had time to meet up. Katie had expressed an inkling to try out spanking again, and I remembered how popular she was a few years back… so I was really stoked when she agreed to film with us both. Sarah was especially pleased as she loved her work on AAA and immediately had so many ideas (she always does!) So this is where we are – under the influence of Sarah, AAA is now showing more family themed films… and as I am now of an age where I really can play a father without that 10-15 year age gap (which I always find rather cheesy) I decided to do so before father becomes "grandfather" … or gramps, LOL! Well, my hair is thinning and turning grey after all but I'm not in the least bothered about that, of course. We guys don't seem to mind turning grey, do we? It's inevitable, I guess! But I digress! We needed a F/F film with Katie and this was the deal… a sister spanking (or to make it more believable – a half sister spanking!)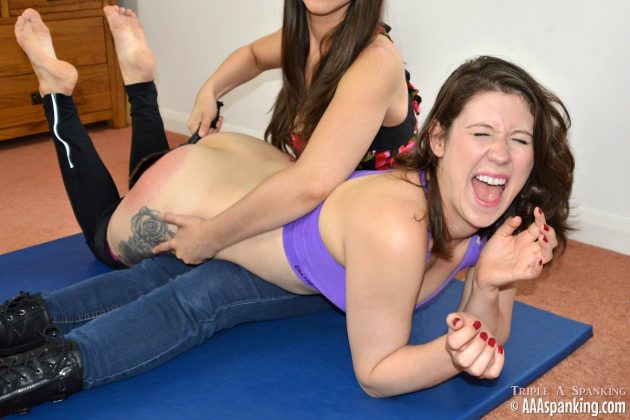 Katie's face is VERY expressive throughout the film.
Check out the blurb on the sister spanking storyline below with the images & GIFs – what I must say is that I am thinking of getting some of this film re edited with just – and only Katie's – FACIAL REACTIONS. There are those who might want to just watch her every reaction as I was hooked, she was sooooo expressive and genuinely reacted. This could go up as an additional clip… or perhaps a bonus for members, I'm not sure yet. I don't think it is mean to say that her tolerance isn't the highest, but her ass sure turned a beautiful crimson with that speckling I love so much… and I loved the end results with the excellent film quality and the stills. You can catch some of these below from the HD1080 films (images here are reduced in size, naturally) members get the full film, and both extensive image galleries to download. It's HOT!
Troublesome Sister – with Katie Brown & Sarah Gregory
If you love seeing girls in tight yoga pants, there's lots of spanking over these!
Sarah had rented a small appartment on her extended stay to England to see friends & family. The "family" included her half sister, Katie, who she hadn't seen for several years. It didn't stop Katie wanting to stay with Sarah despite the cramped space & soon she was taking over. Sarah's patience was finally broken the time she returned to prepare for a small dinner event later that evening. She found Katie practicing her Yoga stretches on an exercise mat. She had moved all the furniture out of the Living Room. Sarah knew exactly what this young brat needed & took Katie over her lap to give her a long overdue spanking. She yelped & cried out, Sarah was content to just spank her sister over her tight spandex workout pants, but of course Katie couldn't keep quiet & so a more humiliating spanking was required as Sarah pulled down her tight leggings. She hand spanked, then paddled her selfish sister's tight buns until she knew Katie was truly remorseful! This is the first of more films featuring popular Miss Brown who made her unexpected return with an exclusive filmshoot recently!
This video is also available at the CLIPS STORE HERE in full HD for those that prefer one time only downloads to keep rather than a membership.
CLICK HERE FOR THE FULL CATALOGUE OF CLIPS & VIDEOS 
As a side note, I would seriously consider Katie for BEST FACIAL Expression in a spanking (when the time comes for nominations): This girl has it. Those watching the full movie will see it too!