I had already updated my site earlier this week with a new film ahead of my schedule, it's proving popular and for a good reason since it was the last ever double collaboration with Irelynn Logeen & Leia Ann Woods. That is an end of an area for my site… I doubt I will ever work with either girl again so it was rather sad to see the last of their work from over 3 years ago finally up on my site. Still, if there are enough email requests for future work with Leia then I shall consider it… but I spend so much time in America nowadays my direction is moving towards that country, even if it has a distinctly English kink to it (which it would appear is popular) I won't stop hiring English girls as I love the way they act and take on the roles… but I appear to have found a good niche of American girls who do EXACTLY what the girls I've worked with in the UK do so well… so I am happy either way. What I don't like doing is working with girls who feel they need to – just for the money or don't get our niche… it makes me feel bad when they get upset that the spanking is hurting or something (well… it IS a spanking after all!) – Fortunately this is rare as I try to warn all new girls that I have hired in the recent past exactly what they will let themselves in for…just as I know Sarah & Mr Stern do at their group of sites. They tend to go for new girls, many untried, sometimes it works, other times the girls decide it's not for them… but in every case the girls get a very sore red bottom… as Vickie, the naughty maid, finds out to her cost with a double caning from Aunty Katie and Sarah at English-Spankers.com – this is one of my favourite English spanking style websites and is well worth a visit…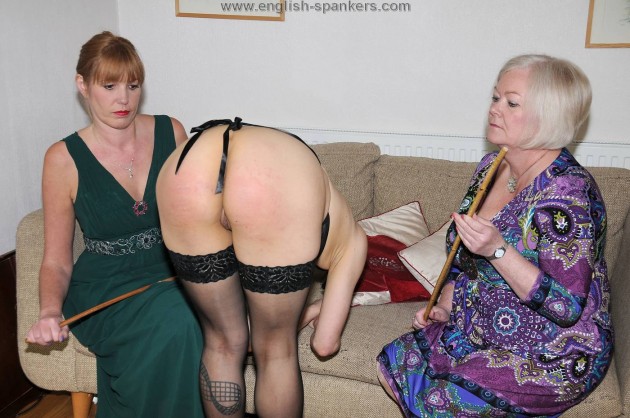 Aunty Katie and Sarah are rather enjoying celebrating Katie's birthday, a few glasses of wine and a nice bottom to punish, what more could you want? They have now decided that the last present that Katie will receive should be put to good use. Two new canes. Poor maid Vickie has to bend over again and despite having a very sore bottom the two celebrants cane her hard.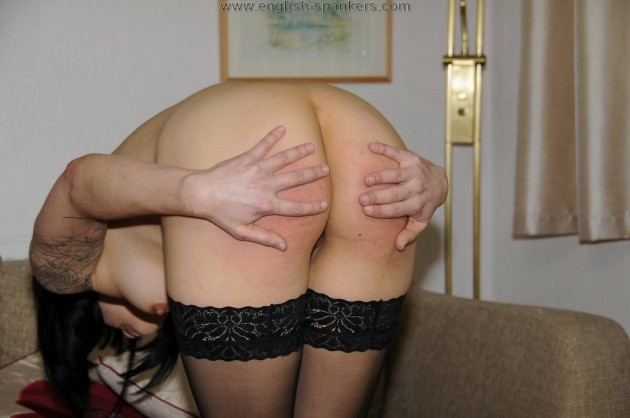 CLICK HERE FOR A FREE HD CANING PREVIEW OF VICKIE'S SORE BOTTOM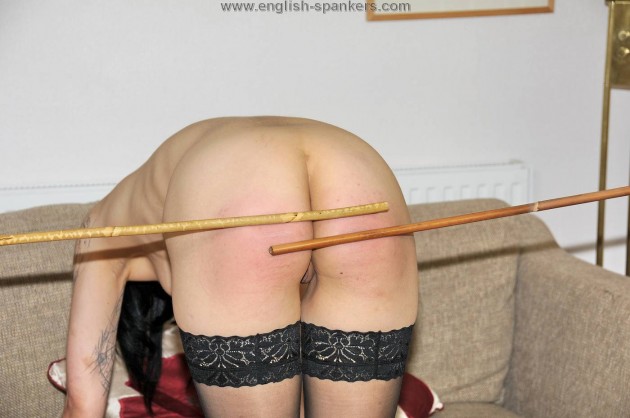 **********************************************************
& in case you missed it, in another maid themed severe punishment… Sarah Bright takes it out on her maid, Imogen, at her own excellent site SpankingSarah.com in another "House of Correction" film now available in full to view and download.
The second visit by Sarah to the house of correction and she has a very nasty surprise for the newest inmate Imogen. This young lady has already suffered a very hard paddling at Sarah's hands but now she has much worse planed. Suzanne the maid has to watch and even assist by holding Imogen down while Sarah beats her bare bottom with two leather riding whips. This is a hard beating and brings young Imogen close to tears.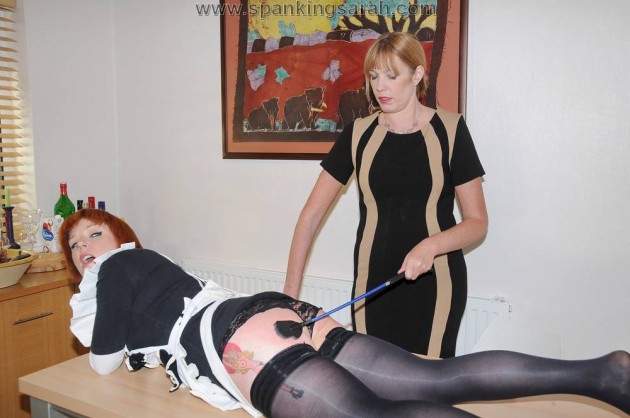 SEE THE TEARFUL IMOGEN'S PUNISHMENT PREVIEW FOR FREE HERE
*********************************************************
One of those most English of Institutions was "Borstal" – a place where young delinquents would spend their formative years in harsh and often very strict prison like conditions, since they were unable to behave or function in society. Like anything nowadays, this has been watered down to appease the beardy Politically Correct Greens and European tree huggers who prefer to "talk or reason" with their bratty offspring who quickly learn this is an excuse to get away with even more poor behaviour… but I digress. here is a nice update from Northernspanking.com reminding us of bygone years of a girl (Zoe Montana) caught with illicit reading materials and the punishment she would get for this "crime".
Borstal girl Zoe is caught with a very naughty magazine in her room. If she likes spanking so much, thinks the Warder, lets see how much she enjoys a severe strapping!
You can view this and the many authentic British punishments from NorthernSpanking.com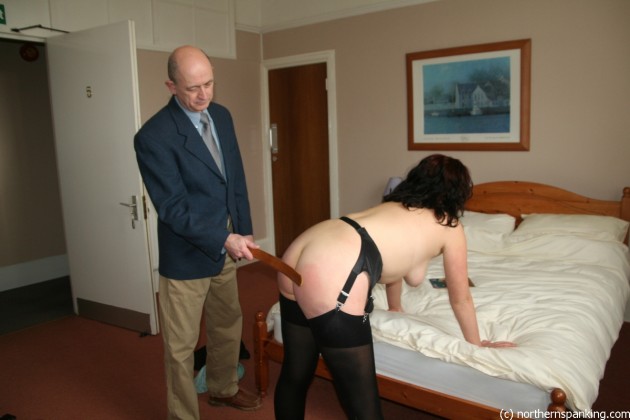 ********************************************************
Staying with strict and authoritarian for a moment… please do go check out Pandora's site DreamsofSpankings.com with a great cold caning film just released…
This office scenario will appeal to fans of traditional cold caning. Pandora Blake makes a mistake on a report, and strict boss Paul Kennedy needs to teach her a lesson. He makes her strip from the waist down and bend over to touch her toes, displaying her naked bottom and black stockings as he flexes the cane. The caning makes Pandora wince and gasp in pain. But her boss insists she must stay still, and take every single hard stroke. By the end her bare bottom is decorated with bright red stripes. After this harsh punishment she won't make the same mistake again.
PLEASE VIEW THE FREE CLIP OF PANDORA'S COLD CANING HERE
***********************************************************
Finally today, although these guys are Dutch (they speak perfect English, of course)… we kind of consider them close enough and similar enough to our style of discipline to count at "Brits!" so I will include what is happening at another disciplinary institution which is taking shape in a new section of Spanked-in-Uniform.com – the "Masonfield Prison for Women"… below are the latest episodes from the two-parter which you can review in glorious HD playback… like any of the other sites I have featured here today!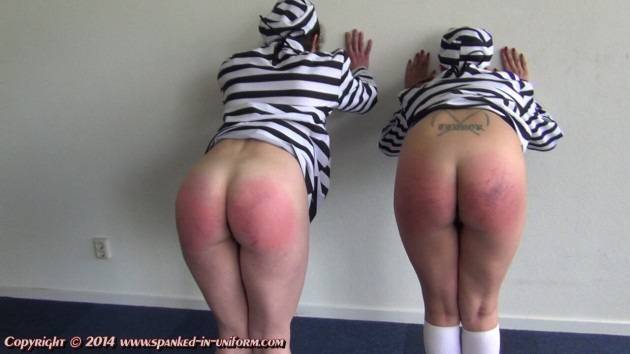 Inmates Jolene and Amy were on Toilet Duty and when the Warden inspected their work, He found them laughing and joking instead of cleaning. He took them both into the open area of the prison and He spanked them both soundly where every inmate could see. He then told them to clean the toilets properly or it's another sore bottom before lights out! – Warden Johnson inspected the toilet but it was not clean. He told inmates Jolene and Amy to be in punishment position two 15 minutes before lights out. This meant they had to lay over the edge of the top bunk in their cell, bottoms bare. The warden showed up on time and gave them both a good paddling. They both slept on their stomachs that night.
CLICK HERE TO SEE THE LATEST FILMS IN THIS & OTHER UNIFORM SPANKING SCENARIOS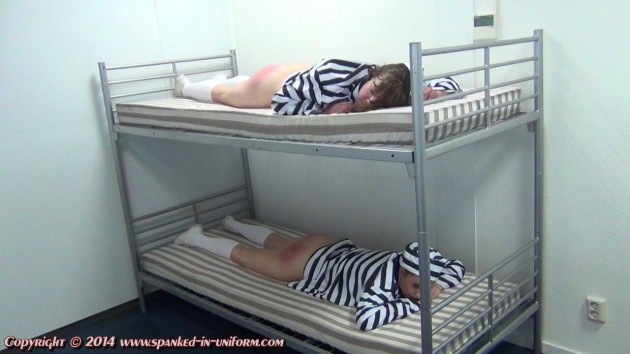 *********************************************
In other news, I'm just off to the airport to take Sarah there so she can fly back to America… it's rather sad… and I'm being told off now by her for writing this "Commando" as I had to go buy a 3 set of Boxer underwear from Sainsburys (or sains-bear-rees as she pronounces it in her cute American accent) as I had none clean to wear today… to my worldwide readership, and not just that from the UK… Sainsburys (pronounced sains-burries, by the way) is one of our larger supermarket/grocery chains here. Oh… & I rather liked this "Going commando" malarkey… hehe! Anyways… be back soon! 😉