The Interwebz… don't you just love how random some shit can be out there? I was preparing my post for you all today, and got (predictably) delayed looking at some zany randomness and instead of bringing you some LOLcats (or even obese or singing cats that I had been watching – don't ask me why, it just felt right at the time…) I checked out something from the past that I came across by accident and 2 variations of a Punjabi hit music video – "WTF?" You might ask? Well, check out the number of hits on this Youtube vid below, it's pretty well known, absolutely and delightfully cheesy, the special effects are hilarious but the tune is strangely addictive… just the smile and lift I needed after a pretty lame day back at work!
Then check out what I love about the fabled internet as you can then check out a hilarious parody of this loveable geezer as a rendition of Rick Astley's famous hit is shown below: Enjoy… you lovers of all things 80's!
🙂 🙂 🙂 🙂 🙂 🙂 🙂 🙂 🙂
"Never gonna give you up"…. ok, now that I'm in a jovial mood, lets see what's out there for all you lovers and seekers of everything we love about spanking!
Kelly Wilson is one such girl that makes me smile, a cute thing, a cute accent and an ever so spankable bottom… no wonder when she was giving a lapdance to a client that he couldn't keep his hands to himself as you'll see below!
When Kelly Wilson goes to see George Butcher for a private lapdance session she expected him to keep his hands to himself. When he touches her and Kelly slaps his face she discovers George would prefer to put his hands repeatedly onto her pert bottom!
You might want to know that there's MUCH MORE of Kelly at many exclusive spanking films from Sound Punishment like this free gallery below shows you (click image) which reveals her as a rather naughty schoolgirl getting her just desserts! Yum, I'm full just watching! 🙂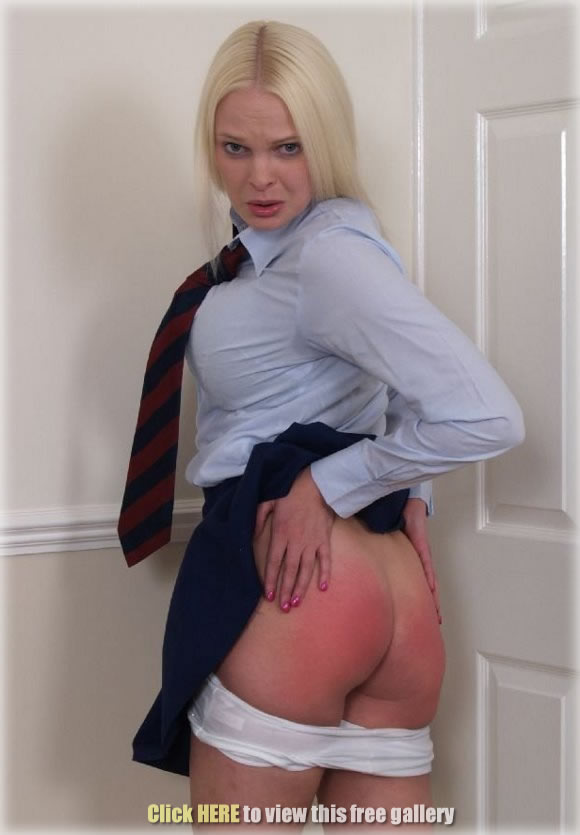 ******************************************************
Danielle Hunt is another girl that is a real sweetie, I know she has been rather busy recently and is also going to be starring at my site soon as I'm filming her after this weekend, but first, she is back filming with Mike and you can see one of her last excellent uniform films as she looks convincing as a Dutch Nato recruit who doesn't know how to shine shoes properly!
Cadet Danielle Hunt has a problem keeping her boots clean and polished. Her officer called her for a personal inspection during which she got a special duty caning. She was then told to clean her boots and report to his office in 15 minutes. When she was inspected again, her boots were not clean enough so he put her over his knee and gave her a long, hard paddling with the Academy's special, steel enforced, heavy leather paddle.
Check out more of Danielle's spanking films HERE
Before I leave this site, you might want to know that Caroline Grey (yes, another of my spanking crushes) is back as a nurse in trouble and you can see a few images from this latest film and judge for yourself!
Nurse Caroline was scheduled to assist Dr. Johnson in surgery but she didn't show up. He found her in the nurses station and dragged her by her ear to his office and put her bare bottomed in the corner untill he finished the surgery. When her returned, he found her not in the corner and she got a sound OTK spanking for missing the surgery and a sound strapping for not staying in the corner.. Then she had to spend 2 hours in the corner
See why Spanked-in-Uniform.com has some of the best niche uniform spankings around!
****************************************************
Now I thought you might want to know some of my nominations at the annual Awards which you can first of all nominate HERE
Ahem, if any of you (I see iwasrobert has kindly nominated my site as best improved, so "thank you, Sir"  – which I am really chuffed about) please do get in your nominations… I know I am stretching things a bit trying to get my blog nominated in the awards too, as it is basically a promotional/industry type blog but there is a lot of personal and my own behind the scenes stuff with plenty of special clips and other stuff which takes a bloody long time to set up and which no other bloggers really do (I can see bloody why!!!) and sense of humor most don't probably get (heh!) so do understand that and yes I know, I should really change the damned design of this blog, it's something I am definitely going to be doing for 2012 – 100%!
********************************************************
Here is Veronica Ricci – shown at SpankedCallgirls (one of my fave sites of Clare Fonda) getting a good hard embarrassing spanking with her beautiful blistered butt and splayed legs looking at us viewers provocatively… *mmm*
MORE Films of hooker babe Veronica looking so so sexy can be seen HERE
There is a free gallery showcasing another of Veronica's films at one of Clare's other class sites – Spankedsweeties.com (the home of all her Exclusive 1st show girls, newbies, interviews and of course… spankings!) Click image below for a cool free gallery:
See MORE of what is available at SpankedSweeties HERE
The beauty of Veronica can also be clearly seen when she is dressed as a schoolgirl in the infamous Exclusive Education Series… click images below for the special reminder galleries!
Exclusive Education 6 is available in FULL only from GirlSpanksGirl.com
**********************************
As I have said a 1000 times, you can view all of Clare's sites featured here as part of the CLARE FONDA PASS offering amazing value and highly recommended!
*******************************
Again, I have been busy today so can only bring you this but I have a fantastic new film I am uplaoding and preparing for my members of AAAspanking.com tomorrow – I'll tease you by saying the title of the film is called "Who wet the bed?" We had a lot of fun making this film and I can't wait to let you know more tomorrow!!! Til then… cheers. Chief