Some girls get so uppity about their bottoms, or the size of them… or you're not allowed to refer to their size etc etc, blah blah blah… I can understand if it makes them feel uneasy or embarrassed, but as I say to my Missus…. just  "Lay off that cake!" (It's for me anyway – as I'm a greedy bastard! lol) OK, what I say is often tongue in cheek so anyone taking offence, please write to me and I'll be sure to cry and not reply – "boo hoo!" So it was fun to see one of the very latest films from the Fonda Soap opera that is "My Spanking Room Mate" with gorgeous Madison Martin (who has lost a pile of pounds in weight, by the way) discuss with a very slinky Missy Rhodes if her bottom was too large and of course Missy knew just how to solve this little dilemma! I think I should take the advice of Madison, as she is looking damned HAWT as you'll discover below!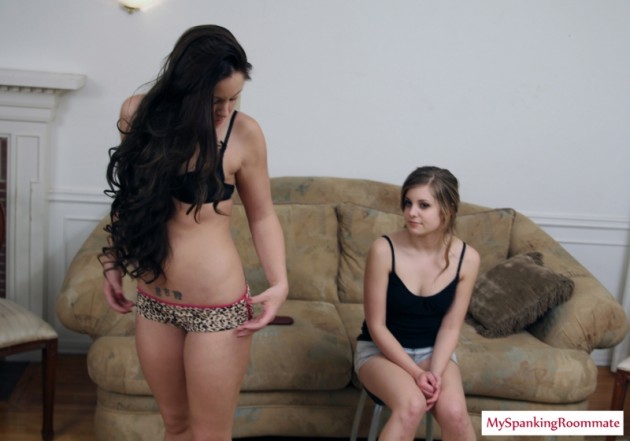 "Does my ass look big in these panties?"
"Missy's Weight Loss Motivation" – Madison complains to Missy about how big her butt is getting and how she can't fit into her favorite dress. Missy uses spanking and humiliation to motivate Madison to lose weight – making fun of Madison's big bottom and then spanking her hard with her hand and a nasty wooden paddle!
You can check out all the other episodes from this continuing spanking soap opera HERE
***********************************************************
At GirlSpanksGirl.com the 2nd part of Nikita's punishment at the hands of her cruel new stepmother, Kordelia Devonshire, takes place mostly over Kordelia's knee and you might be interested to know that "Nikita" also plays "Beth Thompson" from the recent "Paid in Full" series… I'm banking on this doe eyed model actually goes by the name Nikita rather than the false names that FHS annoyingly use until bloggers or other webmasters point out the error of their ways on some girls (Danielle Hunt being one when they foolishly called her Rhianna Parsons… Danielle is everywhere!!! Oh my!) – But I digress!
This is a hot mommy/daughter spanking… and you might also want to remember that Kordelia once got it REAL Good too (link coming up for that in a mo!)
Kordelia Devonshire is Nikita's new Step Mom. She expects her bratty new step-daughter to behave. When she doesn't, the young cheerleader learns all about the new boss of the house. She gets an over the knee spanking on her bare bottom and is ordered to call her new step mom "mommy." More importantly, she learns that she is not too old for a spanking with "Mommy" in the house!
Check out the rest of this Stern Stepmom series unique to girl Spanks Girl – HERE!
*********************************************************
Spanking Sorority Girls has a new pledge, a beautiful troublemaker by the name of Edanya who quickly learns that her mischief is not appreciated, and of course, this is a Spanko Sorority, so the recipients of Edanya's rather rubbish and foolish practical jokes (like the lame whoopee cushion and the annoying electric hand buzzer when shaking hands) soon gets this girl into very real and over the knee trouble! Check out the images as both Jewel and Riley take turns to give the joker brat, Edanya, a double girl/girl spanking she won't forget in a while!!! haw haw haw! Not so funny and clever now, are you Edanya?
This is the site where you get to see a lot of Veronica Ricci spanked too – see ALL the stories RIGHT HERE
**************************************************
OK, thjat's just a few updates from the magnificent CLARE FONDA PASS Network, you can see all these sites featured here today on their own (they are all massive sites in their own way) or as part of the famous 5 site package we all know and love so well!
************************************************************
OK, I've had far too much Rioja to continue, so until tomorrow… "Adios!"
Oh, remember I mentioned Kordelia?
Check out a fantastic man spanking she received in a special one off film (below)