I know this may have been posted already elsewhere but I have just been so busy and these 2 recent updates are cracking as they star new girl TEN (I really must ask David Pierson WHY she's called that, did she come after NINE in her large family? These are questions I need to know, but what I will let you decide is that this new girlie has a sweet sweet arse that screams "SPANK ME!" and she is duly taken over Mr Pierson's knee for a very alluring schoolgirl punishment! Seriously, check out her arse, her panties dragged down and that uniform, she's adorable!!!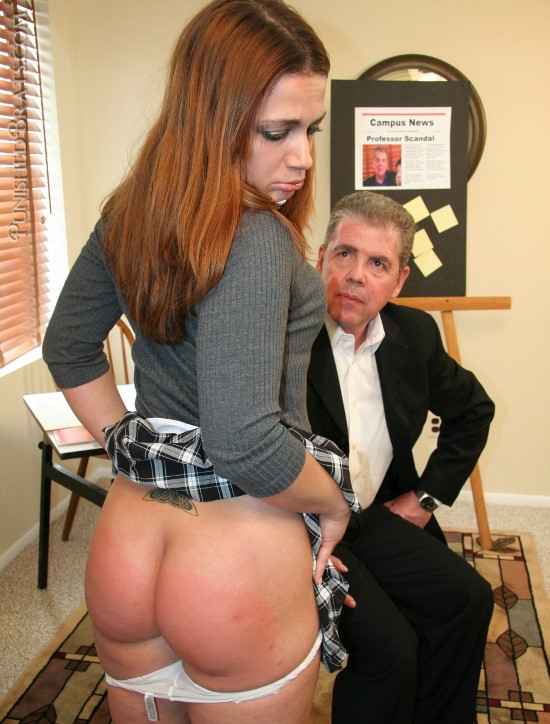 The story is great (just look at the article behind Mr Pierson!) Ten is the School Newspaper Editor and with this comes great responsibility so when she concocted a scandalous story about Mr. Pierson in effort to boost sales of the newspaper he is livid and orders her to his Office! There we see her bare red bottom given a darned good spanking as it becomes "Front Page News!" instead as a deterrent to wannabe libelists! Check out my chosen images below of this gorgeous new teen and her rounded red cheeks!
You can check out a couple of sample clips (which are lower quality than for members) but you'll get the idea!
There is a second update I wanted to feature as it has the amazing Lavender Rayne! Jeez, have you seen how tall she is? Built like an amazonian warrior, I can only imagine what it must be like to have this toned fit beauty struggling and squirming over my knee with her bare bottom getting redder and redder….well, she features heavily across many spanking networks in the USA and at Punished Brats I think she has done some of her best work including this latest movie update across the knee of the expert Veronica Bound! It has a twist too as it's a great "role reversal" as the boss gets punished by the secretary!!!
This images below are taken from the movie "Secretarial Discipline".  
Veronica may get fired, but she won't take another order from her spoiled brat of a boss, Lavender. You'll see her long legs wriggling and her bubble butt ass getting a much deserved tanning, truly an awesome sight when you see tall well built girls like Lavender humiliated and submit to a long overdue spanking over Veronica's lap! Afterwards, Veronica jokingly declared this to have been the best business meeting ever, lol! I agree!!!
Again, I have some sample clips (in lower resolution outside the members area) which shows you the punishment amazonian Lavender receives!