I think this should be a regular feature, what I am going to try and do is feature spanking images, GIFs & clips from series/videos from various sites (when I have time) that I know I have never shown here before. This could be anything from over a year ago… far enough gone that you may not have noticed either!
As Mary Poppins & Burt would say: Let's "Step back in time!"
I'll be starting this off with a visit to Firm Hand Spanking and a bare bottom paddling for Charlie Brandon by Krista Taylor (do these names ring any bells? It's from over 8 years ago!)
Bare Bottom Paddling for Charlie Brandon
"I had never been paddled before," said pretty blonde Charlie Brandon . "So when Krista smacked me with it for the first time, it felt as if I'd sat on a hotplate!" After caning her Pageant Punishment competitor, it was now Charlie's turn to be disciplined. Ten swats with a wooden paddle for bribery, five of them panties down. This was a satisfying revenge for Krista!

Lila is Exposed and Spanked (in 2012) – At Real Spankings Institute 
The Dean confronts Lila about her constant uniform infractions. She obviously is seeking attention by not wearing a bra today. So The Dean puts Lila to the test as she is told to strip, and follow his directions to display her body. Betty, Roxie, Ivy and Syrena are invited in to watch the display. Lila is spanked in front of the girls, and then her bottom is inspected by them.
This site is also part of the better valued 8 site Real Spankings Pass



Back to 2008, this was Irelynn Logeen's debut on Hallowe'en that year. I'm sure I haven't ever covered this… which is a shame as this was the first time she appeared in the vast collection of her films at Northern Spanking – Irelynn picked the wrong door to knock on when it was Hallowe'en for her Trick or Treat as Mr Grumpy inside couldn't see the funny side…
This is what they said about her at the time! – As you can see from her glowing bottom, it's a VERY WARM welcome to the gorgeous Irelynn Logeen making her spanking model debut. At just 18 years old, she's cheeky, energetic and a bundle of trouble and fun in equal measures! We're sure you will all LOVE our new young model as much as we do. We believe Irelynn is a spanking star in the making!
INDEED SHE WAS! Irelynn was one of the first people I had wanted to feature at AAA back in 2010. She has now retired from the scene but has given us all so many memories… and Northern Spanking has more than most of her! CHECK OUT ALL HER FILMS HERE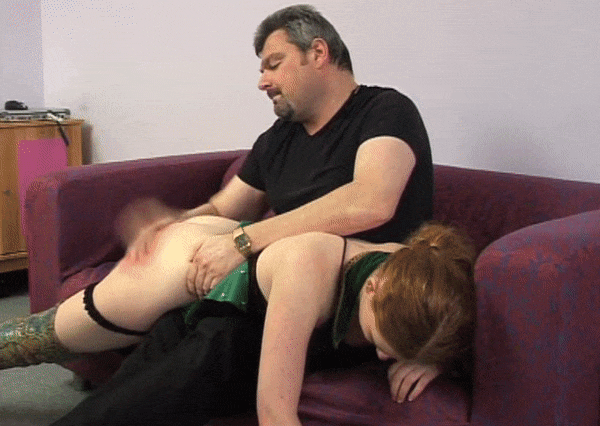 Remember how that "Retro look" and feel for something is better??? 🙂