Ah, as it's back to Autumn and getting colder and damper again (sigh – this time last week it was 30-31c or about 90f + in old money) but now I'm shivering and watching the leaves fall from the trees, I don't know why, but this Monty Python clip has always stuck with me at this time of year, taken from the very funny "Meaning of Life" – check out the "suicidal leaves" 🙂
It always cheers me up… and I have had some time to check out some cracking spanking updates out and about today, so here is a collection for your veritable perusal! This will warm you up if it's gloomy outside! All videos and reviews are with my seal of approval so you vcan be guaranteed that I won't let you watch or sign up to anything not worthwhile! Time and money is far too precious for that! & talking of money savers, one of the best value sites out there is STILL Punishedbrats.com – just check out their sign up options and you'll see – anyway, now that their newer movies are being uplaoded in much larger screen resolution (at long last) this site is a no brainer, see some choice recent additions which should satidsfy all you lovers of new girls like Amaya, or the regulars like Lily Anna (with Pixie, of course) and Lorraine!
This is a cracking new film where Veronica punishes Amaya for offending the neighnors
Paddled in the "Diaper Position" – I think Amaya will be learning to avoid pissing off the locals in future!
See the free preview clips of Amaya spanked by Aunt Veronica HERE
In case you're wondering about Veronica, I really do rate her with the choice of girls that Punishedbrats.com have on offer like the ever amazing regulars such as Pixie and Lily Anna… and this latest long play film is now available to download in full!
Lily Anna is in every bit as much trouble as Pixie and now it's her turn over Principal Veronica's lap as Pixie sneaks peeks from the corner and gives her a whacking that makes her plead for it to stop (but that's not going to happen!!!)
CHECK OUT THE FREE PREVIEW CLIP HERE
& of course one of my fave girls at this site (there are so many, of course!) is Lorraine Little… the way she whines and pitifully moans during her punishment, pouting for all she is worth is a joy to watch! I have actually cut a clip to show here exclusively, so you can see what I mean! Amazing stuff indeed!
Some bratty girls need a reminder when they are at home, no matter if they are becoming famous or not… and there's always dad there to bring a wayward daughter back into line! Lorraine squeals & objects as her Dad removes her white panties and slaps her rounded bare cheeks whilst she kicks and whines across his lap. Lorraine's bottom is a burning red by the time his hairbrush finishes her off!
Lorraine is a reality TV star that is out of control. Her spoiled ways and obnoxious behavior in public makes perfect tabloid fodder and is embarrassing the family. David is determined to bring the girl under control by revoking her privileges and giving her a solid spanking.
Lorraine's spoiled ways are tamed with a dose of David Pierson's heavy hairbrush at Punished Brats
***********************************
There are some cracking updates with resident switch Betty (who I love equally spanked or doing the spanking) and as you'll see, betty has her hands full and whenever you want to see some good hard F/F punishment, then check out Betty and pretty teen, Lindsay, who gets a paddling with her bobbies on display!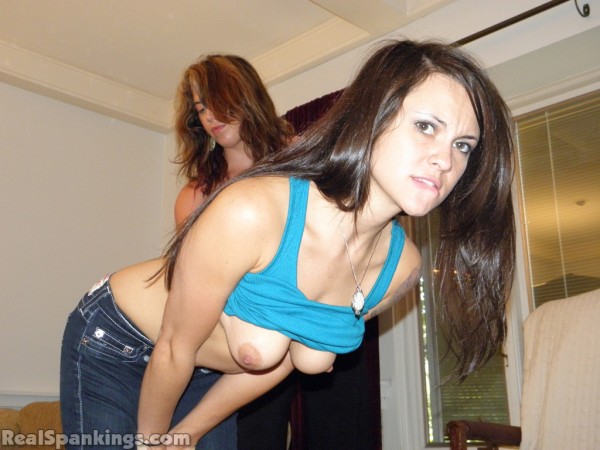 "Yikes! My perky titties are dangling whilst she's paddling me!"
& when her girls mess her around, like not paying the rent… then it is with "regret" that betty has to take matters into her own hands (of course!) Check out some amazing OTK spankings like the image below
More girl on girl mayhem can be viewed HERE
If you want to see some punishments from Mr M himself, don't fear, why not feast your eyes on real life sister of Kailee Robinson…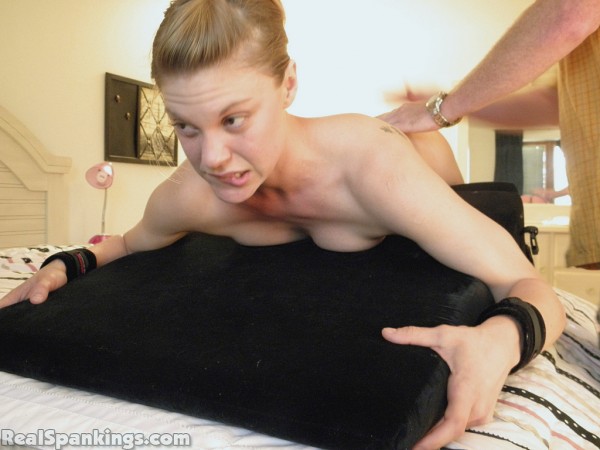 Kailee's beautiful real life big sister Lily is Bound, naked and vulnerable… for a hot and hard spanking till her round bare cheeks are scorching! The naked beauty can take a really sound hand spanking! Upon her arrival to shoot with Real Spankings, Lily asks Mr. M if he would do her the honor of incorporating some bondage into her spanking today. He gladly agrees. She is bound fully nude for a hard hand-spanking!

***************************
Back tomorrow with some more spankings & exclusive previews that i have for you all to warm up your weekend
Psst! Don't forget to check out this mystery link which leads to a great one off download film, there is a free preview clip