I thought this latest update from AAA Spanking deserved its own post here, since it an awesome movie. It stars Lily Swan and Miss Bernadette. I think Lily goes by the name Swan with Sass on Fetlife (I don't spend much time on there lately), and is a good friend of Sarah and I. Every film I've made with her has been outstanding, no matter what site we filmed for… she has also helped us make 2 amazing custom films, again on the harder side as she can take a fair bit of pain. This film we made with Bernadette upped the levels on taking pain again, this time a back of the thighs sustained leather paddling. I must point out that the paddle is stiff, thick… and really stings rather than thud. Like a nasty hairbrush, in fact. So the scenes of Lily taking her paddling are quite amazing to watch… I loved the red marks starting to almost appear immediately… since that area of her anatomy is rarely spanked, slapped or beaten! The other thing worth noting is just how sassy she was, what a brat! For Miss Bernadette to appear calm and in control despite all this happening, then to give her that amazing OTK spanking and paddling… well, it's what really makes this film stand out for me! Go check out the screen grabs below, some special GIFs that I made and there's a provided link to the home page for a free shortened preview trailer at the end as well.
Starring Lily Swan & Miss Bernadette – AAAspanking.com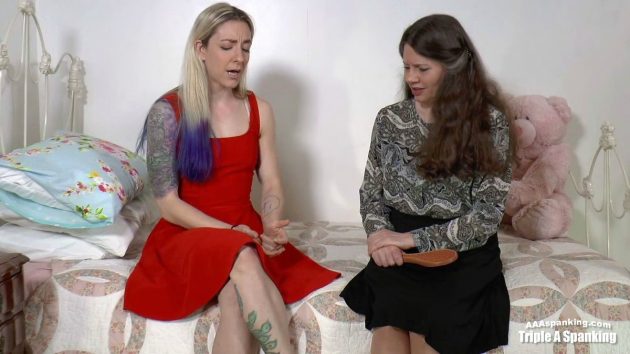 Welcome to another in the "Stepmother knows best" series with an awesome pairing of super bratty Lily Swan giving as good as she gets from her step mom, played by Miss Bernadette. We love this type of dynamic: A new stepmother exporing her relationship with a hostile daughter, the mixed and confusing emotions, the confrontation, negotiation and in many cases the punishments that ensue. So it is with Lily, who resents her new step mom, making it difficult for them to be under the same roof together. Bernadette has tried to be nice but it is seen as a sign of weakness by Lily. She had suspected that Lily was behaving like a slut, much to her father's distress… and confirms this when she discovers Lily is about to go out not wearing any panties underneath her short skirt. Shey is, feisty, obnoxious and rude when confronted. This step daughter fights all the way as her new mother finally gains the upper hand – using that hard hand! However, Lily isn't just getting a hand spanking across her bare bottom, which is now looking red and quite sore, oh no… this brat is about to discover one of her step mother's family heirlooms – The Family Paddle! It is a hard, thick leather paddle, passed down from generation to generation in Bernadette's family. Now Lily is about to discover just how effective this implement is. Lily's thighs and bare bottom are whacked hard and without mercy and the red bruising easily shows up on her legs. Thus endeth the lesson for Lily: Do not to wear such provocative clothing, be better behaved, and definitely go find some panties!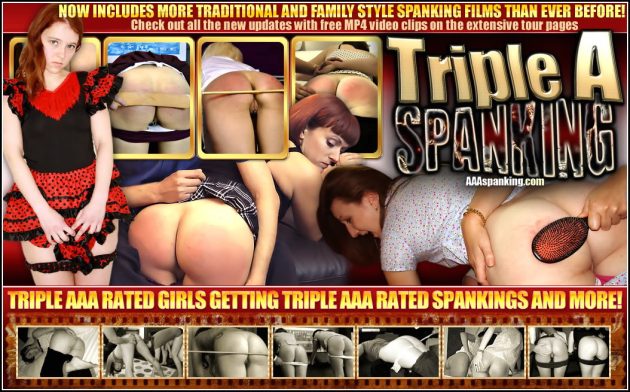 This latest film is also available to download in full HD at the AAA Clip Store
Click the image below to access the MP4 HD1080 version
Full AAA Store clips archive HERE