I love the whole scenario of girls getting their own back on each other, whether it is because one got into more trouble by association, or another girl tried to save her own skin and tell tales on the other (a personal favourite of mine), or whether it was just a plain return spanking to even a score… I love the whole idea of girls switching and dishing out what they had earlier received! So with that, I give you my latest film update from AAAspanking.com – rather obvious in the title, called "Jasmine's Revenge"… and it is based on the follow up from the aftermath when both girls got a good hard thrashing in that same room for signs of masturbating… or "wanking" (that is such a crude but succinct word I love mentioning) underneath the bedsheets!
You can catch up with the original storyline and images in this FREE gallery HERE
Then take a look at some images (including some additional ones not shown outside the main site) that helps explain how Jasmine got her own back on a sleeping Sophie!
Click HERE to view a FREE preview clip of Sophie's spanking by Jasmine
Jasmine was bitter that she had to take a harder spanking the previous time these 2 girls were punished in this very same room when Sophie got out of a far more severe discipline thrashing by telling tales on Jasmine. Jasmine vowed revenge and it wasn't long before she sneaked back into Sophie's room to carry out a little fair play and justice on Sophie's recently thrashed and very sore red bottom, bringing her close to tears! During this tearful state she got her to admit that she was wrong! Another great little pyjama discipline film which has a lot of sore red ass and sexy girl on girl punishments that you would expect from this site. Enjoy!
If you're into revenge punishments then you are going to love the new stuff that I filmed recently between Zoe Page and Jessica Jensen, a couple of preview images are below as this film is currently being edited as we speak and I hope it comes out by the end of the month or so…
Wrestling & Spanking : Featuring Zoe & Jessica
(Hope you don't mind me playing with an image or 2!)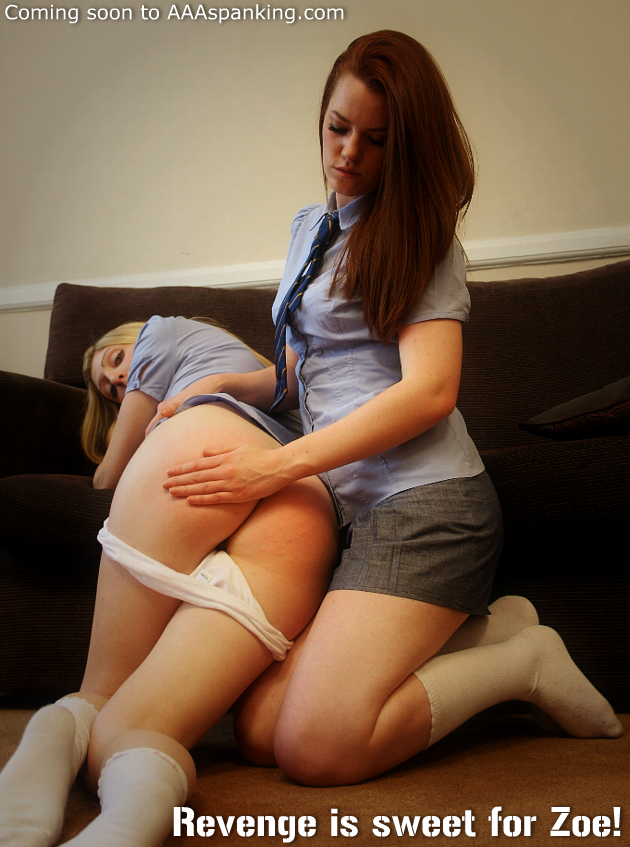 ***************************************************
Continuing this theme, the following films are what inspired me, from my hard drive I present to you Samantha Woodley and Lizzy Madison (who I once featured on here looking STUNNING in her cheer girl outfit, just enter her name in the search bar and you'll find the post!) Anyway, here is a classic example of both girls taking turns on each other and it came from FirmHandSpanking.com in one of the many "House Rules" series starring these 2 amazing girls!
Check out these images… this is some seriously top rated stuff from yesteryear from the vast movie archives of FirmHandSpanking.com with gorgeous Samantha Woodley totally nude, bent over a chair in the bathroom for a resounding spanking with a wooden bath brush. Add to this the entrancing Lizzy Madison as her brush wielding housemate, and this is indeed a rare treat many of you may have missed! Oh, and Samantha HATED that damned brush!
& then the tables are turned as you'll see below (Sam is quite a capable switch!)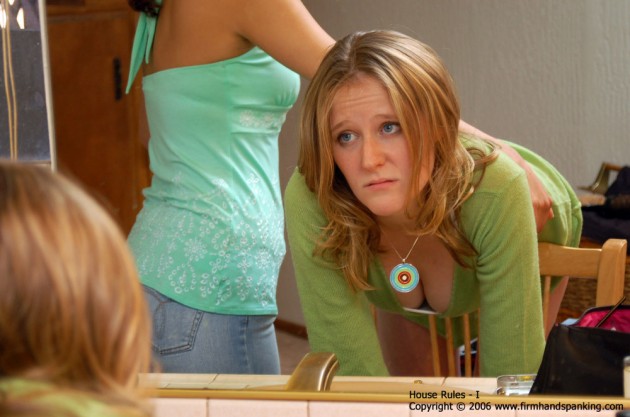 The House Rules series provided a double dose of discipline as Samantha turned the tables and spanked her housemate Lizzy Madison with the infamous and dreaded bath brush! (Anyone who knows anything about brushes will know these things are PAINFUL!) That long handle packed a lot of extra sting, as Lizzy found out to her cost as Samantha got her revenge!
Do not miss these classic movies as well as the very latest punishment spankings!
Click Here to see the free previews
*************************************
OK, this is not quite a revenge spanking, but one of my favourite films from last year at NorthernSpanking starred the ever so voluptuous spanking sex kitten, Jadie Reece alongside Leia Ann Woods… these 2 can get up to all sorts of naughty female shenanigans, and in this film… they certainly do not disappoint as Jadie pays the forfeit (this time) when she loses their weekly game of tennis.
Unless you know the girls well, you probably would not believe it's true but, during the summertime, Leia-Ann and Jadie play tennis once a week to help them keep fit. But that is not the real reason. Of course the winner buys lunch but the loser, well, the loser HAS to be punished! She has to have her bottom soundly spanked in her damp, frilly white tennis panties. She has to remove her top so that her glorious breasts may be enjoyed to the full, straining to escape from her bra. The girls have a range of instruments of discipline available to them, as you would expect and these may be applied to the losing backside, once those damp cotton knickers have been pulled down. As you will see, it's not all about punishment and today it's Jadies turn to be tenderly undressed, kissed and caressed before the final, inevitable caning of her bare bottom. And with her striped, thrashed bottom in the air, there is one more task that Jadie has to, ummm, perform… (I didn't realise lunch was served early as she dined from Leia's "lady buffet!")
Do NOT miss the many films of Jadie and Leia together… they will melt your PC screen!!!
Lunch was served early as Jadie had developed quite an appetite – it's hungry work spanking Leia!
CLICK HERE for the complete movie
***************************
Stay tuned for yet more updates coming very soon! Chief