As some of you may know, I am now back in the USA. Sarah & I have been traveling extensively since I got back. This has meant that writing up posts on this site has taken a back seat, unfortunately. Our time to update our membership and Clip Store sites had to take priority so I hope you understand.
We had recently been at a private spanking party in Las Vegas… as well as chilling out and taking in the sights of The Strip, of course. Our filming schedule has been rather hectic – this is all down to Sarah, naturally… (I'm just an old guy who has creaky bones but can still hit bottoms as and when required, LOL). We then got to rent a car and take the relatively short road trip to Los Angeles where we are at the moment of writing this blog post. The filming has been rather relentless here too. As Sarah points out, "we don't always get to see the girls based out here as often as we'd like", so we take our chances when we can. I have to say, so far on this trip, the content filmed has been some of the best we have ever produced… it just keeps getting better and better. I can't wait to showcase some of the new girls we have filmed with. I really should do a separate blog post about upcoming models we have worked with, right? PLEASE REMIND ME!
Anyway, as I have found time now, I will let you in on some of the most recent film updates showing across the network.
Anastasia Spanked and Strapped
Previously on "Momma Spankings", Anastasia was disciplined by her new stepmother for being rude and disobedient to her. (see image to the left) – Now she has been rude and disrespectful to daddy. He is not happy about his daughter's attitude and continued misbehavior so he decides to teach her a lesson with a well earned hard hand spanking and leather strapping. Anastasia's reactions to her spanking are priceless as she struggles to cope with his hard hand across her bared bottom. Her cheeks start to turn a shameful dark crimson before they really speckle and reveal marks of shame with his trusted leather strap. She is laid out on the bed as her bottom takes this mean punishment as she struggles and cries out in pain. By the end, she is one very sorry, disciplined girl who now understands a valuable lesson in respecting her parents.
Stevie learns respect
Stevie has been very disrespectful to her new stepfather and this ongoing behavior is wholly unacceptable. Mother sits Stevie down alongside her husband to work this out and she still shows her stepdad contempt. He has been nothing but kind and helpful to Stevie, knowing this is a difficult time for her, and she has thrown it all back in his face. Mom has heard enough and tells Stevie she will be getting a spanking, the good old fashioned way. Mom takes her rude daughter over her lap as she is spanked over her tight jeans but they don't stay up for long. Stevie is told to remove them as the spanking continues over her tight revealing panties. It is not long until the hairbrush is also used to silence this insolent madam. The hairbrush spanking is hard and relentless over her bared cheeks as her stepdad looks on… how embarrassing! Next, Dave (stepdad) is told to spank Stevie. She finds this really humiliating but it's far too late for her to be worried about that now! After her over the knee spanking, she is told she will receive a caning from Dave. In his country, this is common practice for naughty young ladies. She is given a "Baker's Dozen" of 13 hard, mean strokes. By the end of this punishment, she is one sorry contrite girl who learns that showing disrespect to those that care has very real consequences.
Both these sites are part of the Sarah Gregory Pass – giving you combined access for less than signing up to the 2 sites. Convenient and includes full access to both sites.
Includes 1st 3 full seasons of Strictmoor Academy plus the many mini-series within that period!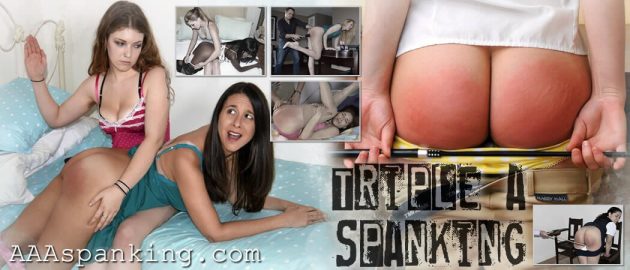 Angelica Vee: Spanking Positions
Please welcome a stunning new girl, Angelica Vee, who is local to us (so you will be seeing more of her in the near future). Angelica has THE most amazing girl next door look, with such a fresh face as if butter wouldn't melt in her mouth. Don't let her angelic looks fool you, she is naughty through and through… and as you will see, she can take a good spanking. We chose 3 classic positions to showcase her amazing talent. Position One: Classic OTK, a naked Angelica is spanked over Sarah's lap… watch her bottom turning red before your eyes. Position Two: Bent over receiving a leather strap. Some great angles show Angelica's cute reactive face and her bare bottom expertly strapped by Sarah. Position Three: The Wheelbarrow. Angelica was made for this and Sarah knows exactly how to spank her in this embarrassing and most revealing of positions! As usual, we capture all the action in multiple angles for your viewing pleasure.

Ashley Spanked & Soaped
Ashley skips by her parents on the way out, looking happy with herself in her cheerleader uniform. Normally her mom and dad would not be bothered as they knew she'd be on her way to practice. However, the practice has been canceled and where could Ashley be off to? They know she is up to something as Ashley's email notification on the family PC has shown she has read the practice cancellation! Their daughter is lying and their suspicions are confirmed… she wants to meet up with the bad group of friends who like to smoke illicit substances and behave like jerks. Ashley the liar is told she will get a spanking from them both, and mom will also use the Family Strap across Ashley's bare bottom. She goes over mom's lap and is spanked while dad looks on and chastises her for her lies. Her poor bottom is turning quite red by the time dad takes his turn and her bare cheeks are a shameful red as mom prepares her for the leather strap. The painful strapping brings out yet more bad behavior from Ashley and mom tells her she will get a mouth soaping to clean that filthy mouth of hers. In the bathroom, her bottom still aching and sore, Ashely's mouth is thoroughly cleansed with the soapy suds as mom repeatedly washes out her daughter's dirty mouth. Ashley is one very sorry spanked, strapped and mouth soaped little girl by the time this humiliating punishment is over!
Don't forget that Sarah & I will be helping to host the Lone Star Spanking Party
Details of this are below in the banner link!