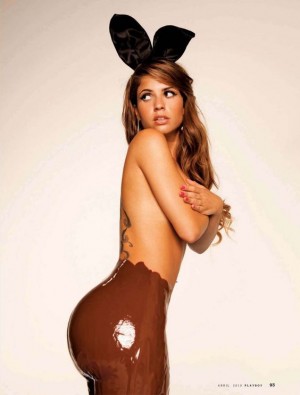 As promised, MORE spanking choices for you to check out this holiday weekend! How are the chocolate Eggs and Bunnies doing? Anything made of chocolate doesn't last long in my house, so I'm afraid foil wrapping covering the eggs are strewn everywhere on my carpet as I get this blog post out to you… I'm a chocoholic and can't help myself. I just wish I could find more images like the one I found left, I typed in on Google "Half Eaten Chocolate Bunny" and it looks like this was shown with original credit to Playboy!
Hmmm, can't think why that looks a great idea for a photo shoot!
& so to the Spanking updates for today!
This week at spankingsarah.com – Tiffany is a very conscientious maid, so much so that she starts cleaning Mr. Sterns room whilst he is still in his bed, he is not best pleased. She sees nothing wrong with this so he decides she needs a bit of a lesson and promptly places her across his legs as he lays in bed and gives her delightful little bottom a real good hard spanking. She does not seem to mind this too much so maybe she was asking for it all along, knowing Mr Sterns spanking reputation!
Touching Things is a recent full film update showing at northernspanking.com featuring Pandora Blake as the Headmistress with schoolgirls Alex Reynolds & Christy Cutie. Finding the door to the Headmistress office open after school has finished for the day is too much of a temptation for schoolgirls Alex and Christy. Similarly tempting is the school leather paddle sitting on Miss Blake's desk. Alex has felt it across her bottom once and wants to share the experience with Christy.

Experimentation with the heavy leather on each others panty clad bottoms leads to further, more intimate experimentation. Which is, of course, when Miss Blake returns to retrieve her laptop. Both girls soon find themselves with their white cotton school knickers taken down for a proper taste of the school paddle. Miss Blake is not unkind however, allowing the schoolfriends to hold hands and providing the occasional caress to their sore, punished bottoms. Both Christy and Alex are sure to return to Miss Blakes office many times…for punishment of course!
I can't believe that I hadn't featured this recent film of Stevie Rose with Miss Anna at mommaspankings.com – I guess that was because I was so busy with other stuff, but this is a cracking film. I was there when we made this video and poor Stevie gets it good in this Mommy/Daughter punishment film called "Sassy Stevie spanked"
Mom is not happy to get a call from Stevie's school that she has not shown up. Mom dropped her daughter off that morning, but Stevie made the decision to go back home and ditch. Mom comes home to a lazy and sassy girl who just won't give up on the back talk. After a good scolding, mom takes her bratty daughter over the knee for a good hard spanking. After some corner time, mom then makes Stevie ask for a hairbrush spanking. Stevie squeals and screams in pain as mom finishes off the punishment with a very hard hairbrushing.
Finally an old film I just watched again, I forgot how good this was… poor Jessica Jensen, she really did get a teaful spanking punishment as you'll see from the images available only at aaaspanking.com
Jessica was hired to be an "in house" maid & she was paid a lot of money to dress up as "eye candy" for her employer & to look pretty when he was at home. However she was easily distracted & decided to masturbate on his breakfast table instead of cleaning up the kitchen which was so much more tiresome! She brought herself off with a naughty little buzzing toy she had hidden away in his cupboards & John arrived back early to discover Jessica pleasuring herself, legs wide apart, her pussy in the final contractions of orgasm! Outraged, he decided to teach her a humiliating lesson for bringing herself off on his table instead of working hard on his time! He knew her pain tolerance levels were low from previous punishments so he made her strip out of the tarty uniform slowly so he could feast his leering eyes on her firm tight body then he spanked her over his knee. To finish this off when she was close to tears he gave her bare red bottom a hairbrush punishment which she would remember! Jessica was then told to clean up the kitchen, naked, with her shameful red bottom on full display!