Every now and then I like to give you a complete spanking movie review so where better to start than at renowned film makers Shadowlane.com with an all female cast in "Sorority Hellion" with Eve Howard and Gretta Carlson punishing a very naughty Casey Calvert.
The following "bios" help introduce the stars featured in this production:
Eve Howard entered the adult industry in 1979, and worked as in-house copy writer at Academy Press and Gourmet Editions, for 7 years, while simultaneously free lancing for fetish publishers like HOM, Lyndon and Jennifer Jordon. Writing as Lizzie Bennett, Eve edited many issues of Spank Hard magazine and eventually met Ed Lee, owner of Nu-West spanking videos. Eve performed in about a dozen Nuwest-Leda videos in the mid to late 1980's.
Adorable Gretta Carlson goes back with Shadow Lane over twenty years. She was always a switch, but in the early years mostly took the spankings in the videos. Recently, Gretta has morphed into an exciting top lady who is extremely comfortable with a hairbrush in her hand and a bad boy or girl over her dainty lap. She is originally from Germany.
Casey Calvert is a slender, olive-skinned brunette with an elegantly proportioned body that she is not at all shy about revealing in all its perfection. Spanking is her primary fetish but she has also been doing scenarios including explicit penetration for the last several years. Back in the day, models who took both great spanking and deep penetration at Shadowlane just didn't come this this cute and hot, she sets the bar higher than it's ever been for submissive sophistication, beauty and style.

A beautiful coed caught masturbating, is spanked, strapped and paddled in Lambda Sigma Zeta house. Starring Casey Calvert, Gretta Carlson and Eve Howard.
SCENE ONE: New house mother Gretta confronts insolent senior sorority sister Tori (played by Casey Calvert) about her overly enthusiastic hazing activities and asks her why she is putting the junior pledges through hell. Tori replies that those girls deserve it and any way, she has to have some fun. Gretta is not pleased by Tori's attitude and takes her across her lap for a sound hand spanking. When Tori fails to repent of her sadistic treatment of the pledges in her charge, Gretta expresses her disapproval by bending a fully nude Tori over for a wooden paddling, leather strapping and leather paddle spanking. Tori proves tough, but the repeated cracks of a smart leather implement against her silky smooth bottom begins to make an impression on the stubborn girl. Beautiful, slender Tori, her long brown hair cascading over her slim shoulders and peach shaped breasts, submits to spanking, paddling and strapping from the attractive and strict house mother until her well toned bottom has been stained a glowing, rosy red. As always, the sorority girl's ultimate surrender to the higher authority is signaled by her shouting out the house motto: Lamda Sigma Zeta Forever!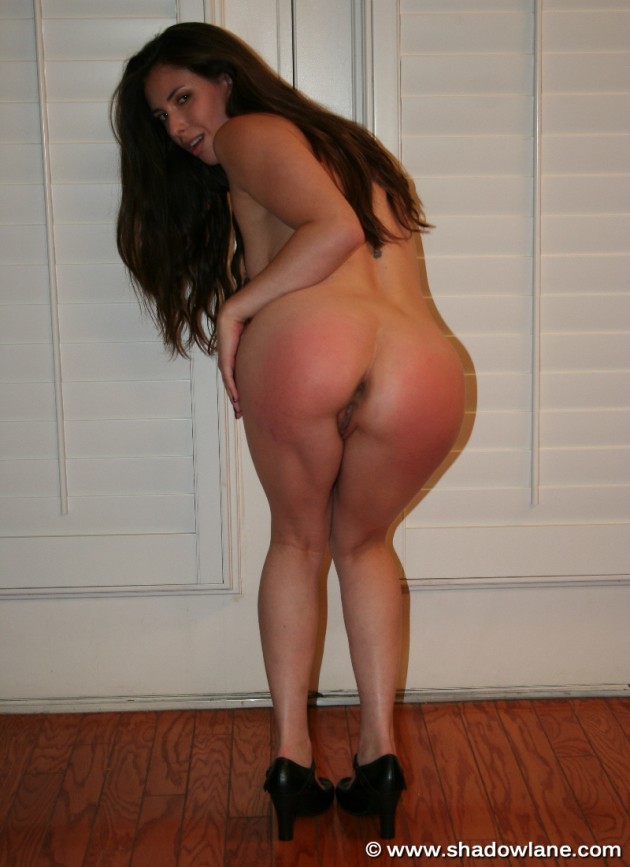 SCENE TWO: As treasurer of her sorority house, Tori, a notorious senior sister, uses Lambda Sigma Zeta money to purchase sex toys and furniture for her own personal use. Caught masturbating, explicitly and at length, with both a dildo and a vibrator, by sorority director Eve Howard, Tori must give a full account of her misappropriation of sorority funds as well as her continued bullying of the pledges under her control. Formerly punished by house mother Gretta Carlson for over-hazing the junior sisters, Tori now faces fresh humiliations at the hands of Miss Howard, who makes Tori get over the spanking bench that has been purchased with the sorority credit card and demonstrate its usefulness to the sorority. Eve uses hand, paddle and strap on Tori's trim, toned bottom, scolding the fledging adventurer on her lack of discretion and complete lack of self control. Stubborn Tori takes the licking she has coming, knowing that she has done wrong, even submitting to the final embarrassment, that of being compelled to masturbate with her toys while her bottom is being smacked, strapped and paddled by Eve.
Naturally beautiful, perfectly proportioned, long-haired, doe-eyed, 23 year old Casey Calvert is a spanker's dream come true. Her full nudity reveals all of her budding charms as well as her fascinating self- pleasuring techniques. Watch as Casey makes use of a sound spanking top behind her, a sturdy spanking bench below her and a few powerful play toys between her silken thighs, to reach the ecstatic state of abandon all subs dream about.