I have 2 very good mommy/daughter discipline spanking films for you today and they feature Miss Elizabeth at her best with 2 very different daughter discipline scenarios.
The first is the latest film release from AAA Spanking which was first shown late last week starring in a very special debut for the site, one Miss Aria Lennox in her first appearance at this website. In fact there will be a guaranteed brand new girl featured every week never seen at AAA before for the month November!
This is also a special double first for Aria… her first spanking by a female and her first ever real life icky, yukky, super sudsy mouthsoaping (caught on cam). It is really rather good as you'll see from the screen images below and I have a link to the free preview that best showcases just how cool this film is!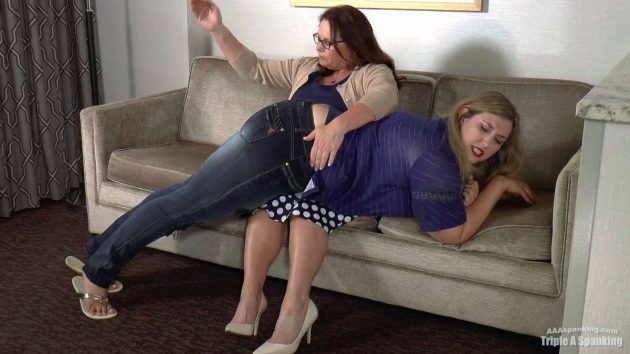 What a debut performance from Aria Lennox as the brattiest, foul mouthed daughter of Miss Elizabeth. Mommy calls her in for her continuing abysmal behavior but Aria refuses to accept any responsibility. Her attitude is appalling, peppered with foul expletives which only angers and disgusts her mother further. No time is wasted as Aria is spanked over mommy's lap, first over her jeans, then across her panties and bare bottom. But the foul language continues and the dreaded bathbrush is used with great force which has Aria in near tears, gritting her teeth as the hard wood really grabs her attention. However, mommy had promised a further punishment after her bath brushing… and that is going to be her first ever mouth soaping. Aria has no clue how mean this will be, but she soon experiences that a proper sudsy, soaping multiple times with continued scoldings and humiliation is a very effective method of correction. Aria finally learns her lesson but not after it leaves a nasty lingering taste in her mouth and a very sore, thobbing red bottom!
Or if you prefer, you can view this full length clip from the ever popular AAA Clip Store – for the direct full length HD1080 MP4 video link, click on the image below and it will take you straight to that option (including a free preview clip, of course!)
In the very latest update from Momma Spankings – Miss Elizabeth deals with a different type of brat, Quinn is that little girl lost tuype of daughter that never seems to learn her lesson… so mommy knows exactly what to do, as you'll see (below).
Quinn comes stumbling in 3 hours past curfew drunk and dressed like a slut. Mommy is not only very angry, but worried about what has happened to her daughter. Quinn has quite an attitude with mom until she is taken over the knee for a spanking. Quinn is already so sore from previous spankings so this feels ten times worse. Mommy is relentless and brings her stingy hand down hard on Quinn's bare bottom. Quinn cries in pain and promises to be a good girl from now on. But that doesn't stop the spanking. Her punishment ends with her bent over taking mommy's leather paddle on her sore red behind.
The above websites feature loads of content with Miss Elizabeth but now you can also see some of her own produced videos courtesy of her own Clip Store Spanking House Productions