It's a scorching day here in the south west of England and although I tried to sit in the sun with a cold beer, I got fed up, drank my beer and went indoors and thought I'd persue t'internet for some spanking smut… then decided to write up a small piece of some great new films I have just seen…
It's also not a holiday weekend here as it normally is as it is being delayed a week to allow an even longer free public holiday the following week to celebrate the Queen's Diamond Jubilee which is on a Tuesday as our government (for once) thoughtfully decided to include the traditional end of May bank holiday a week later giving many hard pressed workers a chance to really celebrate (I shall be working, of course… as it's double time and a day in lieu!)
OK, what have I been watching? let's start with nurses… you know I have a thing for them, so seeing this new series (just filmed by Mike in the UK last week) with Catherine O'Hara and Nicky Montford… um, well… yum! (yes, I'm speechless)
My Blood pressure has risen at the sight of nurses spanking each other… from Spanked-in-uniform.com
Check out some video images as well as a few choice higher res pictures that now accompany these films when they are updated (which look great, don't they?) the storyline to this is further below and this is the 1st part… I'm sure Mike… aka Doctor Johnson, will be along any time soon… (ahem)
Nurse Nicky and Catherine were both sent out to take care of an elderly lady in her home. An easy assignment. Two nurses and one patient. Should run smoothly. Well of course it didn't! First Nicky forgot to give the patient her lunchtime injection and Catherine was quite angry about that. She gave Nicky the option. Be spanked by her or Dr. Johnson. Nicky chose the first option and in the living room, she went over Catherine's knee getting her bottom spanked!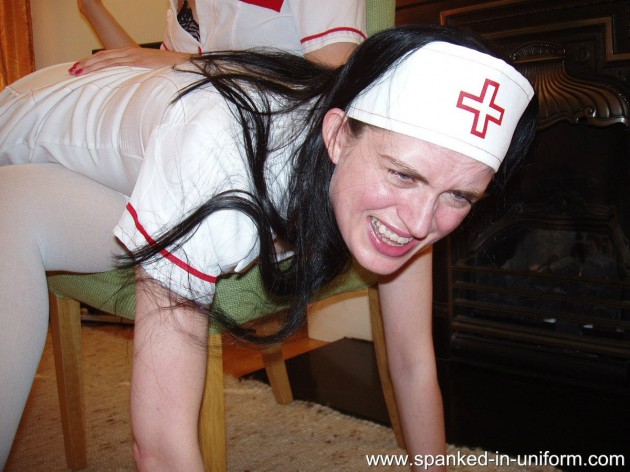 Click here for the full movie download of nurse on nurse!
******************************************
I have some news about AAA Spanking – there is a price restructure, as there are now over 90 films available and the costs of maintaining the site have skyrocketed (not to mention the daily battle against piracy) I have had to up the membership costs slightly to offset it but to sweeten this, there is a temporary Promotion for those who may never have seen inside the site – I won't say anymore but this site is still way competitive and all the content is 100% exclusive and I won't sell it anywhere else or cheapen the brand that is being made, despite being approached by a couple of companies recently to do just that!
CLICK HERE TO SEE WHAT'S AVAILABLE
Then click this link to see the new pricing including the Special Promotion for newbies.