In case you missed my tweets this week, I did mention the fact that there were two brand new and very different updates showing this week at AAA Spanking – well, in case you did miss this, I have some images for you to review and check out the free clips I have provided. Seriously, these films, as usual, are pretty awesome and the Clips Store has been showing a better ranking even though it usually only updates one film per week. For example: other stores put up more clips to stay in the Top 5 or rely on the fact that they own different sites and put them all under one place and so on… but for AAA, it shows the quality of the content we are producing (Quality NOT Quantity!)
So here are the two latest films, one is a bonus feature which I added and slightly re edited even though I don't have access to a DVT editor as the second film shown here was originally edited from that in 2012 – all our raw video content is usually on SD cards/back up drives and in digital format. Anyway, being a bionus new movie, it is something extra for free to members at AAA Spanking – so I think it is still a good deal!
The latest release earlier on Friday featured Miss Elizabeth spanking beautiful Nuna Starks, her bratty, spoilt step daughter. Trust me, maternal discipline lovers… you are in for a treat – and wait until Miss Elizabeth brandishes that bath brush! Oye!
Nuna Starks makes a welcome return to Triple A, although in this scenario, opposite the fearsome maternal figure of Miss Elizabeth, maybe she regretted this appearance! Nuna has been nothing but disrespectful to her new stepmother. Away from her father's doting eyes she has been mean, spiteful and deliberately causing confrontation. Miss Elizabeth has had enough and in this showdown before bedtime, Nuna is about to discover her stepmom is not someone to be messed with! After a scolding about the hurtful behavior, Nuna is placed over her stepmother's lap and spanked, whilst still being scolded. She is rebellious and fails to understand the hurt this causes her father and new mother. A further harder bare bottom hand spanking starts to get through to Nuna. However, when the dreaded bath brush is used, this wooden implement really does teach a painful… very painful and tearful lesson about poor attitude. Nuna is struggling, kicking and crying as the brush does its worst. Nuna is comforted at the end, sniffling and quietly sobbing as her new stepmom wants her to understand that she only has the best intentions for her father and for her! If you are into real maternal discipline scenarios, then this is one film you really need to watch!
[jwplayer mediaid="56383″]
If you want to download the full length movie click the image below which leads to another special preview clip feature and a list of all full length movie downloads at the AAA Clips Store
The bonus film update features a long retired adult actress who is leading a vanilla life nowadays so I won't link to her new Twitter account but this was made many years ago when she was just 20 years old and she called herself Jessica Jensen. We were the first mainstream spanking site to feature her in such a role and it was obvious after the first film she wouldn't be able to take a hard spanking despite telling us she would be able to… but she was super cute and we adapted and still made some great content. Anyway, see for yourself… her bottom was still delightfully red, as you will see!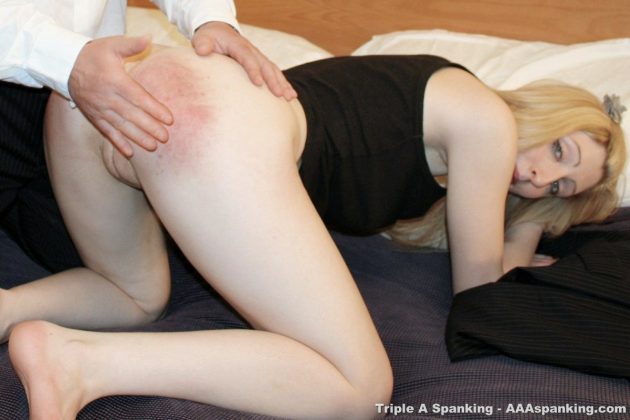 Jessica Jensen is a retired British Porn star and we filmed her way back in 2012 when she was fresh to the scene and winning awards as Best Newcomer in the UK. Only 20 years old at the time, she really was unable to take any punishment spankings so after a few harder scenes she could only take a light, sensual spanking. In order to warm up, she filmed a hot solo masturbation scene – only available at our clip store – as you're here for the spankings, right? She was still glowing from her recent orgasm and she turned over to reveal a perfectly rounded bottom with clear evidence of her recent spankings. Her sore, speckled cheeks were indeed a sight for sore eyes! This is an erotic and sensual spanking film, with bottom rubbing to soothe her pain with a few harder slaps to keep her from thinking about another orgasm. One thing is for sure, Jessica was not a shy girl and you will see her pert bottom and tight pussy on full display, all beautifully presented. It is a little different from our more traditional films but this is an additional new film update – so we do hope you enjoy this short, erotic spanking video which comes with a set of stills images and extensive video image gallery.
[jwplayer mediaid="56400″]
Of course you can – as always, also view and download this film in full at the Clips Store (see below for more details)