It has been some time since I have been able to update the blog as I had been away travelling, as those on Twitter will know. I had phone access so I was able to answer support issues but for uploading data, even images, it proved difficult on WiFi at times – so that is why I hadn't been around on here. I guessed this might happen so Sarah & I had uploaded content for the websites in advance so update schedules were largely unaffected. Anyway, to catch up, I thought it only fair to show you what was out last week across our sites and, oh boy, was there some amazing content we had in store for members! Read on and you'll see why we loved ensuring the sites got out this awesome spanking content!
I will feature the 2 sites of the Sarah Gregory Pass firstly… and the 1st update is taken from Momma Spankings with a fantastic double bill of Miss Elizabeth & the unfortunate Raven Mackenzie on the receiving end of a nasty bathbrush spanking & mouth soaping!
Raven has fun taking selfies and chatting on the phone just as mom tries to ask her to get off the phone to help with the household chores. Raven ignores her mother… and apologizes to her friend saying her mom is just being "irritating". Now, mom has really had it. She takes the phone from her daughter which only infuriates Raven more, making her swear at mother. It is time Raven learned a lesson the hard way. Her attitude has been atrocious, she has been rude, been using foul language and it's time for her to be punished. Mommy takes rude Raven over her lap for a hard hand spanking. Next, she is made to go and get the strap and positioned over the sofa bent over with her bare bottom fully exposed. Mom straps her very hard until there are tears and apologies. But, that is not enough, not by a long shot! The bath brush is next for this annoying little brat. It is back over mom's lap for a hard dose of the wooden bath brush. As tears flow and legs kick, mom knows she is finally getting the message through. With just one final punishment, mom knows just how to deal with that foul mouth of Raven's… a nasty mouth soaping. Raven receives a very sudsy soaping which leaves her with a tear-stained face, and soap filled mouth… sobbing and promising to be a good girl from now on and respect her mother at home.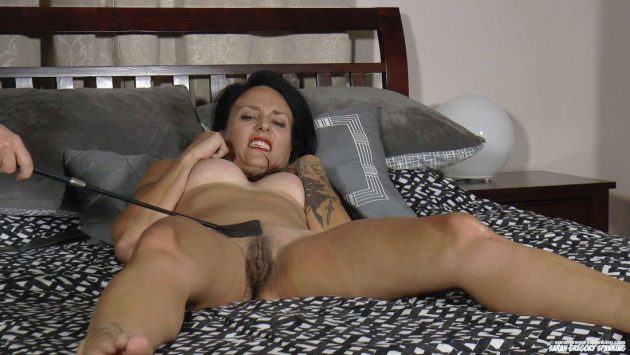 Delta has been sent to a strict, religious institution to cleanse her of her sexual sins. Her first meeting is with Sister Bernadette. Delta is to be taught a lesson about respect and given a good hard punishment from the Sister for her sexual promiscuity and deviant behavior. Delta is scolded and humiliated then told to strip and she is taken through different phases of the Sister's mean, cruel discipline. She is strapped, caned, spanked and cropped on her most sensitive parts, legs parted being treated like the dirty slut she had been. Sister Bernadette takes no mercy on Delta and enjoys the Lord's work… in fact, she loves to see this poor girl scared and hurting. Sister believes that is the only way Delta will really learn. The punishment ends with a long, protracted and harrowing mouth soaping to cleanse this dirty girl of all the horrible sexual acts she has done with her mouth. By the time this harsh punishment is over, Delta is one very sorry looking girl who promises to be a better self respecting person in the future.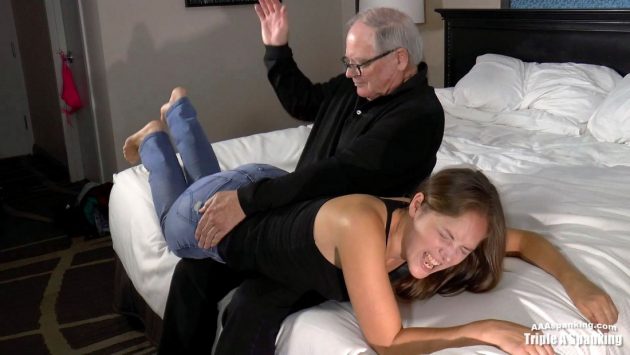 Rachel Adams makes a most welcome return, but we somehow think that she bets she didn't… as this latest film shows. It's a real screaming, spanking snot-fest as she rudely answers back and insults the hotel manager when she is confronted by him for her appalling behavior. The complaints about the noise from her room mean hotel manager, Paul Rogers, has to deal with the situation which has upset all the other guests. She tests his patience until he offers her an ultimatum, get out or take a spanking! She thinks the spanking will be easy and decides to take that option… how wrong she is. The hand spanking over her tight jeans progresses to a bare bottom smacking as her jeans and panties are pulled down, shaming her when she continues to sass the manager. Her behavior deteriorates and he uses a hairbrush found on the side table. By now, Rachel is really starting to feel this punishment, as the painful spanking brings free-flowing tears and a stream of unrelenting nasal mucous, in between the crying and screaming that no doubt the other hotel guests would have been able to hear! Rachel will be one very contrite and sorry young lady, respecting the other guests' peace and quiet that evening as she will no doubt hide out in shame and embarrassment.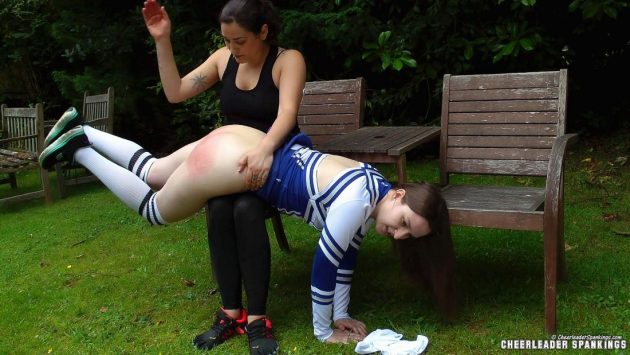 Melanie has snuck away from cheer practice to play on her phone and take selfies. When her Coach, Soria, eventually finds the missing madam, she is far from pleased as Melanie has not learned the latest routines at all. On top of that, her appearance is sloppy, her attitude to remaining in the cheer squad is shoddy… something needs to be done! Soria takes the sullen one over her knee for a good old fashioned spanking. The spankings and scoldings continue until Coach believes Melanie has learned her lesson. However, Soria is far from impressed with Melanie and takes her over her knee for a further humiliating, hard hand spanking with a leg lock… she then places her over the bench, bottom fully stuck out, for yet more stern discipline. As her bottom reddens shamefully, only then does Melanie appear to learn her lesson before she is allowed back to train and practice with the squad.