Today's post is dedicated to everything OTK! Out of all my spanking preferences, I still find this the most satisfying position as a spanker and I absolutely love seeing others, male or female carrying out this disciplinary action… so excuse me whilst I get a little self indulgent and check out some sites I may not have reviewed here for a while or rummage through my own archived data… I'll also find some new stuff just released at various sites too, in case you may have seen what I'm about to show you from the past (though I doubt you'll have seen all of what I'm about to share with you!).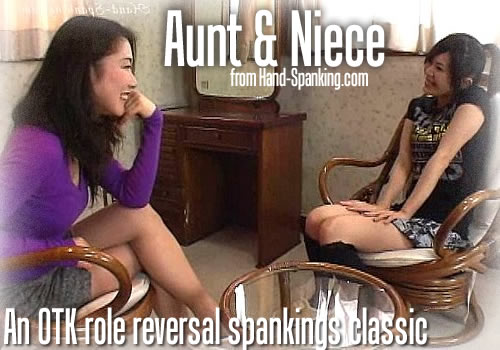 Aunt Reina and her niece Laura are first up from the famous Japanese girl on girl dicipline site Hand-Spanking.com – and this movie was a little bit bonkers (but aren't many of the storylines?) The story is that aunty and her niece recall the spankings they both got in the past from Reina's sister (making that cute Laura's mother, of course). They get excited about the times they both got disciplined and spanked and decide to take turns with each other over their laps to recall the way it felt! (I told you it was a bonkers storyline!)
Laura goes first over her aunt's lap and her bare bottom is quickly uncovered for a firm spanking!
Niece Laura doesn't need much encouragement to spank her aunt quite hard either!
She even grunts like a Russian tennis player as she slams her hand down onto her aunt's sore bare backside!
all the films at Hand-Spanking.com come with a decent English subtitled translation and all the newer films are now shot on HD Definition widescreen cameras giving even better playback quality! If seeing girls spanked in the OTK position is your thing, this site mainly caters to that niche as you'll have seen above!
*********************************
Now for something new from FirmHandSpanking.com and it's a classic domestic OTK hand spanking of (brightly) red haired Alison Miller with her tight jeans pulled down and given an old fashioned no nonsense spanking by Eric Strickman (remember I recently showed you what he is capable of with Kat St James?) This film is no different, it's a good hard spanking and Alison has one of the best wiggly-wobbly bubble butts that reacts to a solid spanking, just check out some amazing HQ stills from this new series of Alison now available to download HERE!
Alison was quite sneaky as she had guessed uncle Eric would spank her and she had padded out her bottom with several pairs of pants underneath her tight jeans! However this backfired on her when he found out and pulled down all her protection including the jeans and gave her a damned hard man spanking across his lap!
I have cut a special freeview clip including a "slo-mo" scene which is in the film showing off Alison's amazing bubble butt – CLICK HERE to view this exclusive free clip from this movie!
*****************************
Now you know I love seeing girls punished in PJ's, with their trouser bottoms dragged down, preferably around their ankles and over someone's lap… also (yes, I'm fussy) I usually like to see the scene in the girl's bedroom as this is her sanctuary… so the spanking, which can end in tears… is the ultimate humiliation if it takes place in the "Holy of Holies" as far as I'm concerned! There is no hiding place when you've been a bad girl! So, it was good to see that a recent HD film (with a HQ Stills set that I am showing some reduced size images of) had Aunty Katie spanking her niece, Honey, in such a circumstance… see below! Images are courtesy of English-Spankers.com
This is what the owners of the site had to say about this great film: "Honey is a real naughty teenager and she needs to be taught a lesson. Aunty Katie is the one to do it and in the good old fashioned way, a good stout slipper applied to a tender young bottom. Bent over the knee first of all spanked on her pyjamas and then see them pulled down for the bare bottomed slippering. The very first punishment for this new young spankee!"
See the FREE Preview clip of Honey's home punishment!

*********************************
Rather than show what is out right now at Clare Fonda's sites (images and such are uploaded and the movies are playing out, so I'd be repeating myself at the mo) I thought I'd go back and check out some classic stuff from the past, all with the OTK theme of today, which wasn't difficult as these girls are nearly always spanked at some point or for a prolonged period in this position (ah, that's why I love these sites, lol!) – So let me start with a delve back in time to when Clare had redheads Madison Young and a sweet innocent looking (though she was anything but) Paris Kennedy. This is taken from the archives of Spankedcallgirls.com and features OTK spanking, diapering, humiliation and even temperature taking by Clare… this was so hot and I enjoyed checking it out again!
Check out more humiliating punishments of the very naughtiest hooker babes and slutty girls – Fonda stylee!

************************************
SpankedSweeties.com is the site Clare introduces many new models and spanking 1st timers or the girl next door types to her network but she also brings in more experienced fetish and spanking models too. They talk about their fantasies and past life being spanked and chastised growing up then re enact them for us! It's a great site, often missed by some individually (it's a massive site on its own now!) but should always be one of the sites you choose as part of the 3, 4 or 5 site options of the Clare Fonda Pass
Check out one such model I just watched again called Candle Boxx (I love her stage name!!!) – she took some quite hard man spankings and had one of the most beautiful red speckled derrieres by the time her spanking was finished as you'll see below in one of her OTK spankings!
Do not miss the interviews spankings and everyone of Clare's newbies shown here first!

Or check out any of Clare's sites & choose your option as part of her amazing value CLARE FONDA PASS

**********************************
I had remembered that I hadn't shown Caroline Grey at Spanked-in-Uniform.com getting a good hard OTK thrashing in her cheer girl outfit, just check out the images below as coach Johnson takes a no nonsense approach to her poor attitude at his prestigious Dance School Academy…
Caroline is an American girl who joined the cheerleading class and she thinks she can be as sassy here as in America but coach Johnson will have none of it! While practising, he noticed that she was wearing frilly purple panties instead of the regulation white ones so he called her into his office and gave her a sound spanking. Then she was told to put on the white panties but her attitude was still leaving a lot to be desired so he put her over his knee again and gave her another long, hard painful tear jerking spanking which left her bottom crimson with shame and very sore.
See all the latest OTK spankings and further humiliation these girls like Caroline suffer – Click Here

*************************************
Finally, as it's an OTK spanking I couldn't leave out a site which says it is dedicated to this, the aptly named OTKspank.com – I wouldn't normally recommend this but I am today as the outside of the site hasn't really been updated or changed since Xerotics was sold at the beginning of the year but inside the member area they have been updating the site like before and this movie which is the current one, I have never seen before, though I recognize the location and of course, Hannah Martin… so it's a nice surprise to see this film (shot on location probably over 6 years ago in Denmark) finally makes it to the light of day.
Hannah was subjected to a rather humiliating inspection and OTK spanking when her continuing failing grades gave her Uncle all the excuse he needed to thrash her bare behind! See some images taken from this film below, hopefully I'm right in saying this is totally unseen, at least in this Hi Res format, or my memory might not be what is was! 🙂
OTKspank.com is basically a massive archive of OTK related spanking films all together in one place, some are exclusively remastered for this site whilst some are shown elsewhere on the Xerotics group of sites. So I won't labor the point or moan about that (they've always done it that way which isn't the best, of course) as today I'm only recommending this site (but only if you haven't ever viewed this site or haven't seen anything from this outfit for ages then it's really a nice site to start with if you like seeing many pretty girls spanked traditionally over someone's lap). You got the Chief's seal of approval to check it out – the member area is pretty easy to navigate around, divided into sections for movies, HQ stills and screen images (which are conveniently zipped) and they do have some good longer term membership offers too, compared to the monthly price.
CLICK HERE to view more on the tour pages
(Use it as a guide as you won't see this movie advertised there even though it's the latest one!)

*******************************
* Disclaimer: Regards this network, many of you will know I had some real issues with them especially around the time of their sale earlier this year and am still suffering as a result of that… however, being now fully independent I can say what the hell I like (although I usually just don't bother publicly) so if I think any of these sites are not worth looking at… then I'll say! You may have noticed that I just haven't bothered, there's reasons for this as affiliates or promoters like myself won't usually bother but I'm not going to debate that right now.
However, I'd actually like some feedback to those who are members of any of the sites in question, should I look at these sites again? I know there are those that purchased a ridiculously cheap annual pass last year, so to be fair, they can't complain… even though it's pretty obvious the old site owners knew they were selling the sites so I'd guess they just wanted as much income as possible (naturally)… that's my speculation, of course. If the new owners were to offer anything so daft this year I'd be concerned about their sanity as this just doesn't make any sense at all (unless they're selling it on as well, lol).
I prefer to not write anything damning, the lack of anything positive is usually better, don't you think? Anyway, as I say… "each to their own and all that" and what I say here you should take with a big pinch of salt as if you've never viewed any site I might be unhappy with (not confined to this network), then the archives of that particular site could be fantastic and well worth signing up to (if you had not seen the site for a long time, or ever) … but I look at how the sites continue to update as well as that's an indicator of the integrity and policy of any company, I think.
It's hard out there, people want to know that they are valued as a member, there's lots of choice nowadays… that's my take of attracting loyal members and those that will come back again and again… don't you agree?
Anyway, as I said, give me feedback and let me know whether I should look into any of the sites, or any other from anywhere that I might have the time to investigate – perhaps do a "warts and all" proper review of a site (it can be any site from any network) that you'd like me to check on before you part with your hard earned cash?
I have been thinking of doing some English based ones, perhaps one from Northern Spanking – English Spankers – Sound Punishment or another you might consider? (cripes, those site have a lot of content… lol!)
OK, over to you all… hope you liked my take on all things OTK today, Regards, Chief. 🙂