You may recognise this black composite paddle used since the early days of my site, I think the first time I used this paddle was with Sarah Gregory when she filmed with us in June 2011… the moment of truth for this implement came about late last year when I filmed with Danielle Hunt and I told her it would be a harder more severe film shoot (I think the films you have seen of her recently at my site prove this) anyway… little did I know that her buns of steel would see the end of this trusty and much hated stinging paddle! It may not have looked much, but I can assure you the merest of swats from this thing caused intense burning pain on most girl's behinds… I expect hairbrushes to break… they really aren't intended for heavy use of tanning naughty girls backsides, after all… but this event was wholly unexpected!
Check out a few promo images below…
I have included the latest movie description and screen images from this film for your perusal!
Danielle Hunt had been confined to her Dorm Room awaiting her latest punishment in the embarrassing "Discipline Dropseats". A humiliating piece of clothing as any girl at this private school would know that anyone wearing this item was about to be punished… this helped enforce the room confinement and making trips to the bathroom down the long corridor fraught with worry. Cruel? Perhaps… but these rules were in place for a reason, so when Mr Osborne arrived, he discovered that Danielle had also been using a hidden phone which was strictly forbidden! He immediately set about punishing her with her dropseat pants pulled down revealing her full naked bottom… she was spanked, given the hairbrush & then the nasty composite paddle that was a personal favourite of his as he knew this really, really stung like hell! However, her naughty buns of steel broke his cherished paddle: You will see the end of an area at Triple A as one of our much cherished implements met its match with Danielle Hunt!
CLICK HERE TO SEE A FREE PREVIEW CLIP OF DANIELLE'S PADDLING
**************************************
BELOW ARE SOME OTHER APPEARANCES OF MY MUCH LOVED COMPOSITE PADDLE
Click on any image below & it will lead to a special gallery showing its use on some poor girl's backside!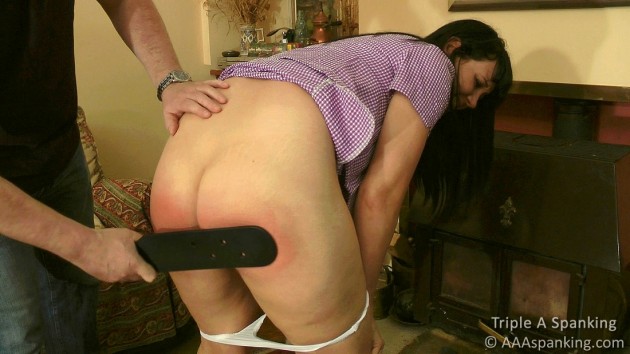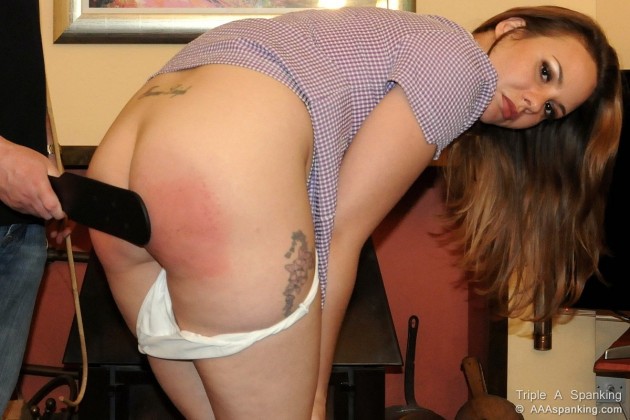 There are more but it's rather late but you get the idea 🙂
By the way… the latest film with Danielle is available as a cheap one off download at the AAA Clips Store as well… just click on the image below for the direct link to that clip!