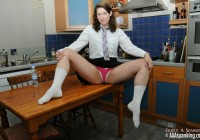 Panty wetting and spanking have always been somewhat intertwined (in my opinion) from the days of a nervous person facing a punishment or a bratty girl having fun to "piss off" Sir and so on… it was a fascination for me ever since I remember spanking one of my old girlfriends many years ago and she just peed herself all over my lap and started laughing and apologizing. I'm not one to fuss over such silliness… it just made us both laugh and wonder what other "weird" shit we were both into at the time… which was a pleasant exploration (but that is a long time ago and another story). Now it also happened to be that she was a natural "squirter" well before the so called phenomenon is around nowadays on the interwebz as more and more pornographers look for realistic and diminishing niches in which to thrill and amaze us all with. I remember back in the day she felt strange and upset but I liked it and could see this wasn't piss and told  her if was a "gift" rather than a hindrance (pity that ATVOD in the UK seem to think it is, ignorantly) – anyhoo, before I digress massively… I do admit to getting turned on seeing a girl wet her panties, especially in a punishment scenario… so when Katie and I discussed a schoolgirl storyline where she'd pee herself with worry and fright, she was game… she wanted to do this and we waited to do this as the last movie of the day and she didn't go to the toilet once and just drank lots (I mean LOTS!) of water that day until she was bursting! Just how much she'd break that seal we were all to discover as I have NEVER seen a girl pee so much before on camera!
Katie Brown looks all innocent (kind of) before her pee and punishment film begins!
So this is the latest new video update that members at AAA Spanking can see right now… Katie Brown, dressed as a (rather admittedly sexy) schoolgirl given a punishment at home and while she waits for the discipline to begin pee uncontrollably for near on 2 minutes non stop! Now I and cameraman Dodgy Dave remember this well as it was his kitchen and instead of filming outdoors (it was already dark by this time) we filmed it inside thinking a little pee on the floor… no problem, clean and disinfect that and move on… oh no! Katie just peed and peed and peed… it was almost exhausting to watch and I thought about the electrics and just how much pee was coming out it as it got that bad!!! Check out the clip below and you'll see the beginning of this epic pee-pee-athon!
[jwplayer mediaid="41151″]
Here's some behind the scenes info, we filmed this and then cut, took some stills and then spent over 30 minutes clearing up the mess and thoroughly cleaning it before the punishment scene. the things we do for our art, eh?
Below are some more of those pee pee scenes taken from the HD1080 video
Katie had been spanked at school earlier that day for multiple behavioral infractions so she was nervous about a decision she took with her additional home punishment when it was revealed that she had not learnt one of her lessons by deliberately wearing bright pink panties as continued defiance of strict rules. This had infuriated John and he told her to wait in the kitchen whilst he went off to find some harder implements of correction. Poor Katie was so worried and badly needed to relieve herself but she just lay over the table in pure fright, unable to move… and then peed uncontrollably. Her panties were soaked and the floor was a pool of shame! This was the appalling sight that greeted John on his return. His disbelief at this shameful act only meant that Katie got to feel leather and hard wooden paddles across her cheeks after her soiled panties were removed. To add to her discomfort and embarrassment, she had to clean the vast pool of shame she had created and the entire kitchen before being sent to bed early.
Check out more spanking action of Katie (below)
[jwplayer mediaid="41166″]
Don't forget that you can see the full film in glorious HD1080 HERE
This video update comes with over 150 screen images & over 100 high quality stills!

Don't forget that you can also view this video in full as a one time download (below)
View ALL HD1080 films incl. MORE of gorgeous Katie in rare and unusual erotic spanking scenarios from the popular AAA Clips Store option HERE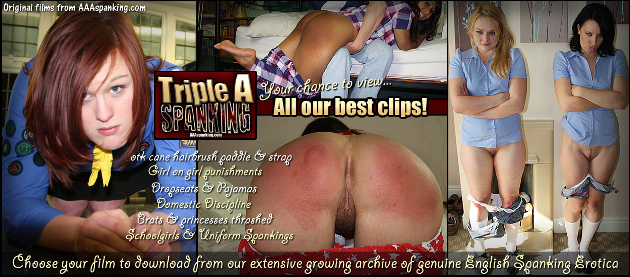 If you liked this… you'll LOVE the new film coming out later this week starring Lily Swan & Joelle Barros in the return favor spanking/orgasm film, no gentlemen in sight as these 2 young ladies get it on and Lily returns the favor to Joelle giving her a terrific spanking induced orgasm… oh my! #TrouserArousal is set at maximum!
Coming very soon this week to AAA Spanking & The Clips Store